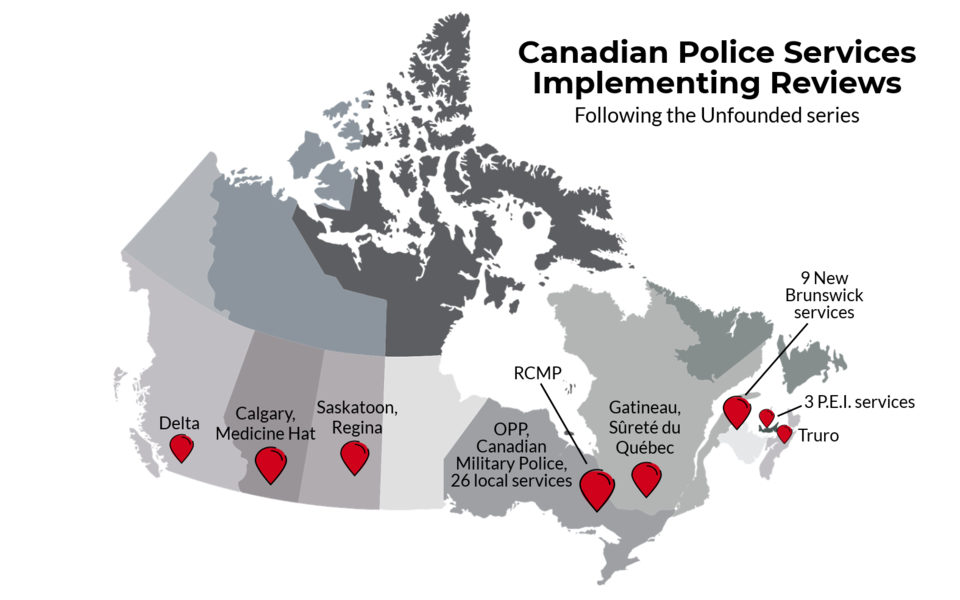 The methods by which Canadian police services handle sexual assault allegations changed drastically in February 2017. The cause of that shift: a 20-month Globe and Mail investigation, led by reporter Robyn Doolittle, dubbed 'Unfounded: Why police dismiss 1 in 5 sexual assault claims as baseless.' Doolittle's reporting revealed that more than 5,000 sexual assault cases each year are labeled as 'unfounded' by Canadian police services, rendering the allegations officially baseless.
In the nearly nine months since the series was published, the investigation brought far-reaching changes to police services throughout the country. The RCMP, the Canadian military police, and services in Alberta, British Columbia, New Brunswick, Nova Scotia, Ontario, Saskatchewan, Prince Edward Island and Quebec are all reviewing their policies.
The Calgary Police Service was among those to enact swift changes in the wake of the Unfounded series, becoming the first service in the country to adopt the 'Philadelphia model.'  The program is widely considered to be the best practice in terms of how law enforcement handles sexual assault cases. It involves inviting advocates to regularly review a police service's sexual assault files to ensure cases are handled appropriately.
Insp. Monty Sparrow, who leads the Calgary police's sex crimes unit, said his service is focused on adding outside voices and revamping current practices.
The first step in bringing about those changes, according to Sparrow, was to assign a senior detective to review each of the service's unfounded reports dating back to 2012. Of more than 200 reports reviewed, over 40 were re-coded as inactive, meaning that the detective believed an event occurred, but felt there wasn't enough evidence to continue the investigation. The majority of the remaining cases were labeled as unfounded, while one case was re-assigned for further investigation.
The service then turned its attention to how it will handle future sexual assault investigations.
"We created a position within our sex crimes unit, which is our sexual offence coordinator," Sparrow said. "They are reviewing every sexual offence that comes into the Calgary Police Service on a weekly basis … He gets anything that's sexual in nature that's reported to Calgary Police Service."
That includes a number of offences that previously didn't qualify for handling under the sex crimes unit, Sparrow added, which includes, "voyeurism, exhibitionism, groping, [and] luring."
"We felt we were missing that component, where we never had one clearinghouse for all of our sexual offences."
Current members of Calgary's police force will see changes in how they handle these cases, too.
"We're working with [the service's learning centre] to ensure that we're providing training for our street officers who are our first point of contact," Sparrow said. "To ensure that they're trained in trauma-informed investigating rather than just general investigating, that they understand that there are different ways that victims respond to crime."
On an organizational level, Sparrow said Calgary police have made two fundamental changes. The first involves implementing the Philadelphia model — the service partnering with a number of local advocacy groups, the Ministry of Status of Women, the Calgary Sexual Assault Response Team, and two local universities.
"We've also reached out now to an LGBT representative of the community to be involved in our Philadelphia model," Sparrow said. "And we're presently talking to a lady from the Indigenous population to be part of our panel."
The Calgarian version of the model differs slightly, as Sparrow said he noted a change he believed could help police cut down the time required to aid victims —more frequent meetings with the panel of advocates.
"The Philadelphia model is a one-time-a-year model, and my thought when I heard about that was, 'If there's a case that comes in and the panel decides it requires further investigation, I don't want them to have to wait 11 months or 12 months for that,'" Sparrow said. "Why don't we meet three times a year, and then if a case comes in that's unfounded and they determine there should be further investigation, we get to the victim quicker."
The second organizational change involves implementing recommendations by former Ontario assistant attorney general Murray Segal in his 2015 review of law enforcement's handling of the Rehtaeh Parsons case. The review was prompted by concerns about how Nova Scotia police investigated the distribution of photos allegedly depicting Parsons being sexually assaulted. The teenager took her own life in April 2013.
While some of those recommendations are for the Crown and social services, Sparrow said Calgary police are implementing all that relates directly to policing.
Though the Calgarian service and others throughout the country have made a number of changes, some believe there's more to be done.
Joe Couto, director of governmental relations and communications for the Ontario Association of Chiefs of Police, said his organization met with the Ministry of Community Safety and Correctional Services following Unfounded's publication, and suggested putting a widespread provincial plan into action.
"Our suggestion to the Minster was [that] we need sort of a 'made in Ontario' solution to the issues," Couto said. "That was our big recommendation to the province. They've never acted on it."
This lack of provincial coordination means local police forces are left to devise and implement their own set of changes as they see fit, Couto added.
"You'd have to ask the government why they didn't take a provincial approach to this," he said. "That's never happened, so what's resulted is police services – on their own – initiated reviews and a look at the issues that were brought up in the story at the local level — because that's what they have to do."
Statistics Canada is also amending its practices in light of the Globe investigation. For the past decade, the agency hasn't collected or published data on unfounded cases in Canada, which Doolittle argued "distorts the country's crime statistics."
Following the Unfounded series' publication, that decision was reversed.
Rebecca Kong, chief of Statistics Canada's policing services program—the division in charge of handling the unfounded data—said the agency met with the Police Information Statistics (POLIS) Committee in April, two months after the publication of the Globe's series, and decided to resume collecting and publishing unfounded data.
Crucial to that renewed commitment is the agency's plan to avoid the issues that led to the original removal of unfounded data, Kong said.
"Over time there were some concerns about the quality and consistency of the reporting," Kong said of the 2006 decision to discontinue the publishing of unfounded data. "It was found that some police services weren't reporting it, and for others, it was gathered with inconsistency."
Kong also highlighted the issue of police services requiring more options when reporting information to the agency, something that was brought up during meetings with the POLIS Committee. Statistics Canada's emphasis on improved training pertaining to the new coding standards — set to roll out in January 2018 — should help curb those issues this time around, Kong added.
The official return of unfounded data for Statistics Canada will come later next year.
"This coming July, we'll be releasing 2017's crime statistics," Kong said. "We've committed to making available to the public the unfounded incidents that we have so far for 2017, and also some analysis in terms of the quality of that information and in terms of the impact of some of the reviews that the police services have done."
Sparrow pointed to the Unfounded series as the catalyst for these changes.
"When [Doolittle] first put this out there, there were a lot of agencies in the country that stuck their head in the sand and said, 'We're not cooperating and we're not doing anything wrong,'" Sparrow said. "Since then, lots of heads have been pulled out of the sand and lots of agencies across the country are recognizing that they're missing things in the sexual assault world."
(Visited 438 times, 1 visits today)