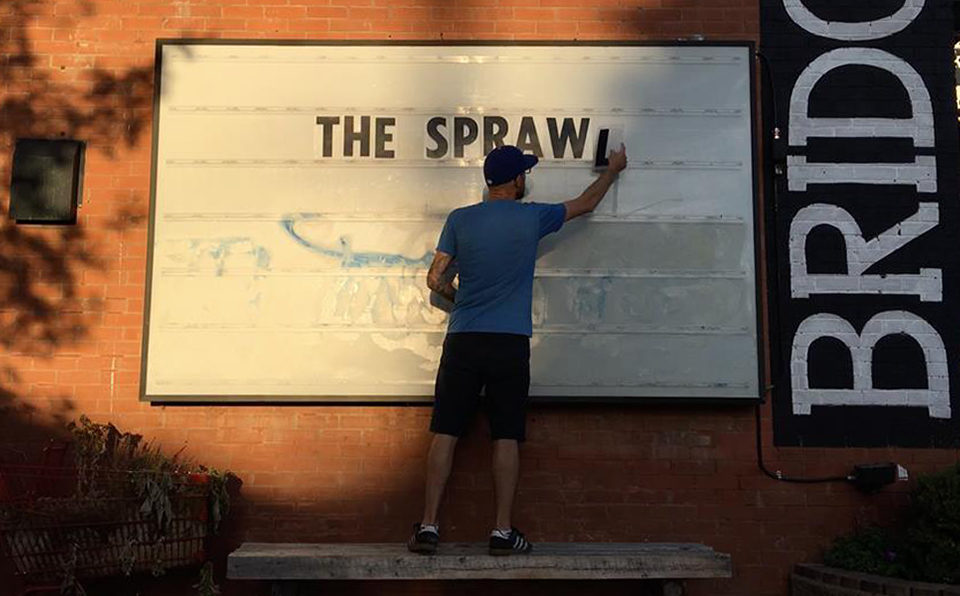 Jeremy Klaszus sounds exhausted. He has good reason to be. Days earlier, the Calgary-based freelance reporter had finished covering the city's municipal election, a tiring endeavour for most newsrooms regardless of size, almost entirely by himself.
"I'm kinda journalism-ed out," he says with a laugh.
In the Oct. 16 election, incumbent Mayor Naheed Nenshi, long thought undefeatable, faced fierce competition from Bill Smith, a well-known figure in provincial conservative politics who was favoured by the city's substantial right-wing population. The race was tight. People wanted information.
Enter Klaszus. In late September, he seized the opportunity and launched a digital news outlet called the Sprawl.  It would pop up for a specific event, theme or project, then fold away and reappear later for a different project, avoiding the issue of sustaining continuous content. For its first edition, the crowdfunded publication's focus would be the municipal election. The result was the city's only successful startup media venture so far.
Klaszus set up a 'bureau' wherever he put down his laptop — a diner, a bar, a lawn. He livestreamed election forums with help from local journalism students, edited video and wrote his own articles. It was non-stop.
Sprawl flat-on-our-back bureau. Kids running around trying to catch butterflies. Us tapping out the next Sprawl post on our phone. pic.twitter.com/4KQODvnfcz

— The Sprawl (@sprawlcalgary) September 28, 2017
Sprawl Blackfoot Diner bureau. #yycvote pic.twitter.com/kHVhasuUpK

— The Sprawl (@sprawlcalgary) October 13, 2017
Setting up our pop-up newsroom at Last Best. @SantanaShelbi @Amy_Journalist @Cunningham_Skye @wklumpen will report from the field! #yycvote pic.twitter.com/bppC2LhXsm

— The Sprawl (@sprawlcalgary) October 17, 2017
"It's easier to think of what hours I wasn't working," Klaszus says. "My family made me take off Thanksgiving Monday … And even then I tweeted in the morning."
He hadn't planned to ask for donations until the election coverage ended, aiming to have a final product to present to potential investors first. However, a friend convinced Klaszus to make a page on crowdfunding site Patreon in time for the Sprawl's launch instead. In just over a month, over 150 people agreed to pay Klaszus the equivalent of nearly C$1,500 per month via Patreon (the site collects donations in U.S. dollars).
"People felt strongly about this election," Klaszus says. "If you want to take the western metaphor, [it felt] like I was riding a bull I had no control of, just trying to stay on."
Local media startups haven't taken off in Calgary the way they have in other major Canadian cities. While Vancouver has the Tyee and Edmonton has Taproot, Calgary lacks even an alt-weekly — the long-beloved Fast Forward shut down amid plummeting ad revenues in 2015.
Calgary's traditional media newsrooms have been gutted as they, too, struggle with declining ad dollars. Cuts at CBC and Postmedia's two daily papers there — the Calgary Herald and Sun, now merged into one newsroom —were particularly brutal, says Sean Holman, a journalism professor at Calgary's Mount Royal University. "We were among the hardest-hit places," he says. "'I was shocked when I moved to Calgary by how little media there actually is in this city."
Brilliant reporters are still working hard in Calgary. However, none of the city's remaining media outlets are aimed at the downtown demographic once covered by Fast Forward — bike lane-loving millennials who don't identify with Calgary's dominant conservative culture. "There's a huge, young progressive audience that doesn't see itself reflected in Calgary media," says Klaszus. "I think that's what I was able to tap into."
Others have tried. In 2016, local freelancer Taylor Lambert launched a Kickstarter campaign for a similar venture called the Calgarian, while working part time at the Herald and Sun. Within a day, Postmedia canned Lambert. His crowdfunding efforts brought in over $4,000, but it wasn't enough. The Calgarian never launched.
"There was definitely an appetite for it, but it couldn't quite reach the threshold I set to make it a sustainable endeavour," says Lambert. "It didn't work because it's very hard to convince people to give you money for an idea."
Holman agrees, noting that Klaszus had a product ready to go before starting the Patreon campaign. Klaszus was also fortunate to launch the Sprawl during an election, when people have a cause to rally behind, Holman adds. In the end, Nenshi won, and voter turnout was the highest it's been for a mayoral election in Calgary in 40 years.
Klaszus says the experiment was a success, and he's now taking time to rest and plan the Sprawl's second edition.
"The temptation is to just keep going hard indefinitely, and that's a recipe for disaster," he says. "It's like, 'well that was an interesting little media thing that flared up, but it didn't last because Jeremy burned out.' That doesn't serve the city well."
The Sprawl is still young, but Holman says it'll be interesting to see what it does next. "What happens when you start to be more critical of causes and candidates … that your donors support?" he says. Could patrons put their wallets away and go elsewhere?
The characteristic that makes the Sprawl successful — its temporary, pop-up nature — is the same thing that makes it an impermanent solution, says Holman. The long-term problems facing Calgary's media remain.
Klaszus hasn't revealed details of what the Sprawl's second edition will be about, just that it'll arrive in December at the latest.
"In recent weeks I've turned down numerous freelance projects to focus more fully on the Sprawl," Klaszus wrote to supporters on Patreon on Nov. 9.
"I'm all in."
(Visited 347 times, 1 visits today)