I've spent three hours waiting under dimly lit lights in a silent hallway of the Air Canada Centre. Reporters are filtering in one at a time and not a single Toronto Raptor is in sight. Finally, the media relations manager comes out and announces the three names the organization has chosen for us—Amir Johnson, Jonas Valanciunas and Greivis Vasquez. A few moments later, the players appear in front of the blinding cameras. Reporters freeze waiting for the first person to break the silence. Then, questions that sound like slightly tweaked renditions of each other are met with the same mundane answers from the three players.
I learned a couple of things from my first major sports press conference: I need a stronger shoulder to hold my wobbling microphone, don't be the reporter who asks the same questions everyone else has already said, and athletes rarely say anything worthy of story in them. I know, I know. It's the journalist's job to find the story. But how can a journalist do that if the athletes they prepare questions for won't answer candidly?
Interactions between journalists and athletes are less personal than ever. The days of athletes relating to journalists and having similar wages has passed. Time with athletes is increasingly being cut. Halftime and post-game interviews have many players practically reading from a script. "We have to keep fighting, get back out there and focus on our defence," they say, staring blankly back at the reporter. If athletes aren't willing to speak to the media or say anything worthwhile when they do, is there even a point talking to them?
Seattle Seahawks star running back Marshawn Lynch has a history of not speaking to the journalists. Lynch was fined a total of $100,000 this year for violating the NFL's media policy by boycotting the press. During the most recent Superbowl, he finally spoke publicly, snapping back at reporters saying he was just talking so he didn't get another fine. He added that the journalists shove cameras and microphones down his throat and "I ain't got nothing for ya'll."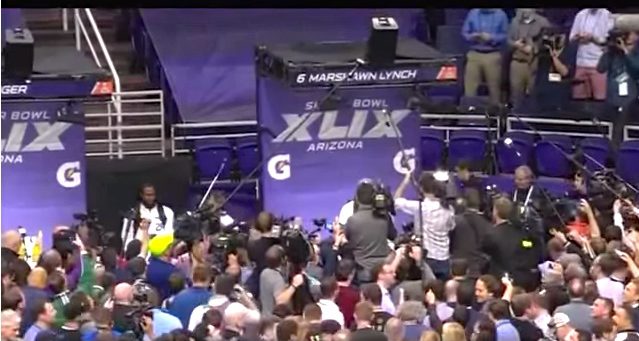 Athletes are paid to play their sports and fans want to know every small detail about their lives, especially if it's impacting their play. If they are scratched from games or their performance has been hindered, then players and coaches should inform the public why.
Reporters don't have a free pass though. When Canadian tennis star Eugenie Bouchard reached the quarterfinals at the Australian Open this year, one journalist missed an opportunity to conduct a worthy interview. Instead of asking about her match or ability as an athlete, the on-court commentator focused on her outfit—"Can you give us a twirl?" he asked. Last year, another announcer was more concerned with her dating life than her play.
Toronto Maple Leafs sniper Phil Kessel has always shied away from the spotlight. He is flat-out uncomfortable being on camera. But after former head coach Randy Carlyle had just been fired, a reporter asked him if he was difficult to coach and Kessel jumped on the defensive. "That's a weird question to ask," he said. "You think it's my fault, is that what you are saying?" He went on to call the reporter an idiot.
Sports journalism isn't always going to be positive and reporters are not there to be cheerleaders. The negatives of substance abuse, personal transgressions and the reasons a coach is fired are questions that are part of journalism. Sport is more than just a fun game; it's a business that thrives off the lives of these athletes on and off the field. When it comes to talking to athletes about their sport, league or personal issues affecting their playing ability, it should be fair game.
(Visited 339 times, 1 visits today)
Alanna Kelly is the Spring 2015 senior online editor. She will talk and play any sport you throw her way. She also has an interest in multi-platform and photo journalism.