Yesterday Postmedia Network Inc. announced it's buying rival Sun Media for $316 million. With this, Postmedia will be acquiring 175 newspapers and the English portions of six digital properties, including the Canoe network. By the Toronto Star's calculation, Postmedia is at least $488 million in debt and lost $160 million last year. And according to Quebecor Inc. CEO Pierre Don, the deal "comes at a time when the Canadian newspaper business absolutely needs consolidation to remain viable and to compete with digital media." In short, Postmedia may have just saved itself and the Canadian newspaper industry from annihilation in one swoop!
As with any buyout, there's many large numbers being thrown around. A couple million here, some newspapers there—here's a simple look at Postmedia's acquisitions if the deal passes the necessary regulatory approvals, including review from Canada's Competition Bureau: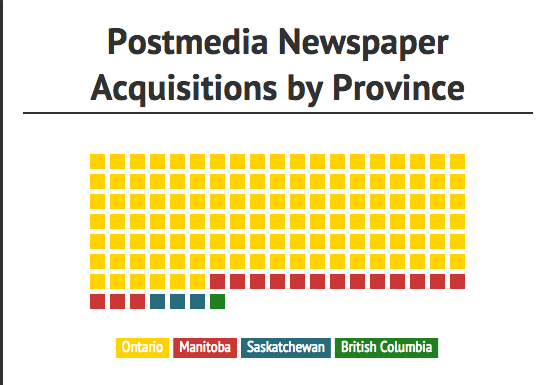 If approved, the deal sees 120 more newspapers in Ontario falling under the Postmedia umbrella, 18 in Manitoba, three in Saskatchewan and one in B.C. Below are a few noteworthy points of the purchase: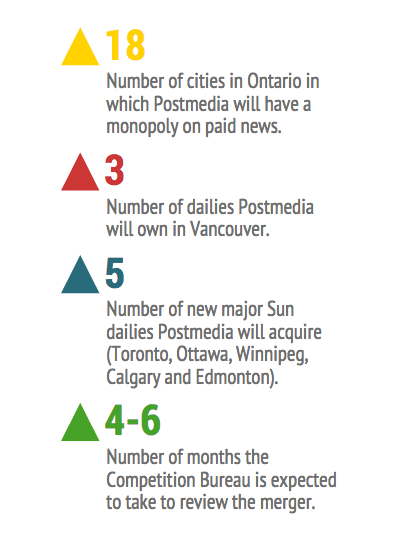 You can see each newspaper that will now fall under Postmedia here.
Got something you want to see covered on here? Email the blog editor. And while you're at it, you can follow our the Review and our masthead on Twitter to keep up to date with the ever-changing Canadian journalism landscape.
(Visited 88 times, 1 visits today)
Cormac was the blog editor for the 2014-15 issue of the Review. As a fourth year undergraduate at the School of Journalism, he had a keen interest in sports and business writing. He also hosted the Krates Collective hip hop podcast.