By Arielle Piat-Sauvé
Guy Crevier knew something needed to change when he compared the drop in newspaper revenue to the aging baby-boomer population. The president and publisher of La Presse suspected that as his core readership aged, newspaper sales could decrease significantly. Fearing it was only a matter of time before the traditional newspaper model collapsed, Crevier decided to endorse a new approach, relying only on advertiser revenue. In April 2013, the company launched its La Presse+ tablet app in an attempt to reshape the way its readers consume news.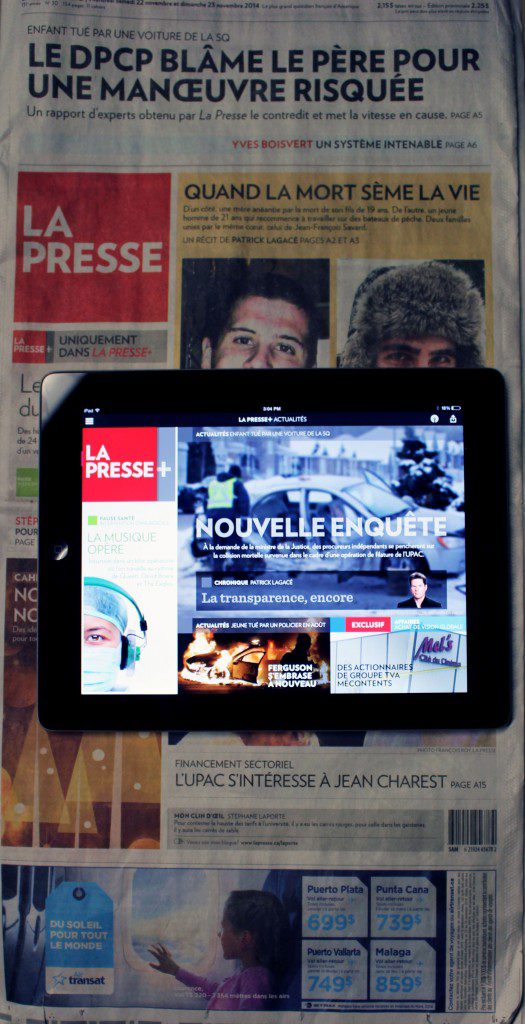 The goal was simple: create a platform that would increase audience engagement and reach. Crevier, who is also president of Gesca, a subsidiary of Power Corporation that publishes six French papers in Quebec and Le Droit in Ottawa, wanted to work with an existing digital platform. So La Presse approached Apple in 2010, a few months before the technology company was set to release its first iPad. Then Gesca invested three years of research and $40 million into the new app. The 130-year-old newspaper's headquarters in Old Montreal were also redesigned to include television studios and wall-mounted video displays to show the iPad app.
Last May, during Power Corp.'s annual meeting in Montreal, co-CEOs André and Paul Desmarais Jr. confirmed their plans to phase out newspaper print editions. Gesca believes this tablet technology and new business model will save its newspapers. Today, 40 percent of La Presse's revenue derives from the app. The interactive platform is designed to increase readership and, in turn, attract more ad dollars. The danger is that without money coming from circulation, the pressure to change editorial content to please the last paying customers—the advertisers—becomes even greater.
La Presse+ seeks to attract a broad and engaged audience that is also willing to interact with its mostly national multimedia ads. Video and interactive storytelling are replacing black newspaper ink. So far, the results are encouraging. Over the last 18 months, La Presse+ reached 600,000 downloads, with an average 160,000 daily views. The average reader spends 44 minutes on the app during the week and 73 minutes on Saturday. Half the app's downloads are by readers who aren't subscribed to the paper's print edition. While newspapers across the country cut staff, La Presse hired several new journalists specializing in multimedia, video and graphic design.
Providing readers with free news is an essential element to La Presse+ and Jacques Nantel, a marketing professor at the University of Montreal, believes this is a smart gamble. "They started with the assumption that no matter what the platform will be, advertising now will be your sole source of revenue," he says. "This is where the clientele is." The papers aren't gone yet, but when they are, Crevier hopes all the advertisers will move to the digital platform.
But others remain skeptical of the model's sustainability in the long run. Marc-François Bernier, a journalism professor at the University of Ottawa, fears relying exclusively on advertising revenue will force the paper to alter its content to focus on entertainment instead of news and information. "When your source of financial revenue relies too heavily on advertisers, this undoubtedly leads to weaker and less independent content, more susceptibility to pressure from advertisers," he says. Bernier points to new commercials that feature a man and a woman flirting while surfing La Presse+ as an example of advertisers influencing the way consumers perceive the app.
Meanwhile, La Presse's sister papers in towns across Quebec continue to wait for further information from Gesca about where they fit into this new digital model. At Quebec City's Le Soleil, the atmosphere remains optimistic about what these changes could mean for their paper. Pierre-Paul Noreau, now the deputy editor and managing editor, remembers when he first entered that newsroom 37 years ago as a 22-year-old reporter. Back then, the paper had 150 journalists instead of the 65 it has today. But Noreau isn't nostalgic for the glory days and he believes in the La Presse+ model, even if this means trading in his former readers for new ones.
Although no official decisions have been made regarding Gesca's other papers, Noreau's ideal scenario would be for his Quebec City newsroom to produce local content, while being part of the larger La Presse+ app that would include tabs for the different newspapers. However, Le Soleil and Gesca's other papers may not have the digital and financial resources required to produce the content for an app.
Other papers are taking notice. The Toronto Star recently became the first newspaper to announce plans to release its own tablet app based on the La Presse+ platform technology. That will happen next fall and the paper plans to remove all existing digital paywalls. This partnership between the two media outlets will provide advertisers with joint marketing opportunities to reach both French and English audiences.
Yet, most newspapers remain reluctant to adopt the La Presse+ model. Le Devoir, an independent French language paper in Montreal, was the first in Canada to create a paywall on its website back in 2002. Publisher Bernard Descôteaux also feels the pressure to shift to a new digital strategy in order to survive, but insists that model won't limit his paper's app from including rich content, different from its print counterpart. Newspapers opting for a paywall are hoping to convince their readers that quality journalism comes at a price.
Today, Crevier admits he doesn't read a single print newspaper or watch the evening news, but he says he's never consumed as much information as he does now. Although there are definite risks associated with being first, La Presse+ is his attempt at creating a new sustainable newspaper model. This tablet technology is also a way of competing with a whole new realm of multimedia platforms, for broader audience reach and more advertiser dollars.
(Visited 127 times, 1 visits today)