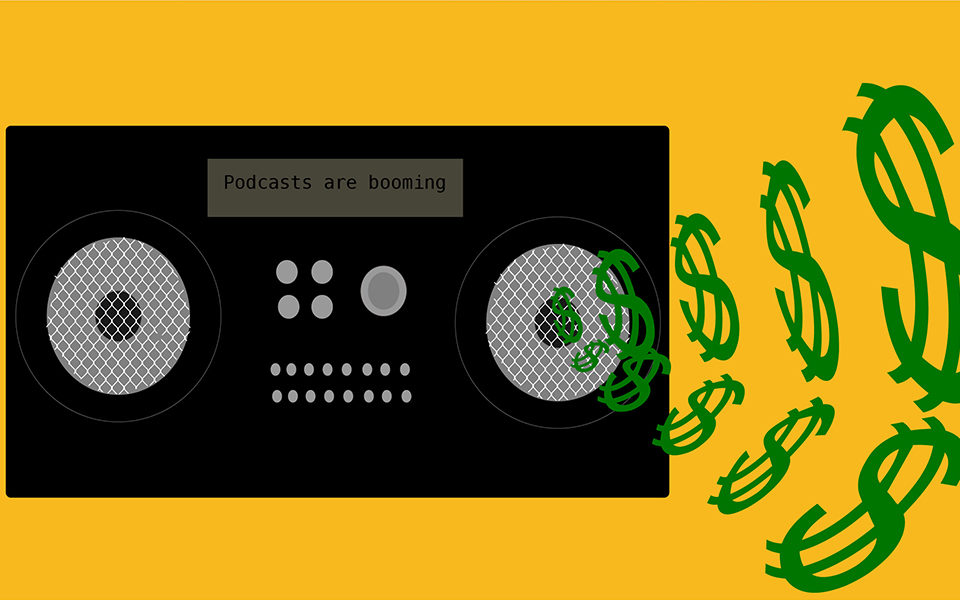 Radio broadcasting has been reborn in the form of podcasts. A new study commissioned by The Globe and Mail states that 10 million Canadians have listened to them in the last year. In the United States, 67 million people listen to podcasts monthly, an Edison Research study shows. But podcasts are free and easily downloadable from the internet, so how do producers actually make money?
According to Russell Gragg, producer of Canadaland and its Short Cuts and Commons podcast series, the solution falls into two categories: donations and advertising.
Canadaland is in a unique position in North America because it gets the most of its funding from supporters, Gragg said. Every month, listeners who want to support the show donate through funding website Patreon. "It gives us the money to not only produce, at present, four different shows and soon to be a number of additional shows," Gragg said. "It also funds straight-up reporting through our website."
Pacific Content, a company founded by former CBC employees, also has a unique way of making money through podcasts—they create and sell podcasts to other companies. They're behind shows like McAfee's Hackable? and Slack's Work in Progress.
Steve Pratt, a Pacific Content co-founder and former CBC Radio 3 employee, said companies are creating original content to find their own audiences instead of advertising on other shows. So Pacific Content creates these series that, if not for the mention of their creator at the top, would be indistinguishable from the other high-production podcasts on the market.
"We get paid upfront to be able to make the shows before we put a dime into production," Pratt said. "Most media companies will be putting in a lot of money upfront and a lot of financial risk on a show, and then trying to recoup those costs through advertising."
Depending on the show's host and format, Pratt said it costs between $30,000 and $35,000 to produce a 30-minute episode.
Since listeners have complete control over what they want to listen to, Pratt said podcasting companies need to change the way that they approach advertising. If listeners don't love what they're hearing, they'll skip it. This poses a problem for potential advertisers, Pratt added, saying that issue hasn't been solved yet by mainstream media companies.
"If you look at all the control audiences have, traditional media came to be 100-per-cent reliant on an ad-based model," Pratt said. "It doesn't seem like it's going to be a sustainable future if people are going to keep bypassing."
In 2016, National Public Radio, which publishes podcast powerhouses like Planet Money and All Songs Considered, made just over $2.5 million from "donated goods and services." That same year, it made over $60 million in advertising revenue—24 times more than donations.
In June, the Interactive Advertising Bureau estimated that revenues from podcast ads will reach $220 million this year, increasing by 85 per cent from last year. A big part of that will be "dynamically-inserted ads," meaning that the hosts read the ads, instead of airing a pre-recorded piece.
It's hard not to liken the trend to old-timey television hosts who read out advertisements on the news, but it also poses some ethical issues for podcasts based in journalistic practice, since journalists are expected to present themselves as neutral arbiters of information.
In a New York Times interview, Jay Allison, producer of The Moth Radio Hour, said she feels uncomfortable when she hears hosts on public radio trying to sell products. "I'm counting on them for something else," she said.
Hosts from Canadaland's podcasts read out advertisements on their shows for companies like FreshBooks and Casper.
What will happen to the podcast industry when everyone has a new mattress?

— Tabatha Southey (@TabathaSouthey) September 25, 2017
On paper, it sounds like a strange idea, Gragg said. "It sort of flies in the face of traditional conventions in journalism—always keeping advertising and editorial separate." But as a show that covers Canadian journalism, Canadaland makes sure not to add sponsors from that world, Gragg said, adding that other Canadian podcasts avoid reading ads because the scope of what they cover is greater.
"At that point, it can be a crapshoot," he said.  
Despite the huge numbers, Gragg said that everybody working in podcasting right now is leading the frontier, although success isn't always guaranteed. The Globe and Mail released a couple of podcasts—including Colour Code and The Risk Takers—and while Gragg believes they were well done, he doesn't think that there was enough revenue to offset production costs. Colour Code co-host Denise Balkissoon confirms they didn't seek out advertisers or sponsors for the show. On the other hand, NYT's show The Daily garnered over 20 million downloads in its first three months.
"I think most podcasts would be no different than your [average] garage band hoping to go across the country and make a lot of money," Gragg said. "We know that rarely happens."
Correction: A previous version of this story stated that National Public Radio (NPR) publishes This American Life, which is incorrect. We regret this error. 
(Visited 612 times, 1 visits today)