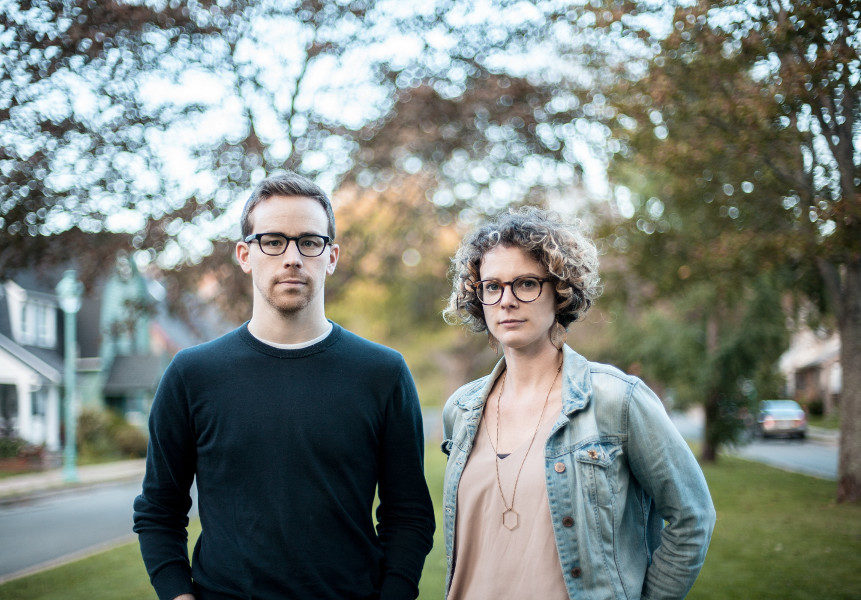 It's been a gratifying few months for Matthew Halliday and Chelsea Murray.  
In August, the Halifax-based couple launched The Deep—an online publication for in-depth, longform nonfiction from Atlantic Canada. Three major stories later, Halliday says he's encouraged by the "extremely positive" response from a strong readership.
"Each article has kind of hit on a different audience," says Halliday, the executive editor. He's pleased; at this early stage, each story they publish is critical in defining The Deep's identity.
Halliday and Murray love reading longform journalism, but they couldn't find much from Atlantic Canada. So last year they took matters into their own hands.
Murray, the associate editor, wrote The Deep's first piece, "How Not to Die", about veterans who, suffering from PTSD, started a company that turned a small New Brunswick town into a hub for medical cannabis. The story was picked up by Longform.org, which highlights exemplary non-fiction from around the web.
The Deep's second feature, "They Call it Syria Town", follows one Syrian family in Saint John, New Brunswick, to tell the larger story of how a shrinking city became home to one of Canada's biggest Syrian refugee communities. Their latest piece, Catch and Release, investigates why the full abundance of Atlantic seafood isn't readily available in Atlantic Canada.
Halliday says the first two features got thousands of unique pageviews, and analytics suggest readers spent significant time on each story. Their audience is predominantly from the Maritimes, he said, but they're getting readers from around the world—including several from New England.
The Deep is publishing one big feature a month, ranging from 4,000 to 8,000 words. They're not looking for investigations. Rather, The Deep is a place for compelling, deeply-researched stories from Canada's east coast.
While the stories should come from out east, the editors don't want to play into Atlantic stereotypes and cliches—they just want to find great narratives that happen to be from the region.
"[The stories] might be about a fisherman, but they don't have to be," says Murray, who's originally from New Brunswick.
The Deep is a partnership with Halifax's alternative weekly paper The Coast; the paper's editor, Kyle Shaw, is The Deep's publisher.
The publication got off the ground through crowdfunding. Its first few months will be funded by a Kickstarter campaign that raised more than $19,000. (Their goal was to raise $15,000 when they started last October).
Now, the challenge is to get subscribers—readers get two free stories before they hit a paywall.
But building a subscriber base is proving more challenging than getting support on Kickstarter. People seem more willing to help build something new, Halliday says. It's harder to convince people to pay to read content that already exists.
The goal is to be 50 per cent subscriber-funded, with the rest of their revenue coming from sponsored content, says Halliday. There's currently one paid piece on the website and he says every month will be "sponsored" by a particular advertiser.  The Deep doesn't have enough traffic to make banner ads worthwhile, Halliday says, and they would intrude on the reading experience.
Halliday says they didn't have any qualms about publishing sponsored stories; in fact, they were excited to do it "right and responsibly." They make it very clear which stories are sponsored and are selective about their advertisers, he says.
"The question of sponsored content has largely been settled," says Halliday. "I think if there's a clear delineation between the editorial and the advertising, nobody's trying to fool anybody… I think that's fine."
The sponsored content model is "quite in the mainstream now," he says, noting publications they admire like the New York Times and The California Sunday Magazine. "This is kind of a go-to strategy for them."
Halliday and Murray don't pay themselves, but their writers get 40 cents a word, which works out to around $2,000 per story. Murray says that one reason they started the project is to give writers the chance to devote time to these kinds of stories, which can take four to six months to report.
While The Deep's tagline is "Atlantic stories by Atlantic writers", Halliday says they're open to writers from anywhere—as long as they can spend time on the East Coast to do the reporting.
They also plan to intermittently publish reprints of older features from other magazines, such as a story on the eccentric Geoff Stirling, who became a Newfoundland television tycoon in the 1970s.
Murray and Halliday first started thinking about a project after moving to Halifax in 2014.
They both loved sites like The Atavist and Huffington Post's Highline, which only publish major longform pieces, and noticed there wasn't an Atlantic-specific outlet dedicated to longform narrative non-fiction.
Eastern Canada has so many great potential pieces that had nowhere to live, says Murray. "We knew the stories were here, and we wanted to provide somewhere where writers could dig into that stuff," says Halliday. "It's a home for the kind of journalistic storytelling that doesn't have many homes here."
They also wanted to give people in the region the chance to "see themselves, or see their home, reflected through journalism and storytelling in a different way than it had been."
While part of their motivation was the lack of local longform, Murray and Halliday also both missed being involved in journalism. They'd worked in the industry after graduating from Ryerson's Masters of Journalism program in 2010, but now have full time jobs in communications. They're still working in comms, but between planning events, building a website, developing a subscriber base, and getting advertisers, it's become "at least as much work as our day jobs," says Halliday.
Halliday and Murray would eventually like to pay themselves, but said their next goal is to increase their rates for writers. Halliday also envisions a future where The Deep could also publish a few shorter pieces each month, especially from writers who might not be ready to commit to a major feature.
The Deep is looking for pitches, and will publish its next feature in early December.
(Visited 236 times, 1 visits today)