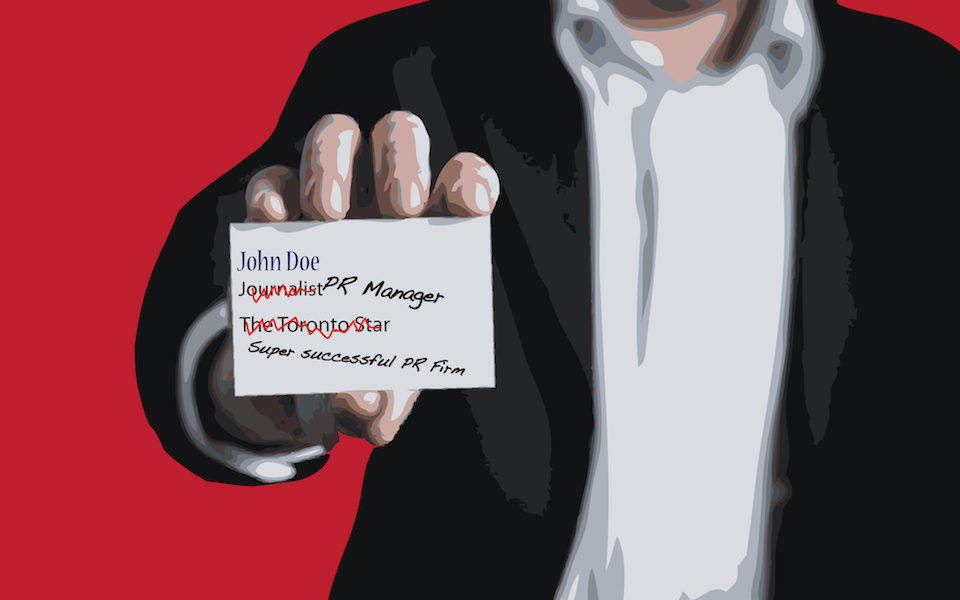 In May 2016, Shirlee Engel returned to her reporting job at Global News. She debated leaving the industry during a year on maternity leave, but decided to give it another chance. After what ended up being her final year at Global, Engel applied and accepted a position at global aid organization Oxfam Canada as a media relations officer.
"I think one thing you'll probably hear from a lot of journalists who leave the business is the burnout factor, especially when you work in a national newsroom in this day and age, with social media and the demand of a 24-hour news cycle," Engel says. "It really starts to become a grind after a while."
Over the years, many journalists have transitioned into public relations and communications roles. According to Pew Research Center, PR specialists in the United States outnumbered reporters by almost five to one in 2013, a ratio that increased from just over three to one in 2004. While PR and communications positions are increasing, however, newsrooms are declining significantly. In a recent Postmedia-Torstar deal, 290 people were laid off and over 30 newspapers closed. This past March, Postmedia also announced 54 layoffs at the Vancouver Sun and Province. And just under a year ago, Rogers Media let go of 87 employees. Of those, 60 were full-time workers and 27 were from the English-language digital content and publishing division.
"Over the years, there were times when you didn't know if there'd be a round of layoffs, and you didn't know if you would be laid off," Engel says. While this wasn't why she left journalism, she says that there are limited on-air reporting jobs. "There's only a few broadcasters –– there aren't really very many open positions."
Two years ago, former broadcast journalist Catherine Clark started her own communications business. The decision came after her contract was not renewed as a host on Beyond Politics, a program on the Ottawa-based Cable Public Affairs Channel. "I had an option to either go into the private sector or start my own business," Clark says, adding that she knew she needed to recoup her salary, but wanted a job that allowed her to be present in her children's lives. "I knew that in order to be able to have the flexibility that I needed and wanted, I had to consider starting my own business."
Cutbacks and layoffs at media companies are not new. In the late 1980s, CBC experienced significant cuts, says Lyn Whitham, a PR professor at Centennial College who also owns a small consulting firm. Whitham worked in journalism for 15 years, and spent most of her time at CBC before leaving in 1995 for an executive position at Zurich Financial Services. "I was scouted out. I hadn't even thought about it, but the CEO of the company wanted someone… who could bring fresh insight into how her company was doing business," she adds. At the time, Whitham became a new mother, and wanted a job that was more stable. She was also interested in business, and was saddened by all of the cutbacks at CBC. "Morale was low," Whitham says. "There was sadness and malaise because it was difficult to see what you love, what you're passionate about, and what you're idealistic about, shrinking before your eyes."
When Whitham became an executive at Zurich Financial Services, the compensation was significantly higher. While this wasn't a predominant deciding factor, it made a difference. But salary increases are not always the case, especially for people who are just starting out. Engel was surprised to discover that many PR and communications positions offered lower salaries than what she earned as a reporter. "The money is in public relations, absolutely, but not when you're starting out," Whitham says. "When you're starting out, it's the bottom of the ladder, but there's more opportunity [for higher salaries]."
While Engel is happy with her current position, she says there's nothing quite like journalism, which has a lot of exhilarating highs and incredible lows. Despite the highs being difficult to duplicate, Engel's current job is much more balanced. "The [journalism] business really needs to find a way to accommodate people," Engel adds. "There should be a way for people to be able to practice journalism and also make sure that they're there for their families." If a person is trained in journalism, Whitham says, that perspective never dissipates. "I don't think you ever stop being one," she adds. "That's how you orient yourself to the world around you."
(Visited 2,139 times, 1 visits today)