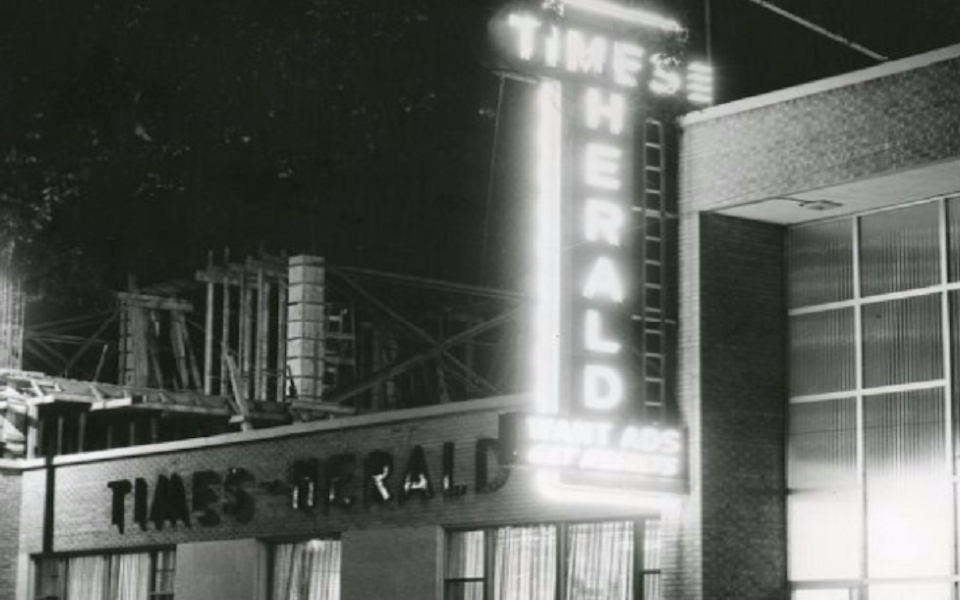 Cory Wolfe was well-suited for his first day at the Moose Jaw Times-Herald — but he didn't feel like it. Nine months out of journalism school with a brief stint at a weekly under his belt, a reporting position at a distinguished daily was his big break.
He sauntered into the office groomed into his image of the perfect journalist — his tie and belt a notch too tight. Reporters buzzed around the large horseshoe assignment desk that anchored the room.     
Rick Moore, the man who would be Wolfe's editor, walked in.
"He was wearing a Snoopy T-shirt and sweatpants," Wolfe recalls. "And I realized that everything was going to be OK."  
That sense of assuredness was in short supply at the Times-Herald in recent days. On Dec. 7, the 125-year-old newspaper closed its doors after Roger Holmes, the president of Star News Publishing — which owns the paper — announced its closure on Nov. 8.
The last @MJTimesHerald is out. #RIPMJTH pic.twitter.com/NdM6MR9TJR

— Michael Joel-Hansen (@mjhskcdn) December 6, 2017
The paper's closure contributes to the slow encroachment of news deserts — regions with limited access to fresh, local news content — across the country.  According an interactive map from the Local News Research Project, almost every single province is suffering from local news poverty. As of Sept. 25, 130 local newspapers in Canada have shut down since 2008. Forty closed due to mergers.

This timeline represents local communities that have lost news publications since 2008: 


In 2016, publishing company Transcontinental sold 13 Saskatchewan newspapers to Alberta-based Star News Publishing, which includes the Times-Herald.
Community papers are a powerful forum for social engagement and cohesion — both for the places they serve and the reporters who work for them.   
"There's more involved with closing a newspaper than the fact that we stop printing a stack of newsprint," says Mitch Diamantopoulous, an associate journalism professor at the University of Regina.    
"It's kind of an end of an era to that town in terms of its journalism certainly, but also in terms of the development of the community as a place where people understand each other, have empathy for each other, are willing to work together for democratic ends."
It's also the loss of a place for young journalists to build their skills and gain confidence. What set the Times-Herald apart, Wolfe says, was its ability to hone young, nervous talent. 
"We always had a blend of experience and youth in the newsroom — the historical knowledge of people that had been there for decades and also the enthusiasm of young reporters who were just starting to carve out their careers," Wolfe says. "The nature of our work and the hours that we kept made our staff very close." 
Wolfe worked at the Times-Herald from 1997 to 2000. It was in the period following his departure that the paper began to stumble. The tried and tested model of passing knowledge from old stalwarts to up-and-comers didn't apply as the newspaper's subsequent owners grappled with the digital shift.
Matthew Gourlie briefly worked under Wolfe before replacing him as one of two sports reporters. In years that followed, Gourlie says he saw the paper, which was a longtime community pillar, lose its ground. With resources — including reporters — in decline, waves of change hit the paper hard.
While Transcontinental focused on online traffic, the Star moved away from digital engagement and back to the print edition. The Time-Herald's limited team of reporters was put in charge of layout, the print deadline was moved from 10 p.m. to 5 p.m. and the Monday paper was cut. After 17 years with the paper, Gourlie left.  
Jane Gerster, who reported for the Times-Herald from October 2016 to March 2017, was also frustrated with constant changes that had little long-term payoff.
"I would stress that I think that a lot of people there are working really hard and doing the best that they can in the conditions that they're in," Gerster says.  "I think one of the big issues for me when I got there was there was not really an understanding of what the paper was supposed to be."
"There were changes constantly happening. I think that had an impact on us doing our jobs.  You could never quite get projects going the way you wanted and news judgement was constantly changing."
Gerster, who currently works at the Winnipeg Free Press, says that trying to resist an overlap between editorial and advertising content was always an issue. "We had a couple [editorial] meetings in February, where I said I'm not writing these with my name on them anymore."
But what frustrated Gerster the most was what she saw as her inability to grow as a journalist.
"I think a lot of people who get into journalism want to get better at it. That's always been the one thing for me. I've always wanted to be somewhere [where] I feel like I can keep learning and improving. And that just wasn't the case."

The Times-Herald continued to attract young journalists. Reporter Sarah Ladik joined the team in April, and says she's accustomed to working at newspapers on the verge of closing.
"We do the best we can, and I think that overall, that's the hallmark of what community journalism is all about—showing up to every single boring council meeting, staking out court," Ladik says. "We've done some really great work in the last couple of months — since July — to rearrange positions, and we hired an extra person in editorial.
"I wish we'd had a little bit more space to prove that it was working," Ladik adds.  
What's jarring is not only the cuts to local news, but the complacency around them closing, Diamantopoulos says.   
"Our democratic infrastructure is suffering a slow, painful death of 1,000 cuts and we have all become numb to it," he says. "Waiting is obviously not an option, as the people of Moose Jaw have kind of learned the hard way."
Like the recently lost horseshoe desk at the Times-Herald, local papers anchor communities and generations of reporters. "[CBC's] Peter Gzowski did his final morning show from Moose Jaw," Wolfe says. "He came to visit the newsroom, and he spotted that horseshoe desk right away, and remembered it from his time there in the 1950s."
The Times-Herald was Gzowski's big break.
(Visited 239 times, 1 visits today)