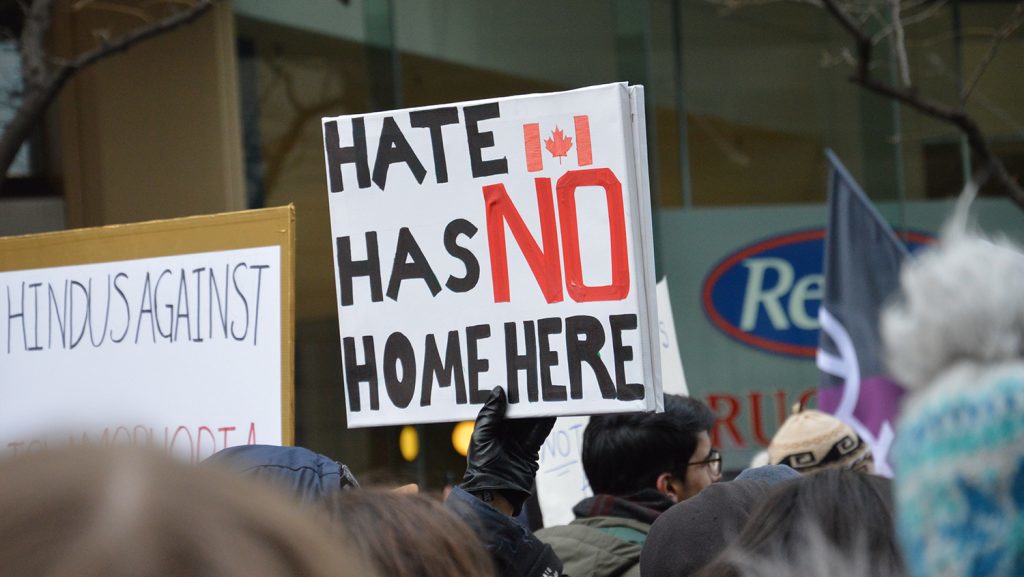 Hundreds of people poured into the streets of downtown Toronto on Saturday to protest U.S. President Donald Trump's ban on Muslims and refugees from seven predominantly Muslim countries. Canadians have been vocal in taking a stand against Trump's racist regulations, and are calling for the Canadian government to echo this sentiment.
On Jan. 29, six people were shot and killed while praying in a Quebec mosque. This has been deemed a terrorist attack by Quebec politicians, making many Canadians realize that Islamophobia is not just a U.S. issue.
Please take in the size of this crowd. Chanting "no ban no wall, justice for all" #nobannowall @ryersonreview pic.twitter.com/6TOB10ykgd

— Sierra Bein (@sierrabein) February 4, 2017
https://twitter.com/stevenzzhou/status/827987152013123584
Toronto's Feb. 4 protest ran from the U.S Consulate in downtown Toronto to the Yonge and Dundas corridor a few blocks away. The crowd repeated chants asking to "Free Yemen", as well as Syria, Iraq, and other countries. "No ban, no wall" was heard from the crowd's microphones.
The march coincided with a protest in Washington, D.C..
We'll be in front of the White House for a #NoBanNoWall vigil later today. Tell @POTUS no #MuslimBan in my name! https://t.co/SmYzWrxAFW pic.twitter.com/ZGZKFCrP7l

— Amnesty International (@amnestyusa) February 3, 2017
On Jan. 27, Trump signed an executive order which banned citizens from seven predominantly Muslim countries from entering the US. This has since been blocked temporarily by a federal court, but people across the world continue to fight Islamophobic and xenophobic views.
https://twitter.com/ianrhpic/status/826159459625992192
(Visited 168 times, 1 visits today)
Sierra is a freelance journalist from Toronto. Her main interests include digital and visual journalism, and maybe you'll find a fun opinion here and there.