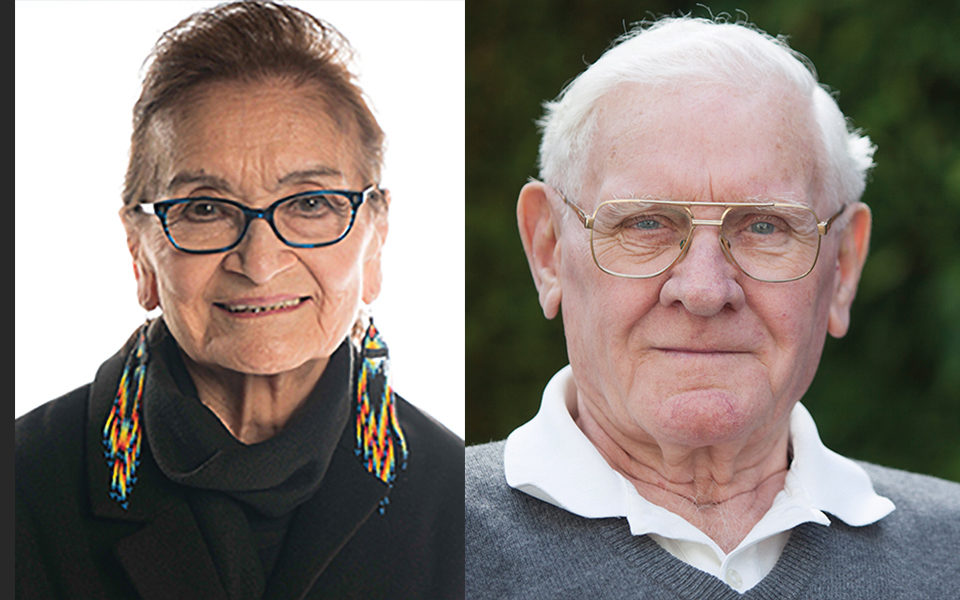 Cece Hodgson McCauley
By Daniel Calabretta
Cece Hodgson McCauley died on March 11 at the age of 95 after decades of activism and journalism. She filed her final column on March 5.
Every weekend, Cecile "Cece" Hodgson McCauley sat at her kitchen table in Norman Wells, a Northwest Territories hamlet with a population of about 800, to write her Monday column, her "special pen" in hand.
It took Hodgson McCauley about an hour to write it, always by hand, always with the same brand of pen. When she finished, Hodgson McCauley faxed the finished product to Vancouver, where her daughter-in-law typed it up and sent it to the Northern News Services, the Yellowknife-based publication for which Hodgson McCauley wrote for roughly 40 years.
"I sell the paper, you know," she'd say.
Hodgson McCauley, a founding chief of the Inuvik Dene Band and the first woman chief in the Northwest Territories, first picked up a copy of the News of the North in the early 1970s. After poring over one issue, she contacted J.W. "Sig" Sigvaldson, the former publisher of Northern News Services. The writing didn't reflect on issues that truly mattered to its readership, she thought.
"I said, 'Who's this guy you've got writing? He doesn't say anything and it's so stupid,'" she recalled telling Sigvaldson. "Well, why don't you write for me?" he asked. She had no prior writing experience, but Sigvaldson gave her a shot.  "I call a spade a spade," she said. "I don't beat around the bush."
Originally from Fort Norman, Northwest Territories, now known as Tulita, Hodgson McCauley, a Métis woman, grew up along a trapline—originally a Hudson's Bay Company trading post—about six miles south of town. Along the line, she remembered, there wasn't much to do. But Hodgson McCauley had her hands full. When she was six, her mother died and she had to take care of her 16 brothers and sisters. Not long after, she was sent to a residential school in nearby Fort Providence. For Hodgson McCauley, her time there was "the 10 best years" of her life. People treated her well, and she learned to cook and sew, she said.
Hodgson McCauley vividly remembered one time her father went into town and brought her back a magazine: "Oh boy, did I ever read that book so fast."
Her columns tended to take an advocate's tone. They were informal, conversational, and called for improvement to the territory's governments and systems to improve life for its residents, especially its youth. "I don't give a damn about the rich or high-class people. I'm teaching the little guys. They're the ones I worry about," she said.
Randi Beers, a reporter and editor for CBC North, used to edit Hodgson McCauley's column. Beers says some of her views were controversial, but her voice was unique, often funny, and helped build perspective: "[She had] the sort of stream-of-consciousness writing that probably only comes when you sit down and pen a 700-word column every single week by hand."
In January, Hodgson McCauley stoked controversy when, in the wake of Senator Lynn Beyak's expulsion from the Conservative caucus, she wrote a column suggesting the residential school system had a "good side" nobody was willing to acknowledge. "Everyone is entitled to their opinion," wrote Bill Erasmus, the national chief of the Dene Nation, to CBC in response. Residential school survivor Ellen Smith took issue with the column. "It's not about the money. It's what truly took place in our environment when we all went to residential school," she told CBC. "I went there for 11 years."
Opinions aside, Hodgson McCauley cared deeply for her region and the people who live and work there, and was unafraid to share her thoughts, no matter how offbeat they seemed. "She [had] wisdom," says Mike Bryant, the managing editor of the Northern News Services. "She [was] our eyes on the ground and she's been a part of the culture, history, and politics of the region for a very long time."
In 2017, Hodgson McCauley was honoured with the Indspire Award in recognition of her contributions to political discourse. She advocated for the Mackenzie Valley Highway extension, which she believed will improve access to resources for those living in her region.
"I think she [had] credibility because people [believed] her conviction," Bryant says. "They [knew] when she [wrote] something in our paper, she honestly [believed] it."
Above all, Hodgson McCauley hoped her column created awareness of issues in the North and prompted people to make a difference.
"I just say what I think," she said in November. "I'm Cece McCauley: I say anything."  
Jim Hume
By Jacob Dubé
At the age of 90, Jim Hume was laid off from his job.
He maintained a regular Sunday column at the Times Colonist in Victoria, B.C., for 48 years, until he was notified the publication was "changing its structure" and cutting expenditures for freelance writers—he was on the chopping block. His final column ran on March 30, 2014.
Most would consider a layoff in their 90s career-ending, but on the same day that he got fired, Hume asked his youngest son to help him set up a website; he didn't want his brain to atrophy. Hume updates his blog, The Old Islander, every week.
"I did it for my own health as much as for somebody else," Hume says. "I've still got a deadline once a week, I still meet that deadline." Lately, he doesn't have to look very far to find something to write about.
On The Old Islander, he writes about various topics, including daytime television, electric cars, and provincial politics, with a patience and attention to history missing from many current columnists.
Now 94, the nonagenarian has been a journalist for the better part of 70 years. In his career, he's met royalty, Canadian and British politicians—he had an annual Grey Cup bet against former Canadian prime minister Lester B. Pearson; Hume won four and lost two—and is the longest serving member of the B.C. Legislative Press Gallery.
"In a way, he's a kind of a living memory," said his son, Stephen Hume, 71, a former columnist for The Vancouver Sun.
Hume was born in 1923 to a blue-collar family in Nuneaton, England—a small town just north of Coventry. He lived on a grimy street overlooking a hat factory, but would often escape the industrial setting to visit his grandfather on the rich farmland exterior.
In a post Hume published days before Christmas last year, he reminisced about holidays spent in Nuneaton during the Great Depression."Those were the days, when the first carols were heard only a few days before Christmas; when a boy soprano could send "O Holy Night" echoing through the shadows of an old church's vaulted ceiling like an angel singing; when most of us could sing along with the great choruses of Handel's "Messiah." And some of us still can."
In his teens, he interviewed for a copyboy job at the now-defunct Nuneaton Observer, and when he told his father, he forbade it. Hume's father was a veteran of the First World War, where he fought in the Battle of Gallipoli. He lost his left eye, a chunk of his cheek bone, and had severe damage to his left arm and collarbone after being hit by shrapnel from a Turkish shell. Hume's father was suspicious of white-collar work. "He wanted me to learn a trade which would last me the rest of my life," Hume says. "He never thought journalism would do it."
His father set him up with an apprenticeship at a tool plant in Coventry—his impression of a decent job—but it didn't go as planned. Hume wasn't so great with his hands and ruined more pieces of steel "than you would ever think possible."
Hume's attempts at starting a writing career in England were all received with rejection letters. Around 1947, Hume—newly married with an infant son—met Doris and Muriel Howe through a friend. The sisters were true romance novelists, writing over 40 books since the 1950s. They told Hume he had a much better chance of making it as a writer in Canada, and recommended he move to Western Canada. He chose Victoria because it was the furthest away from England. "I figured—in my total ignorance—that if we didn't like Victoria, we could start to work our way home," Hume says.
He moved to Victoria in 1948, but both the Daily Times and the Daily Colonist rejected his applications, citing a lack of knowledge of Canadian affairs. After a series of odd jobs as a woodsman and a baker, among others, Hume got a job as a sports reporter at the Nanaimo Daily Free Press in the 1950s, and everything snowballed from there.
He went on to work in several newsrooms, with one stint outside of journalism in a municipal government organization. When asked why he left his government job after only 18 months, Hume responded, "Because I can't stand you bastards up close." He eventually settled on the Times—later renamed the Times Colonist—in the spring of 1965.
In the '50s, Hume visited England, took his father to the pub, and showed his old man his bylines as a newly minted sports editor in Nanaimo. His dad still didn't believe this was how he was making a living, but Hume later found out his father would bore friends with stories of his "famous writer son." Nobody knew how small the Free Press really was.
"I think he was proud of me in the end," Hume says. 
(Visited 533 times, 1 visits today)
This is a joint byline for the Ryerson Review of Journalism. All content is produced by students in their final year of the graduate or undergraduate program at the Ryerson School of Journalism.