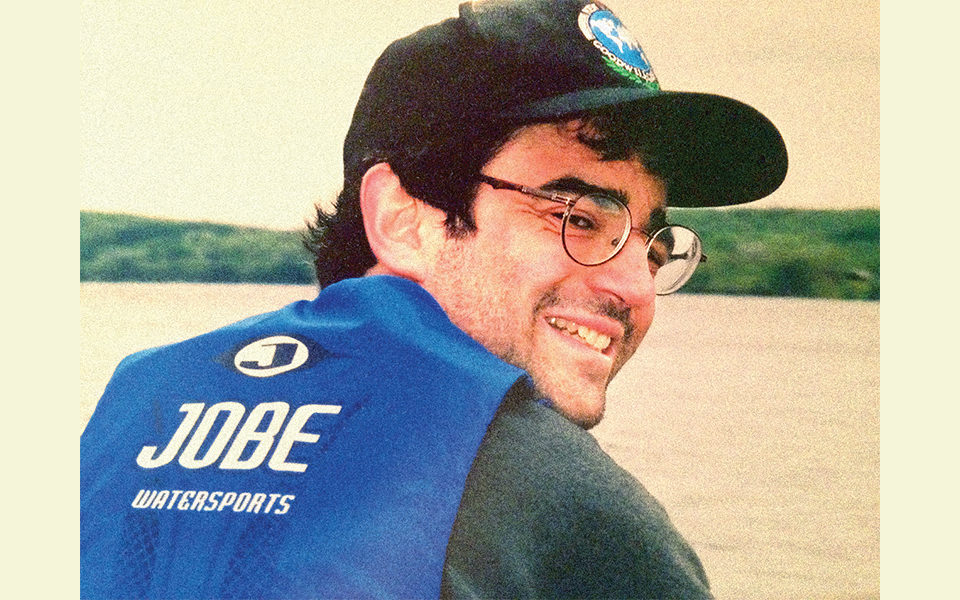 On March 11, 2011, the Toronto Star published a story titled, "When love runs out of time: Parents fear for injured son." This was Randy Starkman's magnum opus, a 4,500-word piece that reflected the type of stories he strove to tell. Starkman was writing about Scott Finlay's parents—Hugh and Rosemary—and their three-decade struggle to establish a brain injury centre to house their son who's paralyzed and unable to speak since a near-fatal crash in 1978 at the Canadian alpine skiing championships in Lake Louise, Alberta. The narrative feature contained many themes: parental struggles, uncertain futures, lost ambitions, and unexpected challenges. General readers, health practitioners, and policy makers read the piece, and in September 2017 in Napanee, Ontario, Finlay House officially opened its doors to house six residents who had brain injuries, including a 61-year-old Finlay.
Starkman didn't live to see the full impact of his article. He died in April 2012 from complications following a bout with pneumonia at the age of 51.
Canadians with some knowledge about luge or kayak or shot put, and the athletes involved, can likely trace that back to Starkman. The Star Olympic sportswriter's work reflects a lifetime spent honing a beat, covering performances by Canadian athletes that most often get ignored. Over a career that spanned three decades, he was continuously finding new audiences compelled by his subjects and their tales. By writing about them, he tied together universal themes of perseverance and loyalty to draw in unsuspecting readers.
Starkman set out to accomplish what only the best sportswriters are able to do consistently: write stories that appeal to people no matter how interested they are in sports, says Mary Hynes, who was married to Starkman for 23 years. Hynes, who hosts CBC Radio's Tapestry, says he used his mother as the barometer for gauging a reader's interest in everything he wrote: "That was sort of the test Randy put for himself every time out. If Estelle Starkman could read it and enjoy it, then he thought he had done the job well."
Starkman began his career at United Press Canada in 1980, covering amateur sports in Europe, before moving to the Star in 1988, where he wrote almost exclusively about Olympic sports until 2012. Starkman's coworkers and the athletes he covered have paid testimony to his attention to detail, the energy he invested on a single story, and his commitment to sustained reporting.
"When the story was ready, Randy would tell you, " says Dave Perkins, former columnist and sports editor at the Star. "Randy was a bleeder. He was bad for sitting down and actually writing. He always wanted to make that extra phone call."
In the press rooms of the Olympic Games (he worked every single one between Seoul in 1988, and Vancouver in 2010), he was famous for sticking around long after everyone else had left, although, he had to leave the '96 Atlanta Games early to attend the birth of his daughter Ella.
"My first Olympics was Athens. I'd finish writing at 1 a.m. sometimes," says Canadian Press sportswriter Lori Ewing, "And afterward, there was a rooftop bar, and you'd have to walk through the press centre to get to the washroom, and he'd still be sitting there, typing away. And I'm like, 'What the hell is he still writing about?' He just worked so hard."
His practice of journalism­—the attention to detail, the time and effort put into building trust with sources and the relatable storytelling­­—is exactly the kind of journalism that is worth recognizing in an outlet like the Ryerson Review of Journalism.
Starkman's major career breakthrough came in 1993. A few years after Canadian sprinter Ben Johnson was caught doping at the 1988 Seoul Summer Olympics, the Star had a breaking story: the athlete had tested positive for banned substances again. At the time, Johnson was far from the public eye. The story was a huge exclusive for Starkman, a piece he was able to write based on information from inside sources he'd cultivated over years. It revealed how Johnson had been tested at the Hamilton Spectator Indoor Games on January 15, and again two days later at a Grand Prix event in Montreal, followed by another random testing in Toronto. The story gained international attention, and earned his first of two National Newspaper Awards.  
He was also dedicated to shining a light on concussions in hockey, long before the issue was widely and seriously discussed. What made Starkman's work meaningful was the humanity he employed as a reporter and as a person. It is what endeared him to his sources and to his loved ones. It is why—when he died—Mary and their daughter Ella found their mailboxes full of grieving notes from readers across Canada, and from athletes and their parents.
An example of his generosity dates back to 2008 when Perkins recalls Starkman receiving a $10,000 prize from the Dr. Tom Pashby Sports Safety Fund for his contribution to advancing public interest on the concussions issue.
"I said to him, 'Christ, it's the middle of January. It's 30 below zero here, the weather sucks. Let's grab our wives, we'll use your 10 grand, and we'll go to Jamaica for a week or something,'" says Perkins. "You know, totally selfish. Of course, Randy just had this look on his face and he said, 'Well, I already donated the whole $10,000 to the Breakfast Club,' and I felt pretty small."
Olympic athletes say they trusted Starkman in a way they didn't most journalists. When she was competing, rower Marnie McBean says journalists covering the Canadian rowing team were often digging for information that would hint at some sort of animosity between her and teammate Silken Laumann.
"You have two of the world's top scullers in the same program," McBean says, "And at one point competing for the same spot, and people would come to find out, 'Well, who's the bad guy here? Because there has to be a bad guy.' Randy never wrote it that way because that's not what he saw and it's not what we felt."
In taking a distanced and nuanced approach to storytelling, Starkman took his time with reporting and writing his stories. That investment meant checking out the athletes at training camps, including going to Lake Placid to watch the skiers train. "It was during times like that, I think, where a lot of the relationships were forged," says Hynes. "Because it wasn't that he was just showing up during your 90 minutes of glory at the Olympics. He was there during the drudgery and the times of non-glory just as readily as he was at the Olympics."
Many athletes say they can't remember the first time they met Starkman, only that they grew closer over time.
"It became an advantage of time and perspective." McBean says, "He saw us all grow up."
As a result, friendships formed. Cross-country skier Chandra Crawford recalls asking Starkman and his family to have dinner with her when she was visiting Toronto and looking for something to do. Hurdler Perdita Felicien wrote in a blog post about how Starkman helped her figure out transitions as her athletic career was coming to an end.
He also had an aggressively competitive side he tapped into from time to time. "Playing ball hockey with Randy Starkman was very surprising to me," says TSN Radio host Dave Naylor, "Randy as a person was benevolent, generous, charitable and a highly empathetic human being. Randy was not like that as a ball hockey player. He was very aggressive, and he would push the limits on the rules. If you were in front of the net with him, he would, NHL-style, try to hold you."
At home, Starkman was incredibly engaged and a quiet craftsman. When his daughter Ella was obsessed with Cruella de Vil, he carved her a chair with de Vil's face on it, upholstered with dalmatian-spotted fabric on the seat. He once carved a papier-mâché replica of a guitar for her. One Halloween, Ella dressed as Cruella de Vil and Starkman made a dalmatian mask for himself and followed along on a leash.
"He was the best dad," Ella says breaking down at the memory of her lost father. "Even when he was working really hard he always called from the Olympics."
At heart, Starkman was what all journalists ought to be—a student. His academic interest in every aspect of sport is how athletes first felt like they could trust him. They also admired him for the knowledge he had. Starkman's extensive knowledge put other journalists in the post-event media scrums to shame during the Olympics. In the Hynes-Starkman household, this could get annoying. As Starkman droned on about an obscure Olympic sport, Hynes would go into mock suicide mode, aping a scene from Airplane!, a film the couple loved.  
"I'd pretend to be pouring a can of gasoline on my head," she says, laughing at the memory. "You've got to stop—I can't hear one more story about luge or I'm going to die."
Starkman shared his love of his career with his family, and his love for his family with the people he spoke to. He was a man who happily shared his loves with everyone he knew, and he has been sorely missed. 
(Visited 638 times, 1 visits today)