By Aimee O'Connor
With a ceremonial click of a button, Mel Rothenburger, who'd retired as editor-in-chief in 2012, simultaneously put to bed the last issue of the Kamloops Daily News and an 80-year-old tradition. The front page headline on the January 11 edition read, "I really don't know what I'm going to do when there's no paper." The closure left Kamloops, a city of nearly 90,000 people, without a daily newspaper. Reporter Michele Young had not yet cried during the rough week but nearly broke down when she saw one of her colleague's watery eyes.
Earlier that week, publishers Tim Shoults and Peter Kvarnstrom of Glacier Media gathered the team of 55 employees to give them the bad news. They chalked it up to economics in the industry. Despite having built up a thriving website, paid circulation numbers were dwindling and there wasn't enough revenue. Even with two months' notice, the team stopped publishing within five days. As Young says, "It's not like anybody had any heart left."
Shutting down the paper ended many of its employees' careers in journalism—and a treasured ritual for the reader. But reactions to that loss seem to say more about a generation gap than the need to be informed. One year later, with easy access to journalism online and from broadcasters, many in the town are finding that a daily paper may be more about the habit than the news.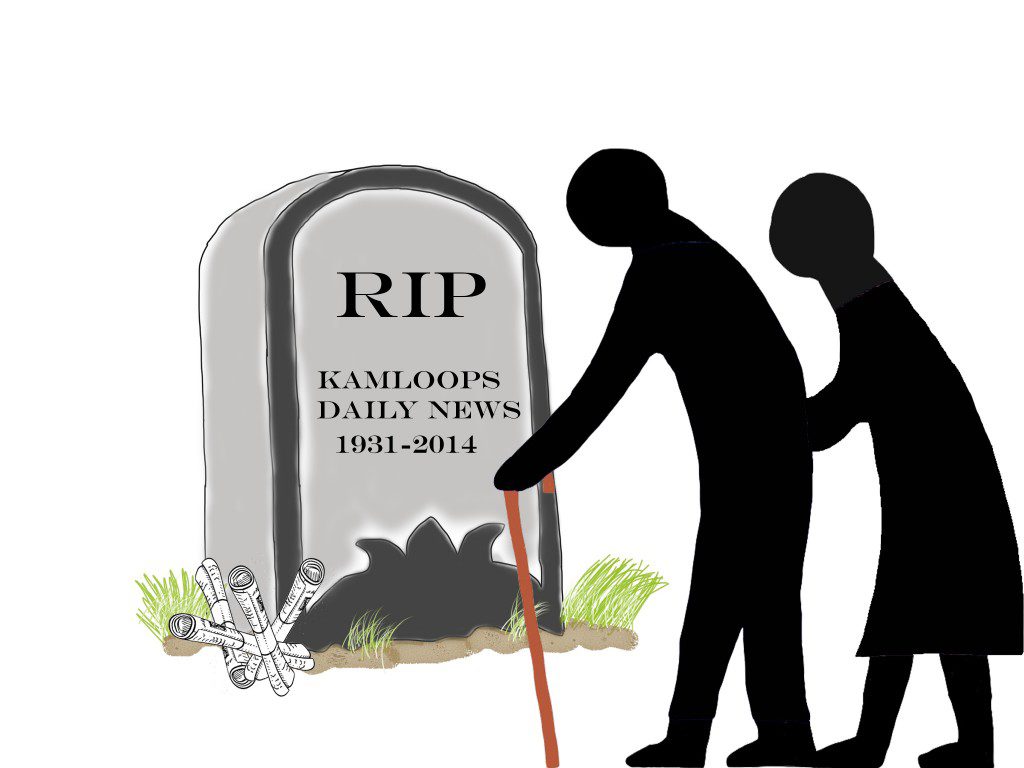 Since it started as the Kamloops Shopper in 1931, the newspaper was something people could count on every day. Although its paid subscribers had dipped to about 10,000 by 2011, the Daily News was still highly regarded in the community for its award-winning news coverage and philanthropic efforts. In 2013, three reporters earned nominations for the National Newspaper Awards for a series criticizing the state of rural health care and a historical feature detailing the murder of three police officers 50 years earlier. And Rothenburger, who was at the paper for over 40 years, won a Jack Webster Foundation lifetime achievement award in 2011. Meanwhile, the Daily News raised money and gave ad space during its notable Raise a Reader and Christmas Cheer Fund campaigns.
The same day the Daily News made its announcement, the biweekly community newspaper Kamloops This Week revealed it would return to printing three times a week. As a free paper, KTW is a different breed of publication. Still, readers expected it to beef up its reporting and take over where the daily left off. Ten months later the staff has increased slightly, including three from its old rival and several recent journalism graduates. Former Daily News city editor Susan Duncan says that while KTW covers crime and politics, it misses stories on the environment and school board. She says it also lacks the continuity that her paper provided. "We could take a local issue and report continuously on it and provide commentary in columns and opinions."
But the community has other options with five radio stations, including a CBC bureau established in 2012. There are also weekday television newscasts by CFJC-TV. And Rothenburger, who once served a term as mayor, started a news blog called "The Armchair Mayor." Initially a place for commentary on the closing of the Daily News, the blog now has community news and guest columnists written by former colleagues. Since he's retired, Rothenburger has time to keep up the blog, posting every few days with short news articles and more thought-provoking opinion pieces.
The importance of having a daily goes beyond the luxury of getting news delivered to your door. Brian Legree was a sports editor at the Oshawa Times in 1994 when Thomson Newspapers closed the long-standing paper after a three-week strike. At the time, the daily was a fast-acting and reliable news source. The Times closed down when papers had only just started migrating online and few readers looked to the internet for news. So, explains Legree, people worried about losing what newspapers should fundamentally do—keep an eye on institutions and government. "People looked at the Toronto Sun, which rose from the ashes of the Toronto Telegram, and wondered if that could happen here," Legree says. "Ultimately, it did not."
Although the Sun and the Toronto Star both publish news from Oshawa, a daily newspaper becomes part of a community's fabric: who its citizens are and what they stand for. Now a journalism professor at Oshawa's Durham College, Legree says this connection stems from citizens identifying with a paper product.
Nearly 20 percent of Kamloops residents are aged 65 and older, part of the generation that grew up with newspapers. In part, the daily paper becomes what Legree calls their "news buddy." So losing it becomes less about the news and more about the ritual of collecting a paper every morning to mull over with a cup of coffee.
When that demographic "goes to their maker," KTW editor Christopher Foulds hopes to have the right product for the next generation. The paper's strength is its online presence. So while some readers in Kamloops still complain that they miss their beloved Daily News, there's news one click away that wasn't readily available when the Oshawa Times closed.
With other options, the community isn't starving for news. "The problem is we don't have a daily paper," says Charles Hays, an assistant professor of journalism at Thompson Rivers University in Kamloops. That not only eliminates people's morning reading routine, but also the social aspect—people's conversations about what they read. "I'm not convinced that simply having a dead tree with ink smeared on it delivered to my doorstep is the only reason to keep a newspaper open."
(Visited 340 times, 1 visits today)