For his 23rd birthday, Peter Lozinski received a newspaper. The Cold Lake Sun, to be exact. To be even more specific, the responsibility of single-handedly producing a weekly paper that serves a population of 15,000. For 10 brutal weeks this year, Lozinski was running a one-man newsroom.
Lozinski was hired as a reporter for the Cold Lake Sun last September, just a few months out of journalism school.  The newsroom was a two-person operation at that time: him and his editor. But when his birthday rolled around in February, the editor had left the paper for a job outside of journalism, and Lozinski's supervisors had to look for a replacement. Lozinski was offered the position, but he turned it down at first. He didn't feel ready. That was his first day running the paper alone as a reporter.
"I'm just maintaining it until the next person," Lozinski would say. He became the next person four weeks later, when he accepted the editorial position—this time without hesitation.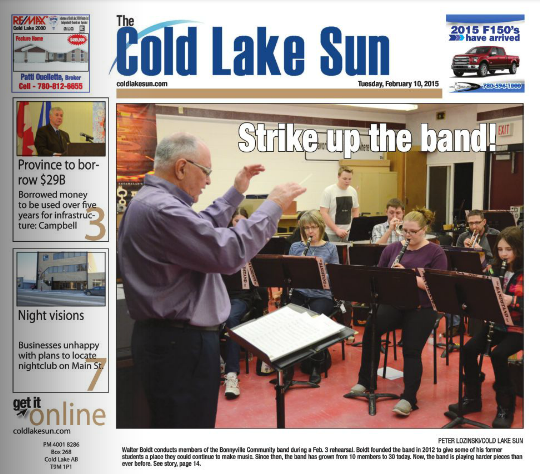 What does it take for one man to produce a weekly paper that averages 44 pages while running the paper's website and social media accounts? To begin with, a fridge fully stocked with frozen dinners. He ate every meal at the office. He worked 12 hours a day, seven days a week—sometimes up to 15 hours a day, around the weekend. One Sunday, with the paper due the next morning, he slept on the floor of his office because he wasn't sure he could drive home safely. He attended council meetings, community events, ribbon-cuttings; he learned how to use a DSLR camera and InDesign. He became familiar with the community in the northeastern Alberta oil town, which is also home to the busiest fighter base in Canada and large First Nations and Métis populations.
"The loneliness definitely crept in a bit," he says. "But I didn't really have time to worry about that. It was all work, all the time. I had no work-life balance. There was no life—it was work." He did, however, take five days off near the end of March, during which a few journalists and editors from other Sun Media papers in Alberta helped put the week's issue together. The other Cold Lake Sun staff were also a source of support for him. If he couldn't make an event, the communications staff helped him get photos or phone calls with the right people. The Cold Lake community was understanding; he's only one man, after all. In mid-April, as Lozinski was really beginning to tire out, the paper finally hired a reporter, Celina Ip. The two-person balance was restored.
At 23 years old, Lozinski has worked longer as an editor than a reporter, covering First Nations stories, military issues, developments in the oil industry—beats he wouldn't have gotten to do as a new reporter in a large daily.
Lozinski's 24th birthday certainly has large shoes to fill.
(Visited 406 times, 1 visits today)
Anda is the chief copy editor of the spring 2016 issue of the Ryerson Review of Journalism.