Justin's Trudeau's hair might be the best weapon in the political business, just slightly ahead of Donald Trump's golden locks.
After all it has made headlines in the past two years and signified Trudeau's trajectory from Member of Parliament to leader of the Liberal Party.
"Justin Trudeau: Great hair but no credentials," read an October 05, 2012, segment on the Toronto Sun website.
"Hair apparent Justin Trudeau changes look in leadership quest," read a March 11, 2013, article by Canadian Press.
"Hair apparent: Is the son of a prime minister ready to take over the top job?" wrote The Economist on October 3, 2015.
Apart from the article by CP, which was a serious discussion about Trudeau's hairstyle changes quoting an image consultant, the other two examples were more analytical discussions about Trudeau's political abilities. The headlines, though, were all about the hair.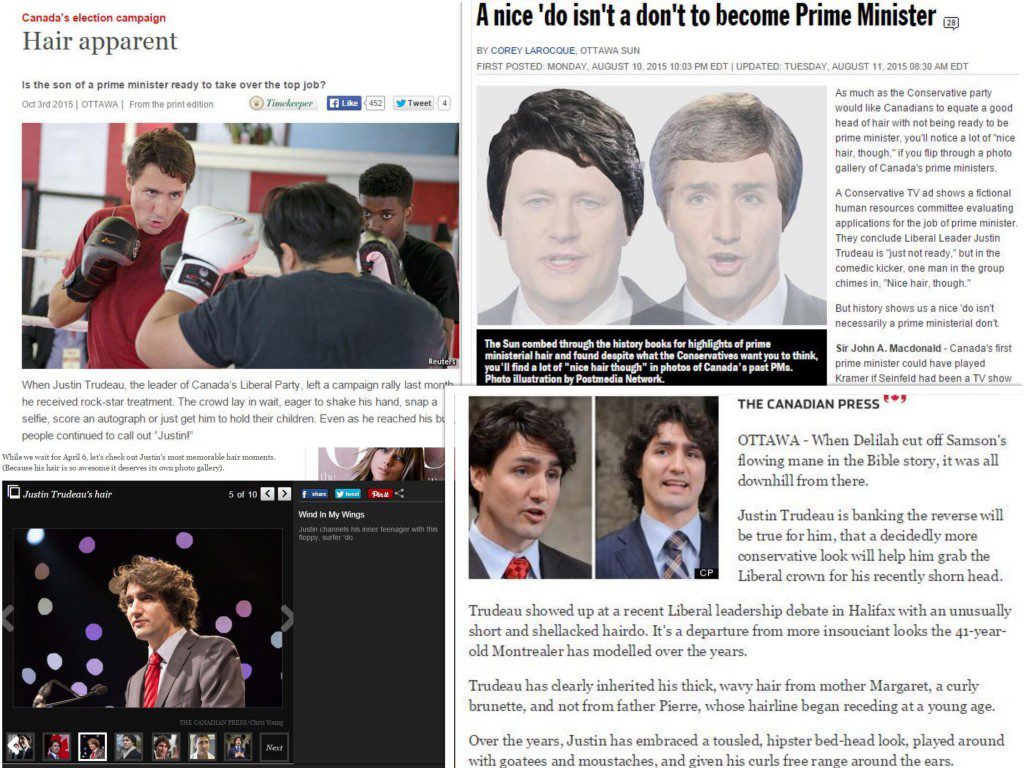 If the journalistic attention to Trudeau's looks is to be taken seriously, it would seem that that We The Voters really care about this stuff, and maybe we do because everyone can't help but talk about it: his youth, his looks, his style.
At one instance, during her summary of the election campaign on CBC's The National, Wendy Mesley said, "Justin Trudeau was talking about youth, and not just his own." In a Maclean's piece on Trudeau's tougher image in debates, Jaime Weinman uses his hair to depict the new image akin to the CP article cited above:
"Above all, there's the hair. When he became the leader of the floundering Liberal party two years ago, his hair was longer, sometimes frizzier, always giving the illusion that he was too cool to cut it. Now he's got shorter, slicker hair to go with his tougher manner."
This image-centric attention towards a political leader is, unfortunately, not uncommon. Hilary Clinton's pantsuits, Tom Mulcair's beard, Barack Obama's ear-to-ear grin, Rob Ford's 'crack-confession' tie, Chris Christie's weight. The style and image of political leaders becomes the most memorable thing of election coverage because of its visual nature.
Accordingly, there is an evident feedback loop where one comment on a politician's hair leads to another, which leads to another and so forth. First, The Huffington Post publishes a photo gallery of the evolution of Trudeau's hair. Then, the Conservative Party puts out a TV ad stating that Trudeau is "just not ready," but "nice hair, though." Toronto Sun puts together a list of the highlights of Canadian prime ministerial hairstyles in response to the ad, which is aptly titled "A nice 'do isn't a don't to become Prime Minister." Margaret Atwood then responds to all of this in an opinion column for the National Post: "Some are born with hair, some achieve hair, and some have hair thrust upon them through laws and customs." Then, I write this blog post.
In all these examples, there is no discussion of Justin Trudeau's politics, his views on policy or his plans for government. It's all about the 'do.
It's absurd that hair could be such a big issue. It's more absurd that election coverage almost presents Trudeau more as a young man with a great head of hair than as a leader with a pro-middle class platform for instance.
Yet, hair matters. We want a leader with a great head of hair over a politically capable mind. And when out of the three leaders on the stage, one looks like Justin Trudeau, it's hard not to write about it, even if perhaps we shouldn't.
(Visited 460 times, 1 visits today)
Fatima Syed is the blog editor of the spring 2016 issue of the Ryerson Review of Journalism.