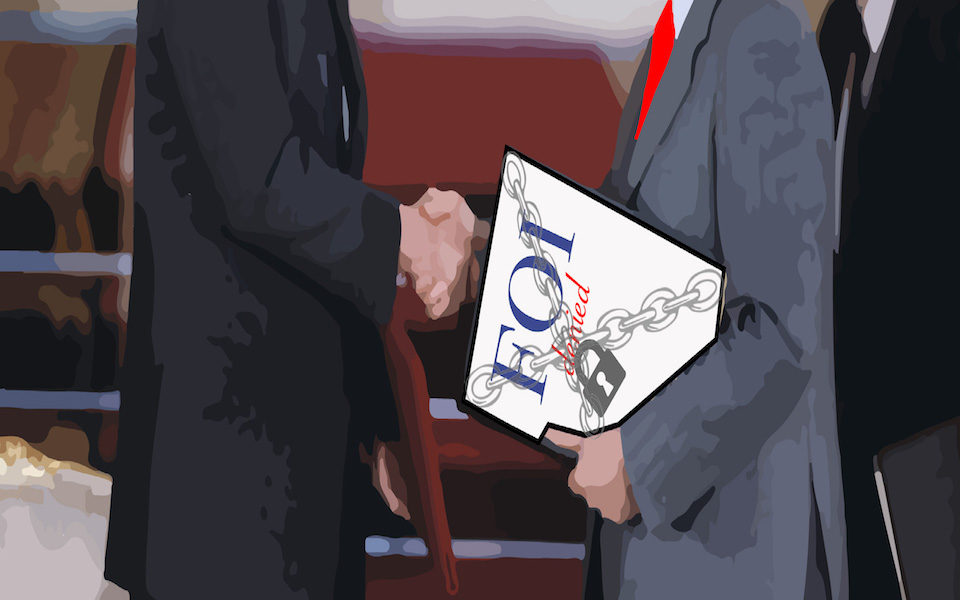 As the Committee on Access to Information, Privacy and Ethics was meeting in the Wellington Building in Ottawa on Oct. 18, the sorry state of freedom of information was being mocked a short drive away.
Scott Brison, president of the Treasury Board of Canada, appeared in front of the committee to discuss possible reforms to the access-to-information system. The same day he was crowned 2017's first Code of Silence Award winner for his "outstanding achievement in secrecy."
A reporter covering the ceremony decided to visit his office to personally present the award. Without much choice in the matter, Brison "took it in stride," said Nick Taylor-Vaisey, president of the Canadian Association of Journalists (CAJ). "He acknowledged that he won the award. He wasn't too happy about it."
The Code of Silence is an annual satirical award founded by the CAJ that is presented to the most secretive government departments. This year, CAJ partnered with the Centre for Free Expression (CFE), Canadian Journalists for Free Expression (CJFE) and News Media Canada, expanding it to four awards presented to a federal, provincial, local and law enforcement representative.
Toronto Hydro, the local municipal winner, received its award Oct. 24 in the media gallery at Queen's Park. The winners of the provincial and law enforcement levels will be announced later this month in Saskatchewan and Ottawa.
Back in 2001, investigative reporter and former CAJ president Robert Cribb founded the award to shine light on the dysfunctional state of information access in Canada.
"I was doing investigative reporting again and again, running up against long delays, huge fees and a basic culture of secrecy and bureaucracy across the country that was impeding my ability to tell and report stories," said Cribb.
After noticing that the classic approach of speaking out wasn't resonating with the public, Cribb said he realized journalists and journalism organizations were treating access to public information as a journalism issue, when it's really a public-interest issue.
"Journalists don't seek government records for journalists, they're doing it, by definition, in the public interest in order to report that information to the public," he said, adding that in order for the public to be engaged, they have to completely change their approach. Cribb said he wanted to start a conversation. That's when the idea of creating an award to 'celebrate' government secrecy came to be.
Through conversation comes action, and Cribb said a perfect example of that happened in 2007 when the awards honoured then-Ontario Attorney General Michael Bryant for having the highest fees to access court records in Canada. Bryant attended the CAJ's annual gala in Ottawa where the award, along with their real media awards, was presented and where he accepted his title. During his acceptance speech, he immediately announced that they were going to drop the fees.
CFE director James Turk decided to join forces with the CAJ when he thought of creating a similar award in 2016, frustrated with Canada's access to information laws. Turk didn't hear about CAJ's Code of Silence award until he began thinking of creating his own. This brought the CAJ's struggle of outreach to light, and gave Turk the idea to help broaden their audience by joining forces.
After getting in touch with Taylor-Vaisey, Turk proposed the four organizations join together to present awards to four levels of government. The winners are chosen by a jury consisting of a representative from each organization.
"If we can generate more public awareness of this, then we'll have more success when lobbying the government to fix the problem," said Turk.
The jury, which consists of a representative from each organization, chose winners from nominations submitted by organization members, journalists and advocates. News Media Canada also conducted its annual Freedom of Information (FOI) audit — where it "test[s] how readily officials disclose information that should be publicly available on request," according to the organization— and the jury was able to take their results into account.
The group audited Toronto Hydro, the local winner, after news of its potential privatization began circulating in media reports in 2016. News Media requested general and financial details privatization, but Toronto Hydro labeled the request as "frivolous" and denied it.
"They spent untold time…and a lot of resources to try and prevent us from exercising what we considered to be our rights under FOI and the rights to inform citizens," said John Hinds, president and CEO of News Media Canada and the presenter of the award at Queen's Park.
The 1985 Access to Information Act provides journalists, Canadian citizens and permanent residents the right to access government information, whether on budgeting, information on institutions or federal-meeting minutes.However, it's limited by loopholes that allow government agencies to not fully follow its regulations. Suzanne Legault, Canada's information commissioner raised the issue in a 2015 report,suggesting that  denied "frivolous" requests – as in Hinds' case – be subject to appeal, as well as be "strictly circumscribed."
Federal institutions also take too long to respond to AIA requests, despite the act's requirement that institutions respond within  30 days of receiving notice. While large requests naturally take longer to fulfill, some individuals are left waiting months or even years for a response.
"Everyone talks about a culture of openness, but when it comes to FOI, we see a regression in terms of the attitude and the ability of the government to conform to and honour the spirit of freedom of information," said Hinds.
The Code of Silence's goal is to spark enough discussion and public interest to bring about legal reform and fix the law's dysfunctions.
"We tried to be serious, we've tried to be scholarly. We decided that perhaps humour might be the best way to do this and to point out some of the complete absurdities that we see across the country in various levels of government," said Hinds.
(Visited 120 times, 1 visits today)
Karoun Chahinian was the print production editor of the 2018 issue of the Ryerson Review of Journalism