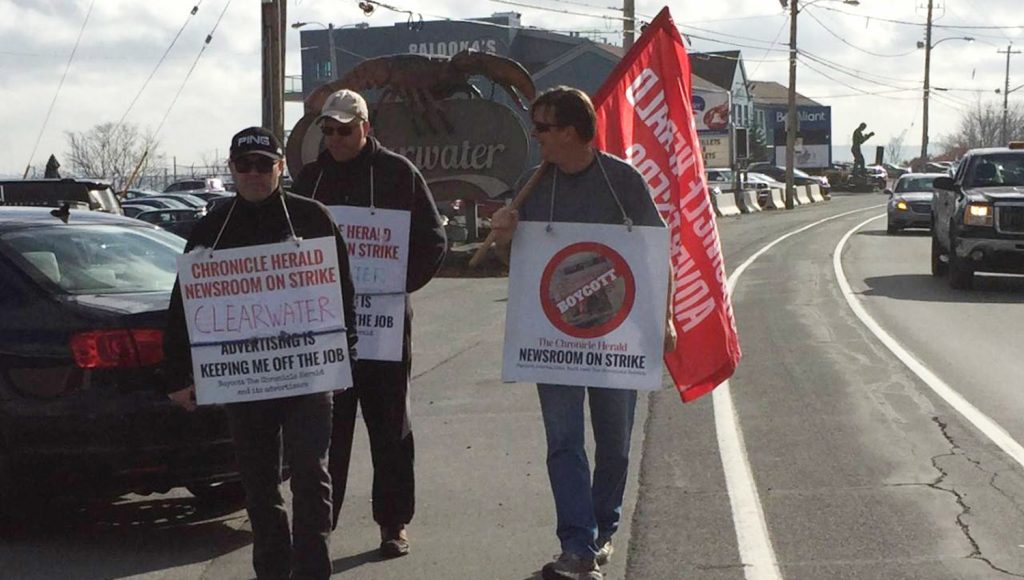 Tom Ayers and two of his colleagues walk the most remote picket of the Chronicle Herald's strike. Five days a week for the last 10 months, the three reporters—Ayers, Erin Pottie, and Andrew Rankin—pace up and down a stretch of sidewalk outside their bureau in downtown Sydney, Nova Scotia, across from "the busiest Tim Horton's in Cape Breton." Fifty-two Herald strikers operate the main strike in shifts at the newspaper's Halifax headquarters, four hundred kilometres away, with red signs: "Fight For a Fair Deal" and "Boycott Chronicle Herald—Newsroom on Strike."
Yet, the Herald still finds itself on newsstands across Nova Scotia.
"A traditional picket line is still necessary, but it's not as effective as it used to be," Ayers says. Despite the picket line out front, replacement reporters have kept the paper's operations running inside—and all are capable of filing remotely from smartphones or laptops. Picket lines seem almost antiquated.
Negotiations between the Herald and the Halifax Typographical Union (HTU), which represents the newsroom's striking reporters, editors, and photographers, broke down in January. The union claims it offered a five-percent pay cut across the board as a concession, but it drew the line at 18 proposed layoffs (which later changed to 26). Management argued its counter-proposal would still see employees making anywhere between $71,000 and $82,000 a year, and claimed the union's offer wasn't good enough. Despite sporadic bargaining and the intervention of a provincial mediator, neither side has budged. In early November, the union announced their intention to file an unfair labour practices complaint against the Herald's managers for allegedly refusing to accept concessions.
We've continued to remind people that that's a scab worker. That's a replacement worker who took our jobs
But, on Twitter, Ayers is one of the union's most vocal supporters. "We've obviously had to use social media to get our message out—and it's been effective," Ayers says. Along with other union members, he's been naming and shaming any journalist suspected of "scabbing", or working for the Herald despite the strike, on Facebook and Twitter. Strikers are also encouraging the paper's readers to stop subscribing. Some are even asking readers to stop checking the Herald's website in the hopes of hurting the company's online advertising. Ten months after strikers took to the picket line, the social media campaign is still in full swing. Among its regularities: the "Scab of the Day" posts on Facebook. We contacted several replacement workers—derided as "scabby" by the HTU—all of whom declined to comment. A number of them mention their positions with the Herald on their social media profiles.
"We've continued to remind people that that's a scab worker. That's a replacement worker who took our jobs," Ayers says of the campaign.
"Our journalists, who are on strike, know how to dig," says Ingrid Bulmer, president of the union. "I don't even know myself how they find these people, but I'm always quite amazed when they do."
The union's also targeting local businesses that they claim continue to buy advertising in the Herald—Scabvertisers", in the HTU's lively Facebook vernacular. Among the current targets: Touch of Gold jewelers and Dugger's Mens Wear. Groups of Herald strikers even picket outside certain businesses several times a week. There's no shortage of potential targets, either; the Herald lists its print advertisers on its own website going back to October.
"The local businesses don't like it, but it is effective," Bulmer said. St. Mary's University in Halifax also saw a similar protest after professors opted to continue publishing op-eds in the Herald. The union sat down with the university after their initial protest, and while the administration can't officially order professors to stop submitting to the paper, according to Bulmer, it has encouraged them not to.
Even local politicians are getting involved. Nineteen Halifax municipal candidates signed a public statement in early October vowing not to do interviews with any Herald reporters until the strike is over.
Cape Bretoners, according to Ayers, are particularly sympathetic to the Herald strikers' plight. "We used to have a steel plant and coal mines here, so there's tons of people who still are strongly allied with the union sentiment," he says. The September 15 closure of the island's Herald-owned weekly—the Cape Breton Star—speaks to this. Support for the paper, Lever wrote in a statement, "has come up against a prevailing headwind of union sympathy in industrial Cape Breton."
But that sympathy hasn't necessarily spread across Halifax. Most of the current or former Herald replacement workers contacted for this story refused to go on the record—save one. Columnist Anne Farries, a freelancer for the Herald and several other local publications, wrote a column under her own byline about being harassed online by the union: "I believe in unions, but not this time."
Risking the ire of Herald advertisers means that the strikers might be sawing away at their own job security
Without once using his name, she claims Tom Ayers' denouncement of her as a "scab" the previous week was factually incorrect. "He's usually an excellent, unbiased reporter, but he slipped in this case."
"I am hardly new." She goes on to say that she's worked for the Herald as a freelancer, under contract, for two years. In other words: she's never been in the union, nor did she join it because the Herald needed bodies to fill the desks of striking journalists.
When contacted later for comment, Farries delved into her own doubts about the union's success in drumming up support. "It is easier for me to ignore the HTU's flaming (there's an old-fashioned term for you) when I remember that my Chronicle Herald column has about 70,000 readers, and the HTU's Twitter posts—what? 200? Big deal," she wrote in an email. Plus, she points out, advertisers pay for the Herald—and the salaries the strikers hope to return to. "That's not wise."
The Herald's striking staff don't just rely on Twitter, though. Local Xpress, a news site run by the strikers out of their homes, went live about a week after the picket lines formed. It's now host to a CP feed, daily reporting, and advertisers. Local Xpress's reporters and editors earn strike pay for contributing, although the union has vowed to dismantle it if the Herald settles.
Nonetheless, risking the ire of Herald advertisers means that the strikers might be sawing away at their own job security. The owner of Duggers Menswear, Ross MacNeil, sees Herald strikers picketing outside his Halifax store quite regularly. In spite of the boycott, he continues to pay for ads in the Herald. "We've been advertising in that paper for over 40 years," MacNeil says. He also doesn't get why newspaper reporters and editors would picket the main source of revenue for a city newspaper. "We have to do business, too. It's not our fight–and quite frankly, I find it amazing that they would boycott us not to advertise when it's the advertisers that drive their business."
Making peace with the company—or anyone involved in the strike—won't be easy. And Ayers knows it.
"That's an open question—and that's what scares us the most," he says. "Will we have jobs to go back to?" He believes that the Herald is saving money by not paying 61 strikers' salaries—but also that the union's campaign has been a blow to the paper's advertising and subscription rates.
Some of the union's supporters may never return to the Herald—even if the strike ends with a settlement. "There have been people on social media saying, 'I'll never go back to it again. They've treated you so badly, I can't ever support them again.' I read that—" Ayers chuckles nervously, "and it almost makes me lose hope momentarily, because some of those people probably mean it." Five or six strikers have already bowed out and taken jobs in other newsrooms. Neither Ingrid Bulmer nor Ayers blames them.
Ayers has been in four separate unions over a 30-year career in the news industry and says that he's never really known solidarity before—not until last January. On the line, he chats with locals who drop off cash donations, Tim's cards, and sympathy—"lots and lots of support, an unbelievable amount of support."
A few weeks ago, he met an exception. Ayers and his colleagues were walking the line when a couple—American tourists visiting Sydney on a cruise ship—walked past their picket. One of them turned around and said: "You guys should get back to work. Hard times are coming."
Ayers laughed. "Hard times are already here."
(Visited 84 times, 1 visits today)