Ryerson's School of Journalism found itself in a Twitter storm in February over the questions surrounding how far freedom of speech can go for students in the program.
It started in March 2020:
In March 2020, Jonathan Bradley, a fourth-year undergraduate journalism student at Ryerson University, wrote an op-ed for the famously conservative website, The Post Millennial. Bradley is a writer for the Ryerson School of Journalism (RSJ) newsletter, as well as the breaking news reporter for the school-affiliated newspaper the Ryersonian. At the time, he was also a volunteer writer for Ryerson's independent newspaper, The Eyeopener. In his piece, published on March 2, he expressed disdain for Diversity and Inclusion Offices at Canadian universities for promoting "radical ideas," "rampant political correctness," and "postmodernism," as well as his disapproval of the protests against the Coastal GasLink pipeline at Wet'suwet'en—something The Eyeopener editorially supported.
The Eyeopener's constitution states that the publication "shall ensure that its coverage is accurate, timely and honest. Reports which display a sexual, racial, or religious prejudice shall have no place in the pages of the Eyeopener." Although this article was published elsewhere, because Bradley had "writer @theeyeopener" in his Twitter bio at the time, The Eyeopener masthead objected to being associated with these views; many of the students who write for and are editors on the masthead of The Eyeopener were racialized and queer students.
According to Bradley's HRTO application, the week that the op-ed was published, Bradley was asked not to attend that week's pub night, which The Eyeopener typically hosts for its volunteers each week, because some editors felt that his presence would make staff and other contributors uncomfortable. On March 6, 2020 Bradley was told he could continue writing for The Eyeopener but could not do stories focused on equity, diversity and inclusion. On the same day, Bradley was told that he could share his opinions on these topics on other forums but would be asked to refrain from attending future pub nights on the weeks that he did publish such work, if he chose to do so.
In the months following, Bradley continued to write columns for The Post Millennial and has articles published in the publication as of March 4, 2021.
The situation escalated in June 2020:
A student who attends Ryerson—who shall remain nameless for legal reasons—published tweets on June 3, 2020 claiming that Bradley is a "bigot" and a "homophobe." The student also included a screenshot of a conversation they had with Bradley in July 2017 in these tweets, which included Bradley's belief that homosexuality and "transvestism" are sins. The student tagged Ryerson and The Eyeopener in their tweets.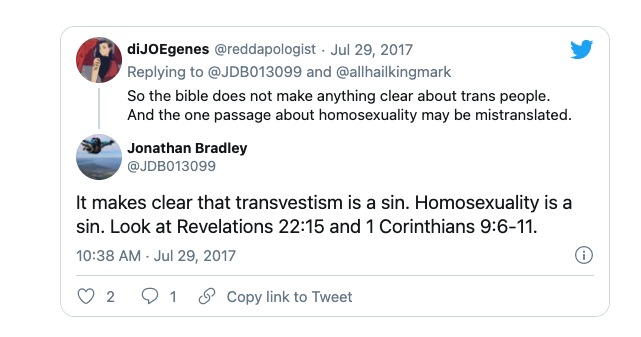 After these tweets were published, Bradley filed a defamation suit against this student and the tweets were deleted. However, The Eyeopener began receiving complaints from audience members that they would feel unsafe if Bradley continued to write for The Eyeopener.
After these complaints were made, Catherine Abes, the current editor-in-chief at The Eyeopener, conducted an investigation into Bradley's social media. Abes found several other posts that disturbed The Eyeopener's editorial staff.
On June 9, 2020, Abes terminated him from his volunteer position at The Eyeopener.
June 9, 2020 – January 15, 2021: Back and Forth
Between the months of June and January, Bradley's lawyer and The Eyeopener's lawyer corresponded back and forth about next steps.
January 15, 2021:
On January 15, 2021, Bradley announced in a Facebook post that he would be filing a complaint against The Eyeopener to the Human Rights Tribunal of Ontario (HRTO). Bradley is a devout Roman Catholic, and wrote in his complaint that he felt the masthead was discriminating against him based on his creed.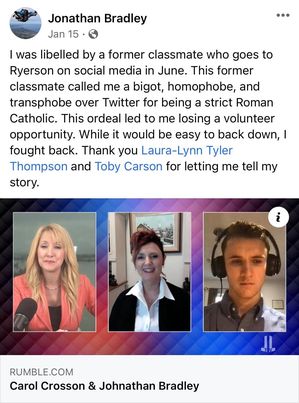 According to a letter written on his behalf by the Society of Academic Freedom and Scholarship (an organization that has a cancel culture primer and survival guide on their website), as part of his application to the HRTO, Bradley is asking for $20,000 in general damages plus "prejudgment and postjudgment interest for loss of opportunity, harm to reputation, injury to feeling and self-respect, loss of dignity and victimization and humiliation."
He is also asking to be reinstated in his volunteer writer position at The Eyeopener.
February 4, 2021:
Although many conservative publications such as The Post Millennial, LifeSiteNews, the Laura-Lynn Tyler Thompson Radio Show and The Catholic News Agency have all covered Bradley's story, it didn't reach mainstream media until the National Post picked it up on February 4, 2021.
This is when outrage began to spread throughout the Ryerson journalism community online.
February 5, 2021:
Bradley threatened another student of the Ryerson School of Journalism with a defamation lawsuit for her response to the National Post article.
The [ ] Review of Journalism reached out to both Janice Neil, the former chair of the Ryerson School of Journalism, and Lisa Taylor, the former undergraduate program director, in January after the initial announcement that Bradley was filing a complaint to the HRTO. Neil suggested [ ]RJ reach out to former RSJ chair Ivor Shapiro, who writes a column for the Centre for Free Expression at Ryerson. Taylor refused to comment on the situation until a decision was made by the HRTO and echoed this in a semi-annual general meeting with the undergraduate program at RSJ on February 5, 2021.
During the meeting, students expressed their disappointment in the school's refusal to acknowledge a situation that was making racialized and LGBTQ2IA+ students feel unsafe in the school, and publicly denounce homophobia and discrimination across their platforms.
A link to the full meeting is here.
After the meeting, students, alumni, and mainly Black, Indigenous and people of colour (BIPOC) faculty members took to Twitter to express support for students after they expressed their disappointment on the platform.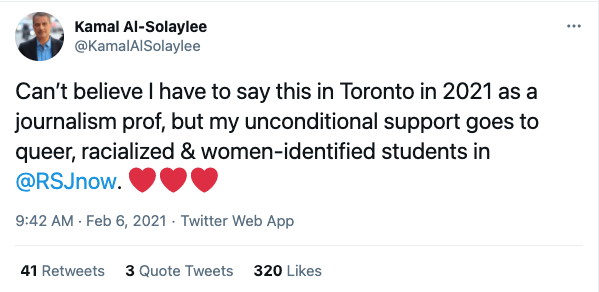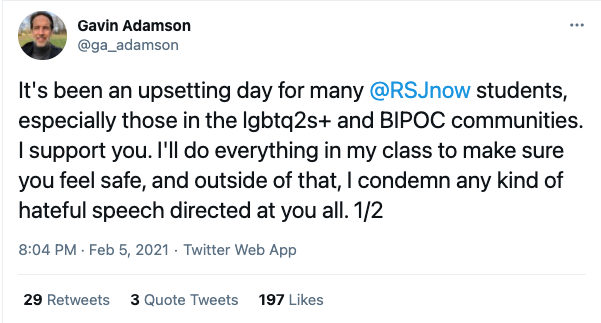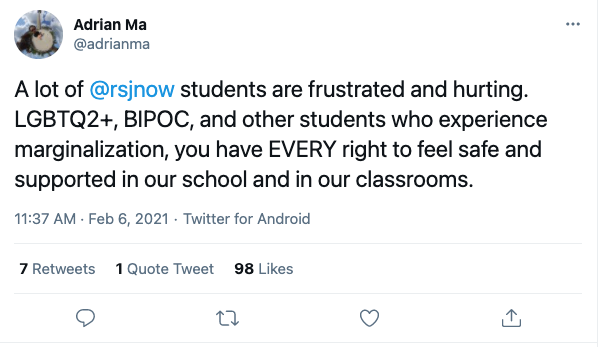 February 9, 2021:
Five days later, at 11 p.m. on February 9, 2021, the RSJ released a six-tweet thread expressing their support for LGBTQ2IA+ and BIPOC students. They condemned racism, transphobia and homophobia, and promoted "dialogue and education on vital issues such as these."
After the statement was released, students and alumni immediately took to Twitter to demand concrete action and express their disappointment that the statement was released so late in both the day and the situation.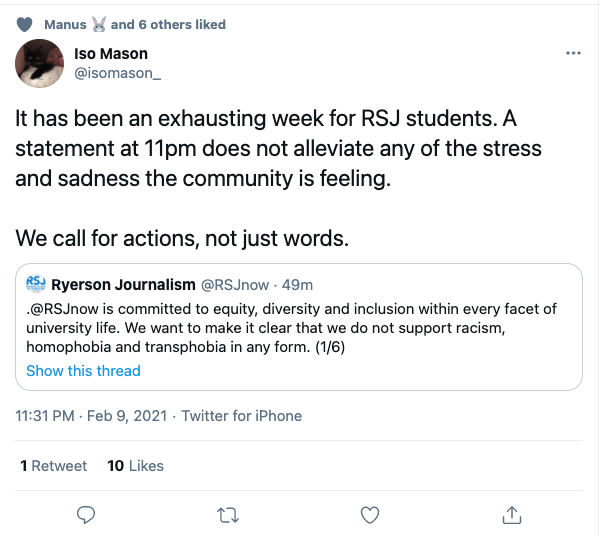 At the time of writing this:
Bradley remains the breaking news reporter for the Ryersonian and a paid employee of the Ryerson School of Journalism as a communications intern.
March 8, 2021: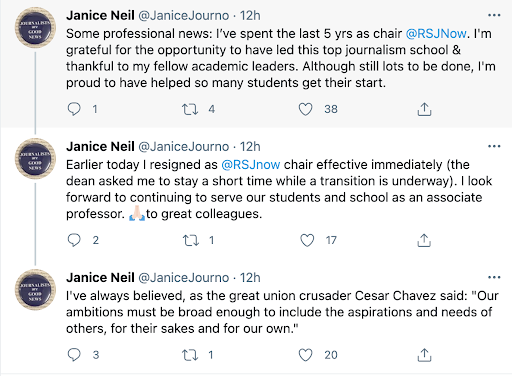 On March 8 2021, Janice Neil, then-chair of the Ryerson School of Journalism, and Lisa Taylor, then-undergraduate director of the RSJ, sent separate emails to students, declaring their resignation from their positions. Neil's email arrived in student inboxes at a quarter past midnight, while Taylor's came in at 7:30 a.m.
At 10:10 a.m. on March 8, 2021, students of the RSJ took to social media and, in a note to faculty and students, posted a statement and call to action describing the ways in which the RSJ has failed to protect LGBTQ2IA+ and BIPOC students. The statement identifies systemic problems, offers suggestions for changes and includes testimonials from students and alumni. It is signed by nearly 200 current and former students, as well as a number of student publications.
—
No institution is exempt from complicated questions about freedom of speech, including Ryerson University in Toronto. A textbook example of this, in which a student's personal beliefs clashed with the values of his colleagues, has caused a stir in the school's student journalism community.
In situations such as these, the question is whether an institution that tries to protect everyone, can truly protect anyone.
On January 15, 2021, Jonathan Bradley, a fourth-year undergraduate student at the Ryerson School of Journalism, filed a human rights complaint against the independent student newspaper, The Eyeopener, for "firing" him from his volunteer position as a contributor. The complaint is based on alleged discrimination because of his Roman Catholic creed.
Part of Bradley's application was supported by a letter from the Society of Academic Freedom and Scholarship, an organization that offers a "cancel culture primer and survival guide" on their website. According to the SAFS website, the organization also opposes "measures such as speech codes, extra-legal tribunals and so-called anti-hate legislation that may infringe on the right and responsibility of the academic community (faculty and students) to teach and do research on controversial subjects."
The Eyeopener's lawyer Lai-King Hum, whose firm specializes in employment law, does not think that Bradley's case has merit.
In a statement given to the [ ]RJ, The Eyeopener's editor-in-chief, Catherine Abes, said that the paper filed its response to the application in time and they are denying any claim of discrimination against Bradley.
According to Hum, The Eyeopener did not terminate Bradley because he was Roman Catholic, but because he went against The Eyeopener's constitution by publishing beliefs that went against the community guidelines.
"Conduct of people on social media and other online platforms is not a new thing that organizations consider," says Hum. "Organizations have certain brands and they may have a constitution that they operate by."
If the reputation of an organization is put in jeopardy or someone associated with its name defies its constitution, then the termination of that person is justified, according to Hum.
Hum says she believes the HRTO will act fairly in the decision-making process.
The [ ]RJ reached out to Bradley and his lawyer Carol Crosson, who is a public pro-life advocate, but they declined to comment.
Bradley is outspoken about his disdain for cancel culture on his personal Facebook. On a GoFundMe page for his lawsuit, he had raised over $2000 by February 10, 2021. On the page, which has since been removed, he expressed that he believes he is part of the silent majority fighting for freedom of speech and freedom of religion.
Freelance journalist Genelle Levy was among many journalists who took to Twitter to express their confusion with the case. She says she believes that Bradley is missing the point and the history of the Ontario Human Rights Commission (OHRC) entirely.
She explains that when the OHRC was created, it was based on the United Nations Declaration of Human Rights—a document created after the Second World War to protect human rights and legislate for basic human dignity in marginalized communities. The OHRC's first chair Daniel G. Hill, was a Black sociologist, historian and civil rights activist.
"If you look back at the history of what inspired the commission," says Levy, "a lot of it was to protect against discrimination that was being experienced in marginalized groups."
While Bradley is within his right to file a claim if he feels he has been discriminated against, "this was not how the first chairman probably would have imagined the use of this kind of commission," she adds.
Ivor Shapiro, a former RSJ chair, writes a column for the Centre for Free Expression at Ryerson that investigates and examines all aspects of freedom of speech, including the insurgence of cancel culture and when the rhetoric surrounding freedom of speech becomes problematic.
In his column, he writes that no one owns free speech. He explains that the beauty of living in a democratic society is that the press and the people are free to express anything they want without penalty–except if that expression is inciting violence or disinformation.
"I would say the whole point is that free speech is meant to protect everybody," Shapiro says.
"The moment you get into people drawing lines about those who can say what they think with impunity and those who can't, then the question is unavoidable. Who gets to draw such a line? And whatever the answer is, it's dangerous."
Although a citizen may have the right to say what they want, the question also remains: what standard should a newsroom be held to, and what needs to be sacrificed in the name of objectivity.
Andrea Bennett, a queer writer and editor, believes that it is important for a newsroom to balance different perspectives, but acknowledges that it becomes a difficult line to parse when a reporter has a clear bias against a group of people.
"We all come to reporting with our own biases," says Bennett. "Knowing that someone has a pretty strong bias against you, you can't really enter into an interview with any level of trust with your interviewer if there's a little voice at the back of your head saying, 'This person thinks I'm going to burn in hell fire.'"
Bennett explains that there is often an onus on BIPOC and LGBTQ2IA+ members of newsrooms to suppress their bias and lived experiences in the name of objectivity. Although Bennett believes that sometimes a difference in perspective can be enriching in a newsroom, they say there should also be limits to those opinions.
"At this point, it's a bit of a red herring to call homophobic statements a creed-protected right," says Bennett.
"I think that this is a reasonable limit for a newsroom to set: to say that one's freedom to practice religion does not extend to the right to say discriminatory things about a population one would be covering as a reporter."
Disclaimer: The writer of this story, Jemma Dooreleyers, and several members of this Masthead, have signed the student statement published on March 8. In addition, one of the tweets republished in this piece is from Sonya Fatah, who is an assistant professor at the School of Journalism and the faculty member who teaches the [ ] Review of Journalism.
(Visited 5,372 times, 1 visits today)
Jemma Dooreleyers is in her final year of her Bachelor of Journalism at RSJ and she has written for almost every campus publication at Ryerson University. She is the Lifestyle Editor for Ryerson Folio and writes occasionally for the local news blog, Kingstonist. In her free time, you can find her crocheting, hanging out with her cat and reading books of all sorts.