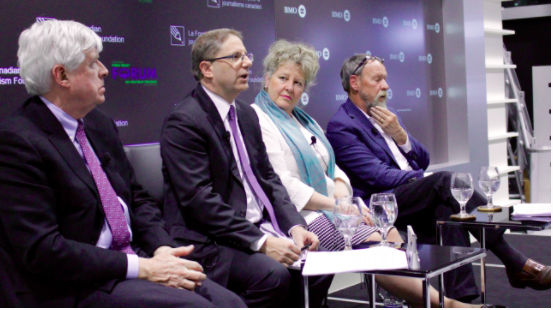 Although Canadians value journalism and believe it is essential to a well-functioning democracy, they don't want to pay for it, concludes a new study that examined the state of Canadian news media.
A survey conducted as part of the Public Policy Forum (PPF) report, "The Shattered Mirror," found that the Canadians surveyed do not make a connection between the news industry's layoffs, closures and other financially-induced problems and what this means for the amount of news available to themselves as readers.
"They assume much like dancers will always dance, painters will always paint, journalists will always cover stories," said Allan Gregg, principal at the Earnscliffe Strategy Group, which conducted the poll.
"They make no linkage whatsoever to the absence of revenue to news gathering organizations with the inability to pay journalists."
A 2016 Reuter's poll cited in the PPF report showed that only nine per cent of those surveyed in Canada pay for online news.
Gregg was joined by April Lindgren, academic director of the Ryerson Journalism Research Centre and Ed Greenspon, president of the Public Policy Forum, at the Canadian Journalism Foundation's Jan. 28 talk: "The Changing Ways Canadians Get Their News." The panel discussion followed the release earlier in the day of the forum's report and its policy recommendations.
The survey of 1,500 Canadians, conducted this past fall between Sept. 22 and Oct. 2,  found that 70 per cent of respondents think that news has a major role to play in democracy and 60 per cent think that journalists play a major role.
When they were asked to assess the consequences of the decline of news organizations, 73 per cent of people surveyed said having less investigative reporting would be a serious problem and 69 per cent said having less coverage of local news would be a serious consequence of news media decline. Having no one around to keep politicians honest or hold powerful interests accountable were considered serious problems by 68 per cent of respondents.
Gregg said the survey results also suggest Canadians hold journalists in high regard –so much so that they balk at the possibility of the government intervening to bail out the news business. Only 25 per cent of those surveyed said they believe government should help struggling news businesses. Respondents said that journalists' ability to act as watchdogs on power would be compromised by government involvement in the news industry.
"It is the very thing they value most about news – its role in democracy, especially holding the powerful to account – that forms the objection to government doing anything to get the industry out of the dilemma it obviously faces," said Gregg.
Forty-four per cent of survey resonsdents said they agreed they would be concerned about journalist's ability to cover governments if said governments financially supported the news business. Another 24 per cent indicated that they strongly agreed.
This story was originally published by the Ryerson Journalism Research Centre and is republished here with permission. Read the full article on the RJRC website.
(Visited 122 times, 1 visits today)