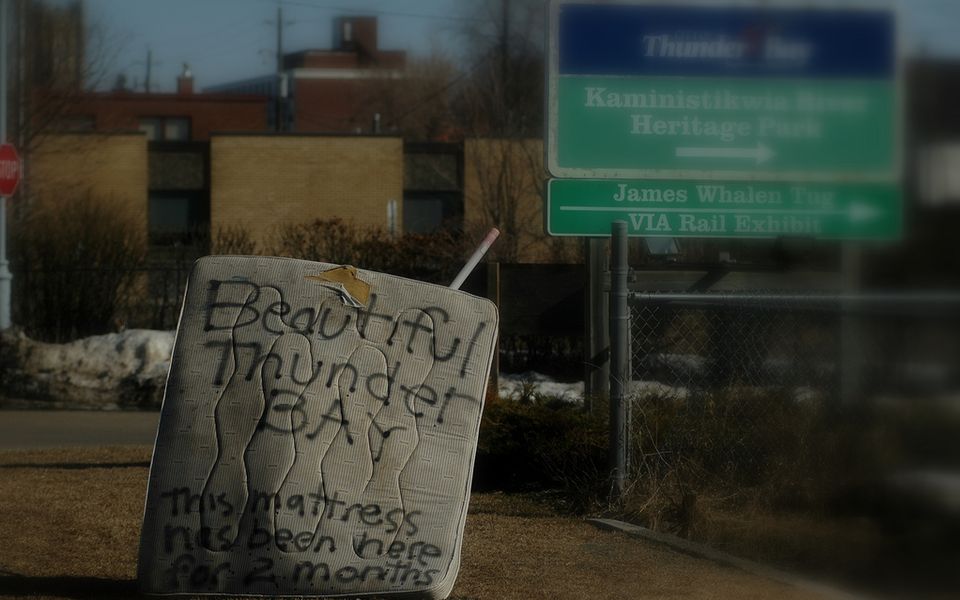 Ryan McMahon is expecting anger from Thunder Bay residents. As the comedian and host of the political podcast Canadaland Commons lays the foundation for a new longform audio series about the troubled northern Ontario city–which also happens to be his hometown–outrage is already trickling in. People think he's overdramatizing local issues to bring in ad dollars.
"Maybe Jesse won't be happy about this, but I'm not interested in selling podcast ads," he says with a chuckle, referring to his boss Jesse Brown, host of the original Canadaland podcast and publisher of the media criticism outlet. "I think at the end of the day we just have a job to do."
Other journalists from local and national outlets have covered Thunder Bay before. Many have faced backlash. McMahon thinks no one has tried to tell the story quite like Canadaland is. He's not expecting special treatment because he's from there. In fact, he says he's expecting the backlash to be worse than it has been when he's stirred the pot there before. When he worked on "Colonization Road," a June 2017 episode of the CBC documentary show Firsthand, McMahon says people responded with: "How dare you come back home and upset people?"
"I think that's exactly why we have to go there… I'm not afraid of anybody in Thunder Bay," he says. "This is bigger than me, this is bigger than Canadaland, and we're going to find out what's going on."
The unexplained deaths of seven Indigenous youth found in the area's rivers since 2000 are part of it—and are the subject of Seven Fallen Feathers, a book by Toronto Star reporter Tanya Talaga, released last September. Also part of developing Canadaland's Thunder Bay podcast are the intertwined criminal charges facing both the police chief, J.P. Levesque (he was acquitted Jan. 25) and Mayor Keith Hobbs (a preliminary hearing is set for March), as well as an unrelated provincial review of the police force's handling of the deaths of several Indigenous people. Over the summer, a 34-year-old Indigenous woman named Barbara Kentner died from injuries sustained in January when someone threw a trailer hitch at her as they drove by. And that's just skimming the surface of major events—the ones that have made national headlines.
Underlying much of it is what the area's Indigenous residents say is an undercurrent of systemic racism and racially-motivated violence against the area's Indigenous population. The 2016 census indicated Thunder Bay had the highest metropolitan hate crime rate in Canada. Others counter this, shifting focus to the area's positive qualities, like its beautiful scenery and growing arts scene.
The Thunder Bay series started out as a fall pledge drive incentive for Canadaland, which is crowdfunded through the website Patreon. Brown pitched it as the Serial or S-Town of the north, using the longform storytelling model used by National Public Radio heavy-hitters in the United States. Brown says it was McMahon's idea, adding that while other cities in Canada are equally troubled, this is the one McMahon is from, and he knows what stories need to be told.
Listeners were interested. On Nov. 13, Brown and McMahon passed the funding threshold to make it happen, surpassing their goal of US$21,850 (just under C$27,800) per month from supporters.
Meeting with @SoundOfSexton & @JesseBrown tonight for our first official meeting about @CANADALAND's #ThunderBay podcast. I'm humbled by the support of all that made this possible. The journey begins tonight.

— Ryan McMahon (@RMComedy) November 20, 2017
Brown says he doesn't want to put down reporters working hard in Thunder Bay, but he believes the greater narrative of what's happening in the city has been missing from media coverage.
"These are really disturbing stories but they also feel really incomplete, like it's very hard to make sense of any of it," Brown says.
If anything, Brown adds, Thunder Bay suffers from the same lack of news coverage as a lot of small cities. With understaffed newsrooms and concentrated media ownership, the number of perspectives have shrunk. Many journalists have done and are doing great work there, but someone needs to connect the dots, he says, and the intimacy of the podcast form has the potential to be more direct and impactful.
Brown says he wants to avoid parachuting in, getting the most salacious story, and then leaving, as reporters from big cities sometimes do when they report on smaller communities. In fact, he says Canadaland is consulting with local journalists and trying to devise a way for the project to have a "lasting presence" in the area, though the details haven't been ironed out. McMahon says he's figuring out a way to integrate local elders into the process and gaining access to people who haven't gone on the record so far.
Journalists who've covered these issues before have faced serious pushback, both on social media and in real life. Robert Jago, a contributor to the Walrus magazine from Kwantlen First Nation, says even local reporters and politicians told him to stop working on his piece, "The Deadly Racism of Thunder Bay", published in December.
"The problem is bigger than it appears because so much of it is hidden," Jago says. Much of the time, he adds, residents dismiss national media reports about the area's issues because they believe people who aren't from there can't possibly understand, and local media are often the main upholders of the status quo.
People need to be asking if democracy is even working in cities like Thunder Bay, where local media is struggling, McMahon says.
"The reason why people are getting blowback from local media, local journos, local politicians is because, you know, I think they know something's wrong," he says. "Pure speculation, but at best, these organizations are failing. At best, they're colluding. And so we're going to find out."
"I see a real advantage to letting the world know that you're going to look at something because then you can get a lot of tips and information and resources in advance," Brown says. "We've got tons. A lot of what we're reading is darker and more disturbing than we even thought…We don't want an exclusive here. The more people asking questions, the better."
McMahon says he's ready for the possibility that he's wrong—that there are good fixes coming down the line. But he also says he doesn't think so. "From where we sit, what we know, and what we're hearing from people in Thunder Bay, that's not true," he says. "But who knows? We'll see. It could tank. It's a big risk. We don't know what we're going to find."
(Visited 3,242 times, 1 visits today)