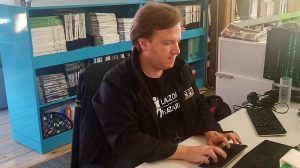 Hardcore civil libertarian, entrepreneur, ex-soldier, pinball nerd, open data activist, tech expert, independent journalist, general shit disturber. All apt descriptions of Joey Coleman, creator of The Public Record, a one-person news site that launched in 2012 devoted to covering city hall in Hamilton, Ontario.
Now, Coleman can add radio host to the list.
On Wednesday, the Hamilton-based journalist launched a new one-hour radio program on McMaster University's local station 93.3 CFMU. On the first morning, Coleman entered the studio with nervous energy, matched by the ambient techno beat that filled the room. The night before, he covered a marathon council meeting that lasted more than 10 hours.
Coleman remains one of the only journalists at Hamilton city hall who regularly covers meetings full-time, including most of the sub-committees.
The premiere episode was divided into two segments. For the first 30 minutes, panelists discussed the previous night's debate, which centered around the proposal for an estimated $1-billion light rail transit line. During the second half-hour, guests talked about Hamilton ward-boundaries, in advance of an upcoming review by city staff. Not always dramatic stuff, Coleman admits, but it is important information that the public should be able to access.
"People sit down and chat with me, and I sit there listening, thinking 'wouldn't it be great if more people could hear these informed discussions about issues in their community?'"
Tasked with toggling audio levels, working the phones, and queuing transitions between segments, all while interviewing the panelists, the new host kept his cool.
It wasn't the first time he has had to stay calm under stress. Nearly two years have passed since the "Ferguson assault case," as Coleman calls it. In 2014, ward 12 councillor Lloyd Ferguson, who was under the impression that the journalist was eavesdropping on a private conversation, grabbed Coleman and physically pushed him away. The incident eventually drew national media attention, and became a defining moment for The Public Record — not something that Coleman had hoped for.
The city integrity commissioner's investigation found that Ferguson had gone against the code of conduct, but did not discipline him. Ferguson later apologized and donated $1000 to charity.
"It was a pivotal moment. It changed everything, unfortunately," he says. "For so much of the wider public, that's all they know about me."
Coleman remains one of the only journalists at Hamilton city hall who regularly covers meetings full-time, including most of the sub-committees. He remembers that during the mid-1990s, each of the radio stations had a city hall reporter, and the Hamilton Spectator had multiple full-time city hall reporters. But by the mid-2000s, he says it was rare to see a journalist at a standing committee meeting, let alone at the sub-committee level. In 2012, CBC Hamilton's Executive Producer Roger Gillespie said publicly that the broadcaster was not interested in providing comprehensive coverage of city hall because of low audience numbers.
Mayor @FredEisenberger continued last night's argument over my asking them to turn on microphones. Council pissed I'm streaming public mtgs

— Joey Coleman (@JoeyColeman) October 27, 2016
The Public Record is scheduled to air every Wednesday at 8:30 a.m. The new show is a chance for Coleman to move past the Ferguson incident in a meaningful way. He had talked about doing a radio show for years with James Tennant, CFMU's program director, and the new show works for both of them.  Tennant gets the high-quality morning programming that he wanted and Coleman has the time to do it now that Hamilton plans to stream its own meetings.
Always the city hall watchdog, Coleman frequently tweets using the hashtag "QuorumWatch," to let the public know when councillors fail to show up to mandatory meetings. Last week, at the start of a board of health meeting, he tweeted that only nine out of 16 council members were present while the meeting was in-session. He also included a schedule tracker listing the specific members who were late or absent.
Only 9 of 16 Councillors at work for Board of Health meeting. Here's your starting attendance. #YHMgov #QuorumWatch pic.twitter.com/hKdSEy6n60

— Joey Coleman (@JoeyColeman) October 17, 2016
Coleman believes that even the small meetings at city hall should be discussed and made public. He is committed to making local news sustainable, and sees local public radio as an important part of making the business work financially. He currently makes money by doing IT consulting work in Hamilton, in addition to donations through his website.
"The first person who succeeds at local municipal coverage online is going to be either too stupid or too stubborn to quit," he says. "Not that the two are mutually exclusive. I'll let people decide."
(Visited 57 times, 1 visits today)