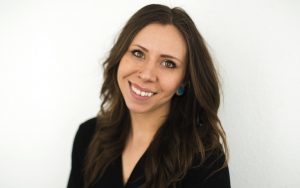 Twenty-seven-year-old Tijana Martin was planning on being a psychologist. It was secure, and still allowed her to analyze human behaviour, which was what also drew her to photography. That dream didn't even last a semester as she was accepted into the photography program at Langara college in her hometown of Vancouver. The program taught her the basics of photography, but she wanted to create work that was more natural and authentic, not as much based on studio shoots and editing. She decided to complete another program focused on photojournalism at Loyalist College. From there, she began moving around to Edmonton, Calgary, Montreal and Toronto for internships and shadowing jobs, and realized she made the right choice in career. After working four years at the Lethbridge Herald, her first full time photojournalism job in Lethbridge Alberta, she received a call in February that she was being honoured with the Tom Hansen award, one of the most prestigious photojournalism award in the industry.
The award is in honour of Tom Hansen, an award-winning photographer for the Canadian Press (CP), who died suddenly at the age of 41 in 2009. It consists of a six-week paid internship at CP and for anyone who has been in the business for less than five years.
The Ryerson Review spoke to Martin about how she kick-started her career, what type of photography drew her interest, the Tom Hansen—which she'll be starting in June, and what she has planned next.
When did you first develop an interest in photography?
I had trouble with school in terms of the academic side, I was more creative. When I went to Junior High, I went to an arts high school and that was awesome because I could appreciate other people's art and I even had a couple of phases where I wanted to be an actress, no that didn't work out. There was a media class in my first year of junior high, and in second year, you can choose a specific form of media—that's where I chose photography. I think that's when I realized it was something I had potential to be good at and something I really enjoyed. That was where I finally found a place for me to put my effort in and that felt good. So that's when I first felt a connection, but I thought it was a hobby and thought the right thing to do was to study something that had maybe more of a promising future. I took a gap year because I wasn't sure and when I took a gap year I traveled to Nepal on my own and I took my camera of course and that's when I was taking pictures daily. After that trip, I think I got clarity that that was what I wanted to pursue.
What kind of photos did you take on your trip?
Everyone around me. I was doing volunteer work in a small town, so it was just me and this small town of people. Photographing the locals and highlighting the different culture. It was inspiring in terms of creativity. I wanted to document everything I saw on that trip.  
How would you describe your style of photography?
I like to be like a fly on the wall. I don't necessarily like any attention or want to direct anyone for the most part. Photojournalism is nice because it allows me to be in the background and disappear, but watch life and human behaviour. That's what interested me in photojournalism and the broader scope of natural moments. I wanted to capture something authentic. You're able to capture the small moments of life that you know were real and you're not necessarily trying to sell anything. I don't like to be able to force the scene or create the scene all the time. It's nice once in a while to experiment and I get to light a portrait, that's fun and it can be challenging, however, I like to be as little involved in the moment. Photojournalism allows me to just document, I like the realness.
Did you have any mentors or people that you looked up to in the field?
When I went to Toronto I just tried to surround myself around people that were in the industry. When I left, I felt lost from that, which is why I think the Tom Hansen award will be really important and beneficial for me. It's hard to have mentorship when you're so far away from potential mentors or potential community networks. I look at people's work and I note what I like and what I see, and I study their work from abroad, not necessarily one person in particular. Going back to Toronto will be nice because I'll get that opportunity again to chat with people and get back on track.
Did you have any people in your life that doubted your choice in pursuing a career in photojournalism?
It's so funny actually but both my parents were pretty bummed that I wanted to study photography. Initially when I had come back from that trip to Nepal, I only applied to Emily Carr (university of art and design), that's a hard school to get into. I didn't get in and I was devastated, thinking that I can't have two years off of school. So I went to Langara college, applied last minute to a general arts and sciences program thinking, "I'll just apply somewhere else next year, just at least get me into a post-secondary institution. Get me through those doors." But they also had a photography program which I didn't even know about, that shows you how much research I put into that program. I applied for that, but I had missed the interview process so I was on the top of the wait list. I figured that's not happening, I guess I'll be a psychologist—another way to focus on human behaviour. My parents were pumped about that, and then I got accepted into the program at Langara and said, "Screw being a psychologist, I'm going to be a photographer."
They were pretty disappointed because they were excited at the thought of me doing something more secure, but now they're very proud of me. Things like this, the Tom Hansen, they're proud of and oddly enough, my dad is now getting into photography, he's on instagram more than me. It's hilarious. So I think I kind of inspired him that following your dreams doesn't necessarily have to be about the money. I think they see the value in what I'm doing and they're happy that I didn't listen to them. I'm happy too.
In hindsight, what do you think were your biggest struggles breaking into the industry?
The industry itself. It's tough. It's tough going to study something that you know is going to be a tricky market to get into, but when you don't really know what else to do and that's the only thing you feel passionate about, you just do it.
How do you teach yourself new skills to keep up with the market?
I think I just see how people are showcasing their work: are they doing video, are they doing still, how are they choosing between the two. I learn from doing it and through my mistakes and the pressure and the rush. In larger markets, that pressure, the rush to get the photos out quickly, I think that's an important skill to have. But now, I'm back here in Lethbridge and I feel oddly relaxed. I don't feel that sense of urgency that I think is important. The sense of being able to move quickly and multitask and just be as quick as possible. I'm worried about what it will be like going to Toronto because I'm not sure what I'll be expected to produce, but I'm sure it's going to be a wake up call. Let's see what happens.
When did you first hear about the Tom Hansen award and what made you want to apply?
This is my third time applying. The first time I applied was when I first moved to Ontario and I was applying for the sake of applying. The second year, I thought, I'll apply again. I've graduated, I have a little bit more portfolio experience. After applying for something two times, you start to get bummed out. I didn't think that I was capable of being awarded that. And then I figured, this would be my last year to apply and was wondering and was really struggling with myself because I felt like I wasn't growing enough as a photographer. I was looking at my photos of the year, revisiting my images, and I was feeling really down about myself, thinking about how I had no mentorship here at a small newspaper. We don't have a photo editor. There are no guidelines, no one's choosing the images for me, it's all on my own. I was really beating down on myself and I knew the deadline for the Tom Hansen award was fast approaching and I think I finally just realized that the award is only 6 weeks, and oddly enough, those six weeks allows me to come back to a job, but it also gives me the ability to know that I don't have to think too far in my future about this. I sent in the application at pretty much the last minute. It took a long time to write the proposal, that was the hard thing, to try to express yourself eloquently enough for them to choose me other than someone else. I just wanted them to know that there's still a lot of learning for me to do and that platform will allow me to at least learn more without having to go back to school and study, or have to revamp my skills through some kind of course. This will reignite a flame, inspire me, help me grow, challenge me, all these good things that I want to do. When they're asking you about why you personally want this, it's a lot easier to be true to yourself and be vulnerable in terms of what you're looking for. That's what these awards are for, they're opportunities for new people to learn things.
What were you doing when you found out you won the award?
I was at home drinking coffee and working on a puzzle when Graeme Roy (chair of the jury and director of photography at CP) called. I didn't know what the area code was there for a moment, so I wondered, who was calling. And then I heard his voice, and his name, and knew right away. It was surprising and he thought I had just woken up, but I said, no that's not me waking up, that's shock. You never know when you'll get a call like that. I was wondering at that point, when they were going to announce it. And then you stop thinking about it. So that was very unexpected, but the timing was crucial. Life is interesting. When you get down on yourself, these things pop up and say, "Hey, people do see that you're able to produce work and people do see that you're capable of growing and you're passionate about this." So it's nice to be reassured once in a while about these things. Phone calls like that, they don't happen often, but when they do, it's nice to hold on to.
What was the process compiling your portfolio submission? Was there a single string connecting all your photos, because from what I've seen, they're all single still shots.
I focus a lot on still images because we often only run one photo, we just don't have the platform to produce photo stories.They're all single images and they're from my time here at Lethbridge. I was just trying to show a variety of photos that encompass life in Lethbridge.
Do you have a favourite?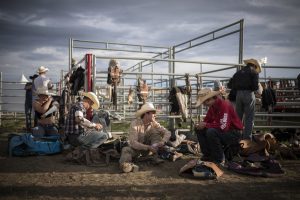 It's so hard to say.  There are pictures that I'm attached to. I really like my cowboy picture. I also really like the baseball picture. I kind of overlooked that for a while. I was just going through the pictures over the year again and that stood out.    
Yeah, it's a really wholesome shot
Exactly. It captures what it's like to be a kid. No worries. They're not worried about getting a job.
The wild fire shot is also very powerful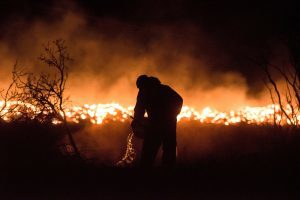 Yeah, I really like that one too. I was sent off to cover a fire in the Crowsnest Pass, that's about a two hour drive and it was rainy, stormy, and there was wind gusting everywhere. It was a horrible drive. And I got there and the highway's closed. It's a town between the Alberta and B.C. border, so the highway leading to B.C. was closed, so I couldn't even get through there. So I got sent out to take pictures of this wildfire that I couldn't see from anywhere. There was also another fire that day about half an hour outside of Lethbridge, on the direction that I was coming from. And on my way back, it was late, but I wasn't happy with what I got form the Crowsnest Pass, and I was passing by the Moon River Estates where a fire was happening and it started at around 6 o'clock, I think I got there at 10. I figured, I'm swinging past there, I might as well just go in and see if there's anything because I'm there now. I went in and there were roads blocked off and I had a couple of nice police officers let me go down where they said I could see the flames and at that point there were a group of volunteers working. So that was kind of lucky. But that's the good thing. Sometimes you think, I better go and check it out, and it works out in your favour.
This is a broader question, what do you hope to accomplish overall in the field of photojournalism?
Just being able to produce and capture these images that are authentic and really true. I think it's so important to be able to document some of these moments because some people don't necessarily have an emotional attachment to whatever is on the news, but seeing images of real people experiencing real things in a photo would be very powerful. I hope that I'm portraying them in a light that's authentic and real and I hope to shed light on every day moments. They don't have to be spectacular, sometimes they're mundane, but that's just life. I don't think they're less or more important to document.
Have you ever thought about transitioning into video?
So that's where this award will be helpful. I like doing video, but there doesn't seem to be too much of an interest to do video here in Lethbridge, I think because we're the only paper, they're focusing more so on that. However, in the larger market, video can be an important element in the story. So I think if there's an opportunity to do that, I'd want to do it, however, the resources here in Lethbridge  would not allow that to be possible to work on. Who knows, maybe I'll go to Toronto and I'll do videos and become good at it, and come back and can convince them differently. Videos can be a powerful tool. We'll see.
Are your photographs going to be exhibited anywhere in the spring or summer?
Not for this award, but I had one image that was nominated for another award, the baseball picture, it will be in two exhibits. One in NPAC, the News Photographers Association pictures of the year, all the finalists that were chosen will have their images up in two photo festivals. One in Vancouver, the Capture Photography Festival (April 12), and the other in Toronto, the Scotiabank Contact Photography festival (April 27). Even if I don't win, because they haven't announced the winners yet, at least my image was seen somewhere else in these larger cities. It's also really cool that I get to bring little Lethbridge on the platform to Toronto and Vancouver. 
All photos courtesy of Tijana Martin / Lethbridge Herald
This interview has been edited for length and clarity.
(Visited 525 times, 1 visits today)
Karoun Chahinian was the print production editor of the 2018 issue of the Ryerson Review of Journalism