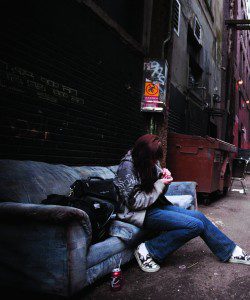 Hamilton, Ontario's Barton Street is barely recognizable from its former self. A layer of grey dust sits on the pharmacies, bookstores, tailor shops and billiard halls that thrived in the 1960s. Differentiating between the closed and abandoned brick retail buildings is difficult—"We're Closed" signs hang indefinitely on storefront doors, and other properties have turned residential with absentee landlords. This 3.4-kilometre stretch is known as a place to score heroin, prostitutes and, for some journalists, sources. Molly Hayes, a Hamilton Spectator reporter, exits one of the new businesses on the street, a coffee shop known by its address (541 Barton) and its pay-it-forward payment system using buttons from clothing. She walks along, pointing to the provincial jail, a steel factory and Hamilton General Hospital. She soon spots one of her sources from a story reported last summer about Pauline, a 24-year-old woman who died from a heroin overdose. At the time she was writing on Pauline's death, Hayes was about the same age as the woman.
"Hey, do you remember me?" the reporter asks. "I'm from the Spec!"
The man, in his fifties, is weathered and greying in skin and hair. He pauses and looks at her sideways. "No. Oh, yeah, yeah, yeah! How you doing?" he replies in a boisterous yet raspy voice.
Standing over six feet tall, he towers above Hayes, a five-foot-six Hamiltonian in the third year of her city reporting career. Accompanied by a man and a woman, both thin and tired-looking, perched on bicycles behind him, the source begins chatting away. First he rants about Pauline's funeral, then about a local drug dealer who's allegedly been slinging bad junk leading to overdoses. He's visibly pissed off—sweating, muscles flexing, eyes widening. When he doesn't want to talk anymore, Hayes simply continues the dialogue—an invaluable tactic, according to many journalists who've written about drugs and the people who use them.
The source, who was a relative of Pauline's, says he too was a junkie and that he's done over 20 years in jail for various offences, including violent ones. He tells vivid tales of coming off heroin, comparing it to someone taking a sledgehammer to every joint in his body. "I'm a tough guy, but I was bawling like a baby," he says. "It was like hell." His talk turns to God, and Hayes just nods her head. She's used to enduring tangents. "I took a Bible course," he says. "Believe me, I'm telling you guys, God is real."
Using an interview technique to redirect him, Hayes mentions Wesley Urban Ministries, a Christian organization that helps drug addicts. "Do you know Mike at Wesley? He's a chaplain." He doesn't recall the name. It's time to go meet another source.
Passing a street corner, she stops to point out the spot for Pauline's memorial. There is nothing there now, but in the summer teddy bears and flowers surrounded the corner near where the young woman hung out. Hayes was told that neighbourhood addicts stole the stuffed animals. As one of her sources said, "Only in Hamilton."
Hayes confirmed a heroin overdose was the cause of death through Pauline's mother, who had been told by hospital staff it was one of three overdose deaths in the city that week. Hayes says it's difficult for reporters to get numbers from authorities. She and her colleagues, such as Nicole O'Reilly—who, along with Hayes, spearheaded a series of investigative pieces on drug-related deaths in Hamilton's provincial jail—are often stuck between the public and the authorities, fighting for information. Toxicology reports can take many weeks, and police and coroners are rarely forthcoming with numbers. In 2012, there were over 580 overdoses linked to opiates in Ontario—one of the few hard statistics Hayes is able to cite in her articles. But numbers for the city of Hamilton haven't officially broken out.
Canadian journalists are more careful than ever when reporting on illicit drugs. Until the late 1980s, journalists recklessly used terms such as "epidemic" and "overdose," and commonly referred to drugs as "dope" when covering sudden increases in recreational drug casualties. Today, this sensational language has decreased. Reporters are more likely to go down to street level to find people affected by drug addiction—and tell their stories with empathy.
 ***
An early example of illicit drug coverage in Canada was news about drug smuggling. A 1940 Globe and Mail article told the story of the "king of smugglers," Louis (Lepke) Buchalter. The
author commonly referred to the drugs Buchalter was trafficking as "dope" and "narcotics." Up until the late 1950s, journalists who covered smuggling or drug busts did so from a distance, often unable or unwilling to convey details about the substances themselves.
But in the 1960s, as the baby boomer generation reached adulthood, the stories started to change. Newspapers and magazines began to report on the effects of LSD, often referring to "hippies" and the "flower power" movement that was luring young people into drug use. A Globe feature from 1969, for instance, read, "LSD mixed with strychnine, LSD mixed with speed … LSD mixed with God-knows-what," followed by nightmarish descriptions from a music festival of "kids on the verge of psychotic breaks, paranoid kids, kids deep into sub-suicidal depression, kids showing signs of regressing to childhood prodded on by the chemicals in their brains."
In the 1970s, Canadian news outlets had picked up a "War on Drugs" mentality. In the 1980s, a new drug took over headlines: cocaine. Stories of major cocaine trafficking busts ran alongside articles about cannabis and LSD. At the end of the 1980s and throughout the 1990s, heroin, a more dangerous drug than any other at the time, began receiving more coverage.
 ***
In Niagara Falls, about 75 kilometres east of Hamilton, John Robbins has written about both busts at the border and drug use within Canada. The Ontario city is a hub of tourists and activity—it's adjacent to Buffalo, New York, at the junction of numerous major American and Canadian highways. In 2001, Robbins was working as a weekend reporter on the health beat at the Niagara Falls Review. He checked out a minor overnight fire at a ball hockey court near the skeletons of the city's decommissioned factories, northwest of the Falls. The guy cleaning up the vandalism complained about "junkies." "What do you mean?" Robbins asked. "Just take a walk with me," the man said.
The two strolled along the abandoned industrial-era railroad track leading to former factories such as the Kimberly-Clark paper mill. They walked only about 20 feet before seeing used needles. The environment sparked Robbins's interest and led to a series of features in which he hung out with addicts in seedy motel rooms. He had to give some sources anonymity, a practice several other journalists say is necessary when covering illicit drugs. "The bottom line was that you had to get down to the street level," Robbins says. "Short of taking the drug yourself to see what it feels like, you need to talk to somebody." This work won him his first Ontario Newspaper Award in 2002. His days of hanging out in motel rooms with addicts are long over. Today, as publisher and managing editor of Bullet News Niagara, he still covers drug busts at the border.
***
Niagara Falls has more issues with drug use because it's a border town and its touristy nature has created a thriving sex trade that often intersects with other criminal activity. Similarly, Vancouver's port city status makes it a breeding ground for drug use and trafficking. Vancouver became another scene affected by drugs many years before Robbins's discovery. Addicts, scattered in alleyways alongside dumpsters and fire escapes, smoked crack or shot up heroin and rode out their highs. Opiate fatalities were in the triple digits each year during the 1990s and reached a high of 250 in 1993. Today, some intravenous users on the streets opt to use Insite, the only supervised injection clinic in the city, which opened its doors in 2003 and has never had an overdose death.
Globe reporter Robert Matas began pitching drug stories at daily meetings in the Vancouver bureau in the '90s, and he wrote many articles related to heroin. But it wasn't always easy for Matas to convince his editors of the importance of reporting on drug-related topics at a paper focusing primarily on politics and business. Interest spiked when there was a drug death, then waned again. His first sources were social action groups in the Downtown Eastside and through them, he was eventually able to meet addicts. "They had incredible stories to tell," he says. "It touched on a lot of different parts of the city. They were affected by the health policies, they were affected by police—a lot of them had issues with social support." Because of the different aspects of life addiction touches, drug reporting is often an intersection of the health, crime and city beats.
In the early 2000s, the story of serial killer Robert Pickton shocked the nation. He was found to have lured drug-addicted sex workers from the Downtown Eastside to his farm, where he murdered them and fed their bodies to his pigs. It also changed how drug addiction was perceived in the city and affected policing policies. Today, officers don't respond to non-fatal overdose calls in Vancouver unless there is a public safety concern—emergency medical responders do.
Lori Culbert was six-months pregnant when she started hanging out on Downtown Eastside streets to report on about 30 missing women in the area. Despite the neighbourhood's nefarious reputation, Culbert says she was never scared. She recognized that many addicts were in fact also suffering from mental health issues. "Even though the public was aware these women were going missing," she says, "it wasn't a high-profile story."
Culbert understood the importance of writing about the relationship between drugs and prostitution in non-discriminatory terms. "It shouldn't belittle their worth as human beings," she continues, "and they deserve to be written about." In a November 2001 article, she profiled Dawn Crey, one of the female addicts who had gone missing: "Dawn's fragile world was turned upside down in November 1999 when [her father] died of cancer." Culbert made an effort to show the humanity of the women, often trying to figure out why they became addicts in the first place. Crey's DNA was found on Pickton's farm.
In the late '90s, hard news reporters weren't the only people covering drug addiction in Vancouver. Lincoln Clarkes developed what he now understands to be an "obsession" with photographing female addicts, some of whom ended up becoming Pickton victims. Over four years, more than 400 addicts agreed to pose for Clarkes, and some of those photos appeared in his book Heroines. He sometimes worked alongside print journalists and won a Western Magazine Award and a National Magazine Award for his Vancouver Magazine work.
The project took over his life. Most Sundays, he would go to an area near his neighbourhood in the Downtown Eastside with an assistant, armed with gifts (a bag of apples, a pack of cigarettes, some Band-Aids) and approached women hanging out on the streets. After he offered them cigarettes, some would open up to him, revealing details of their lives and addictions. One of his girlfriends eventually asked, "What do I have to do to get you to pay attention to me, stick a needle in my arm?" Maybe she was onto something—Clarkes experimented with crack and heroin. "I had to do it as my homework for this project," he says. "I had to really understand what the women were going through—what was going on in their heads."
Clarkes hates how journalists reduced drugs to a Downtown Eastside problem; drug abuse had been rampant in many parts of the city for a long time. That's why Frank Luba, The Province's general assignment reporter in Vancouver, says he inevitably finds himself writing about drugs.
But it's not without challenges. Some commenters recently gave him flack when "overdose" appeared in a headline over one of his stories: "Potent Heroin Blamed for Vancouver Woman's Death in Hostel, 31 Overdoses at Insite Injection Facility." While overdose doesn't necessarily mean death, and the story makes it clear that the term is not referring to deaths, some people read the headline and assumed that 31 had died.
"Epidemic" is another term avoided by many journalists interviewed for this story. "I'm not qualified to call it an epidemic," Luba says. "I'm neither a health professional nor someone involved in law enforcement." While reporters used epidemic in stories up to the late '80s, the word is disappearing from Canadian journalism about drugs today. Reporters generally agree they should leave terms such as overdose, epidemic and "bad" drugs out of the news unless they are quoting an expert.
Before he retired in 2012, Matas ended one of his last stories about heroin on a hopeful note. An article featuring a recovering addict titled "A Chance to Change Fate" almost reads as a metaphor for the city healing its drug problem. In other stories, Matas cited decreasing crime rate statistics and observed the positive effects of public housing programs. While it's clear that Vancouver and Hamilton still have visible drug problems, journalism has evolved. The ignorance and prejudice is disappearing.
When Edgar-André Montigny was a part-time history professor at York University in Toronto, he edited The Real Dope: Social, Legal, and Historical Perspectives on The Regulation of Drugs in Canada, a 2011 book that compiled stories about drugs written by authors from interdisciplinary backgrounds. "People who have no working knowledge of drugs, they trust what they hear in the media," he says. "It's getting better in the last few years—there's certainly a lot more balanced reporting. For a long time, statements in the media were usually pretty stereotypical." Montigny, who's now a disability lawyer, thinks journalists still have a long way to go, but he's pleased they've been more critical of government drug policy in the past few years.
Still, journalists agree there is more work to be done. "There is this overwhelming stigma," Hayes says about drugs. "But the people who have been affected by it and seen the damage it can cause—they want the public to know." It's a tough position to be in: she's trying to tell the stories of individuals affected by drug abuse while also fighting against a broader issue of government transparency.
***
In early August, two people at Toronto's Veld Music Festival died and 13 others went to hospital. That same weekend, during the Boonstock Music Festival in B.C., one died and 80 went to hospital. A week earlier, another festival-goer died at B.C.'s Pemberton Music Festival. The suspect in all these cases? Party drugs.
Brian Platt was a Toronto Star intern when the news broke about Veld. He had just an hour to type up a story about the supposed drug-related deaths of a 22-year-old man and a 20-year-old woman. He wrote a well-informed article, citing the recent rash of festival deaths. But like Hayes, he experienced the frustration of getting hard numbers. Initially, journalists have little to go on except what police state publicly, and in this case, they said the drugs that caused problems at Veld could be considered "poison." Platt followed up with a feature, "Party Drug Strategy Sought for Festivals," and interviewed harm reduction experts and a Canadian psychotherapist who holds a licence to import MDMA.
Platt's story "Deaths at Music Festival Spark Concern Over Drugs" contrasted with past headlines. In 1999, for instance, when 20-year-old Allen Ho died after taking ecstasy at a Toronto rave in an underground parking garage, headlines such as "A Deathwatch on Raves" (the Globe) and "Young Clubbers Ecstatic About Rave 'Chemicals'" (Toronto Sun) appeared. In September 1999, Toronto Life served up its own take. For "Adventures in Clubland," Ian Brown hung out in nightclubs for a few weeks and then wrote about the drug culture he encountered: "$25 for a hit of E, $10 for a vial of crystal meth, $30 for half a vial of Special K." While he maintains the assignment was mainly about the club scene, there was a lot of drug talk in the feature.
Other journalists, such as Leah McLaren at the Globe, criticized him for making a piece more fiction than fact. Brown wrote the feature in first person, combining the views of ravers he interviewed with his own reporting to create a composite character, although he says this unnamed character was based mainly on one guy he hung around with and interviewed a few times at length. He wrote about using drugs in the feature when, in fact, though he'd tried some of the drugs in the past, he was sober the entire time. In his forties when he wrote the article, Brown was older than most at the club. As a feature writer, though, he has no qualms about taking on any subject.
Unlike Brown, the Star's music critic Ben Rayner is intimate with the party scene as a self-proclaimed long-time raver. He was a strong voice in Toronto's 1999 iDance movement, which protested banning raves. He responded again after the Veld and Boonstock deaths with the following advice: "Believe it or not, folks, there is such a thing as responsible drug use." His opinion is not a common one in journalism, but other ravers-turned-journalists, such as NOW Magazine's former music editor Benjamin Boles and senior editor Joshua Ostroff at The Huffington Post Canada, share Rayner's viewpoint. All three agree that 15 years later, the press is better behaved. "In 2014, the media was relatively reserved in comparison to what happened in the late '90s and early 2000s," Ostroff said. "I feel like they didn't blow it up."
While it's part of Hayes's job as a general assignment reporter, covering drug-related news is a never-ending process. For her and O'Reilly, it's a tangle of access issues, sifting through the words of addicts on the streets and waiting on calls from people who are incarcerated (the reporters can't call them, the inmates can only dial out). In spring 2014, Hayes worked with O'Reilly, who sits across from her and has been with the Spectator for five years, on a story about drug-related deaths at the provincial jail. 
Even when Hayes was finally able to tour the Hamilton-Wentworth Detention Centre, a group of government officials accompanied her. O'Reilly has been frustrated by slow responses to her freedom of information requests, not to mention the thousands of dollars in charges for estimated work times to complete the requests. She filed five requests in May 2014 and is still waiting on three as of this magazine's publication. "It's sometimes hard to get information from official sources," Hayes says, "so I do end up relying on a lot of people who are either keeping me posted from jail or that I run into on the street. It makes it more difficult to get regular updates."
O'Reilly would come into the office in the morning and there'd be seven missed overnight calls from collect numbers. "There's nothing you can do," she says. "They can't leave a message, they can't tell you why they're calling." Through jail sources, Hayes and O'Reilly found out how drugs were being smuggled in (sometimes sparing the public the vulgar details), what drugs they were and how much they were being sold for.
Hayes is regularly in touch with three inmates; one calls her several times a week. And several others still keep in contact with O'Reilly. While they fill the Spec reporters in on drugs, they also update them about other pertinent information—after all, says Hayes, most crimes in the area can be traced back to one thing: drugs.
***
One of Hayes's sources is about to get out of jail. He calls her collect in December 2014 to talk about what "free life" will be like.
"There's going to be a lot of temptations," he says. "Fentanyl is so easy to get."
"How exactly do people do fentanyl?" (Fentanyl is a prescription synthetic opiate similar to but more powerful than morphine.)
"You take a patch," he tells her, "burn it until it peels off and then freebase it." After a few minutes, she wishes her best jail source good luck with his freedom.
Before hanging up on what he hopes is his last interview from inside, he says, "I promise to keep in touch." About a month later, Hayes gets a call from her source to let her know he's out. He tells her that he's doing drugs, but he's trying to lie low. Just over a week later, she gets a collect call—he's back in jail and going through withdrawal.
Photo courtesy The Globe and Mail
(Visited 215 times, 1 visits today)