Black Girls Magazine, an essential publication in the too-white media world, perseveres against precarity
On a Saturday afternoon, six teenage staff writers for Black Girls Magazine (BGM) shuffled around the green room of the Civic Centre Resource Library in Vaughan, Ontario, weaving through the crowded space, hopping over backpacks and clothes, and retouching each other's makeup. In preparation for a photoshoot that would run in an upcoming issue, the girls tried out different poses and outfits. Annette Bazira-Okafor, the magazine's founding editor, snapped test shots as she battled the dim lighting that hit the walls. She called over one of the writers, her 16-year-old daughter, Mbabazi, to ask for her thoughts on the images. Mbabazi took over, fiddling with the dials on the camera before stepping back to supervise her mom's technique.
BGM has gained traction since it was first published in June 2016. It is currently stocked in 26 libraries across Canada and the United States, and has over 100 print subscribers. During its first three years of publication, BGM published a biannual magazine geared towards girls aged eight to 12. In November 2019, the BGM brand expanded, adding BGM Teen, aimed at readers aged 13 to 17. Between the two editions, BGM now publishes a total of four print issues per year, written by young Black women and girls, open for all to read. The latest installment of the kids' edition was published just last week.
(In response to COVID-19, the latest BGM and BGM Teen issues were published online only, via Flipster, a digital magazine publishing platform. Both are available for purchase individually or by subscription. In May, BGM Teen launched its sports issue online.)
In a homogeneous media landscape, BGM stands out among an array of publications owned and inhabited by white writers, editors, and management personnel. While other Black-owned Canadian publications, such as Bashy Magazine and ByBlacks, have also made an impact in recent years, BGM uniquely caters to a young readership.
The cover of the first BGM Teen issue features six of its staff writers looking straight into the camera while sitting in a grass field. Like the kids' edition, each teen issue has a theme. For the first teen issue, though, the staff writers decided to break their own rules. According to Bazira-Okafor, this was the introductory issue, meant to get readers acquainted with each writer. The magazine pieces range from fashion photoshoots and wellness tips, to stories about cultural appropriation and African dance culture in modern society. BGM kids' June issue, The Food Edition, published online last week, includes stories, comics, and recipes, all written and designed by the BGM team.
Bazira-Okafor dreamed up the initial concept for BGM when she noticed then 12-year-old Mbabazi and her friends creating online character profiles of themselves, on various apps and games, with blonde hair and light skin.Bazira-Okafor says she has always taught Mbabazi to draw herself with dark brown colours. But the games Mbabazi and her friends played didn't have any options that resembled them. "The girls naturally chose representations and images that did not look like them because they had no brown variations to work with," says Bazira-Okafor.
At the time, Bazira-Okafor had just been accepted into a PhD program at the University of Toronto's Ontario Institute for Studies in Education, and was beginning research on representations of Black youth in popular culture. During her research, a passage in Craig Watkins' book, Hip Hop Matters: Politics, Pop Culture, and the Struggle for the Soul of a Movement, struck her: "In essence, [Black girls] remain remarkably indiscernible and underserved in a youth-obsessed media culture. Despite all of this, Black girls are deeply immersed in popular culture; they consume it, they adore it, they live it." Bazira-Okafor decided to launch a magazine that not only served, but centred, young Black women.
"Most times, you'll find a Black kid in [magazines for kids], but it'll just be one kid," says Bazira-Okafor.
BGM is lighthearted, but also tackles serious topics in an approachable way. Stories like, "Weird questions people ask me about my hair," which explores one writer's experience dealing with "ridiculous" questions about her braids, and "Let's talk, period!" which provides guidance to help young girls understand menstruation, are presented alongside fashion quizzes and DIY makeup and clothing projects.
"It's about going to a library and the kids being able to say, 'Hey I can identify with that, I know that, that's my background, that's my heritage,' without necessarily being hit over the head with books on slavery," says Bazira-Okafor. "Kids also want to read about popular culture and what's going on. They also want to be represented in that area."
"Black girls are underrepresented in the media, so it's a good idea for us to put ourselves out there," says Morgan, a 16-year-old staff writer who contributed a piece called, "What I love about thrifting" to BGM Teen's inaugural issue. Sixteen-year-old Deva, another staff writer, wrote about embracing her natural hair. She says BGM is an "outlet" for her, and that it allows her to express what she feels is important. (The next issue of BGM Teen will be out in November.)
Despite the magazine's distinctive qualities and essential perspectives, Bazira-Okafor finds herself struggling to keep it financially viable. In its first two years of publication, beyond the revenue generated by subscriptions, BGM survived on Bazira-Okafor's out-of-pocket funding, with some supplementary contributions from the writers' parents. Then, in 2018, BGM received funding through the Ontario Arts Council's Artists in Communities and Schools Projects grant, which Bazira-Okafor applied for as an artist working with kids. Bazira-Okafor received $15,000, plus an additional $3,000, which she requested to finance a mentorship component. She used some of the funds to hire a marketing agency to help reach prospective readers in the United States through an email campaign.
Besides the OAC grant, Bazira-Okafor has only been able to secure one other grant for the magazine—$1,000 provided by the Elementary Teachers Federation of Ontario in 2019.Last year, the OAC informed Bazira-Okafor that her application for the Artists in Communities and Schools Projects grant did not meet its criteria. The OAC felt BGM's work was more journalistic than artistic.
Due to precarious funding and additional challenges presented by COVID-19, which required migrating BGM's print subscribers to a digital platform, BGM faces an uncertain future. Even so, Bazira-Okafor says she has no plans to halt publication. Her focus is on growing the magazine, against the odds.
Currently, BGM is supported through subscriptions alone, which cost $29.34 CAD a year for two issues. In the most recent BGM Teen issue, Bazira-Okafor ran three unpaid advertisements promoting local Black-owned businesses, which she felt would be of interest to BGM readers. The magazine has yet to publish any paid advertisements. Bazira-Okafor hopes that other businesses will see these ads and consider placing their own.
Many other publications that receive financial support from the OAC will also likely lose funding as a result of the provincial government's decision to cut the OAC's 2019-2020 budget by nearly $10 million. Five million of this came from eliminating The Indigenous Culture Fund, which was set up in 2017 by the previous Liberal government as part of the province's response to the Truth and Reconciliation Commission of Canada.
"Without the Ontario Arts Council funding coming in, [financing the magazine] is something that is actually very urgent. It's going to be difficult," says Bazira-Okafor.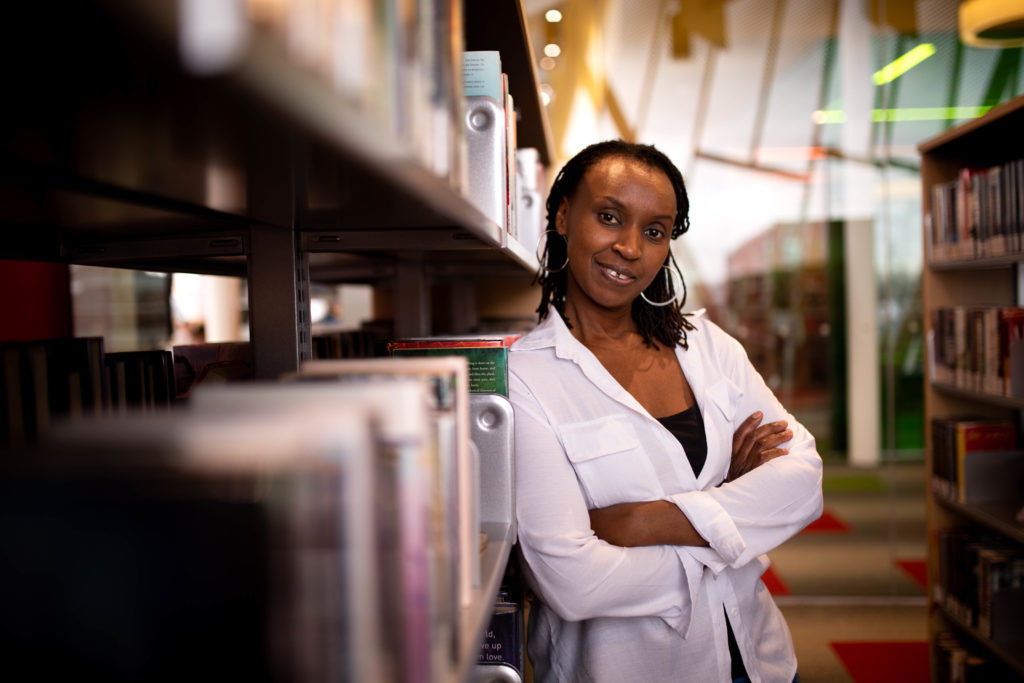 Concerns about a lack of diversity within Canadian media have come to the mainstream surface in recent years. In January, the Canadian Association of Black Journalists (CABJ) and the Canadian Journalists of Colour (CJOC) released a set of calls to action. Among them were demands to "increase representation and coverage of racialized communities by hiring more editors and reporters of colour," "create scholarships and mentorship opportunities targeted towards aspiring journalists of colour," and to "start the work of diversity and inclusion in Canadian journalism schools."
The calls to action came less than three months after research conducted by two Ryerson University professors revealed that Canadian news organizations are failing to "reflect the country's increasing diversity in both content and staffing." The study, which looked at two decades of data, aimed to provide information about newsroom staffing by comparing the demographics of national newspaper columnists to those of Canada's population. Researchers found that "as the proportion of white people in Canada's population declined, the representation of white columnists increased." It's easy to understand why many, like young Mbabazi, would be unable to see themselves reflected in the media.
Nadia Stewart, the executive director of the CABJ, says that publications like BGM are needed. She recalled her own experience growing up in Toronto, explaining that there weren't any magazines like BGM in the '80s, '90s, and 2000s.
"When you're flipping through these magazines and the models don't look like you, and nothing looks like you, you feel like you're either overlooked, or completely erased," she says.
Earlier this month, Toronto Star digital producer Angelyn Francis said in a segment of CBC's The Weekly with Wendy Mesley that newsrooms have to be "more critical," and keep data on who occupies jobs in journalism. "In Canada, we're so reluctant to even keep a check to make sure that we're keeping up with the standards. So we basically have no standards," she said. The segment ran amidst widespread protests and amplified conversations about anti-Black racism following the murder of George Floyd, a Minnesota man who was killed by police in May. (Veteran broadcaster Mesley has since been put on leave by CBC, after using "a word that should never be used" while quoting a Black journalist during a recent production meeting.)
Guided by a goal to improve this kind of homogeneity within media and pop culture, and in spite of financial struggles, BGM and BGM Teen continue to forge ahead, making room for the stories and perspectives of young Black women and girls. Bazira-Okafor is working to find ways to promote the magazine online, in a market made more complex by COVID-19. While the magazine appears to have successfully transitioned to an online model, for now, Bazira-Okafor doesn't foresee the publication moving away from print permanently.
In BGM's first teen issue, 16-year-old writer Chidera offers words of applicable wisdom: "There's a common phrase my friends and I like to use when facing different challenges," writes Chidera. "'Just think like an artsy,' that is, be creative in whatever you do."
Black Girls Magazine and its resilient young writers persist in their goal of creating publications that welcome anyone who would like to read them.
"[The BGM writers are] not writing a magazine for other Black kids, they're writing a magazine for the mainstream," says Bazira-Okafor. "And it's a magazine that has the voices, representations, and images of Black girls. Those are not on the shelves in the libraries."
Disclosure: Sonya Fatah, whose research on the subject of Canadian newspaper columnists is mentioned in this story, is co-instructor of the Review. She did not work on this story or view it prior to publication.
(Visited 565 times, 1 visits today)
Julia Simioni is the newsletter editor at the Ryerson Review of Journalism. Before moving to Toronto, she was an editorial intern at Ottawa Life Magazine. Her journalistic interests range from wellness, internet culture and anything absurd. When she's not at school or at work you can find her drinking matcha, looking at pictures of her dog or reading anything by Jia Tolentino. She frequently hate-reads Goop.