On Tuesday at 12:30 p.m., StarMetro Halifax employees received an email announcing a staff meeting later that afternoon.
"I was hoping for the best, but expecting the worst," says Taryn Grant, the bureau's provincial legislature reporter.
Grant's suspicions were correct. By 4 p.m., the newsroom of four reporters and one editor received layoff notices from human resource employees who flew in from Toronto.
It was a "terminal diagnosis," Grant says.
The StarMetro newsrooms in Halifax, Vancouver, Edmonton, Calgary, and Toronto will publish their final editions on December 20. The papers are owned by Torstar Corp., publisher of the Toronto Star, who will make additional cuts in some southern Ontario regional papers, including the Hamilton Spectator and the Waterloo Region Record.
In total, 121 employees were laid off. Seventy-three were StarMetro employees, 30 of whom were journalists. Some of the other jobs lost were in advertising and distributing.
Eleven new jobs will be posted: one digital reporter in Halifax, five digital reporters in Alberta and five in Vancouver. They will all write for thestar.com.
This staff reduction followed the Torstar's "major national expansion" and rebranding of its  commuter newspapers in April 2018, which included changing the name from Metro to StarMetro and hiring 20 new reporters in five of Canada's largest cities. 
However, after the Torstar's third-quarter loss of $41 million, the company's president, CEO and publisher, John Boynton, announced StarMetro would be going "pure digital," in a memo on Tuesday. 
But while the StarMetro print copy was available for free, the digital content will come at a cost. Canadians in Vancouver, Edmonton, Calgary, and Halifax can read the Star online for free for three months. But after that, if readers want to continue with their subscription, they will have to pay $7.99 a month, Bob Hepburn, a Star communications representative, wrote in an email to the Ryerson Review of Journalism on Wednesday. In Toronto, the digital subscription remains at $1 a week for the first four months and $19.99 a month after that.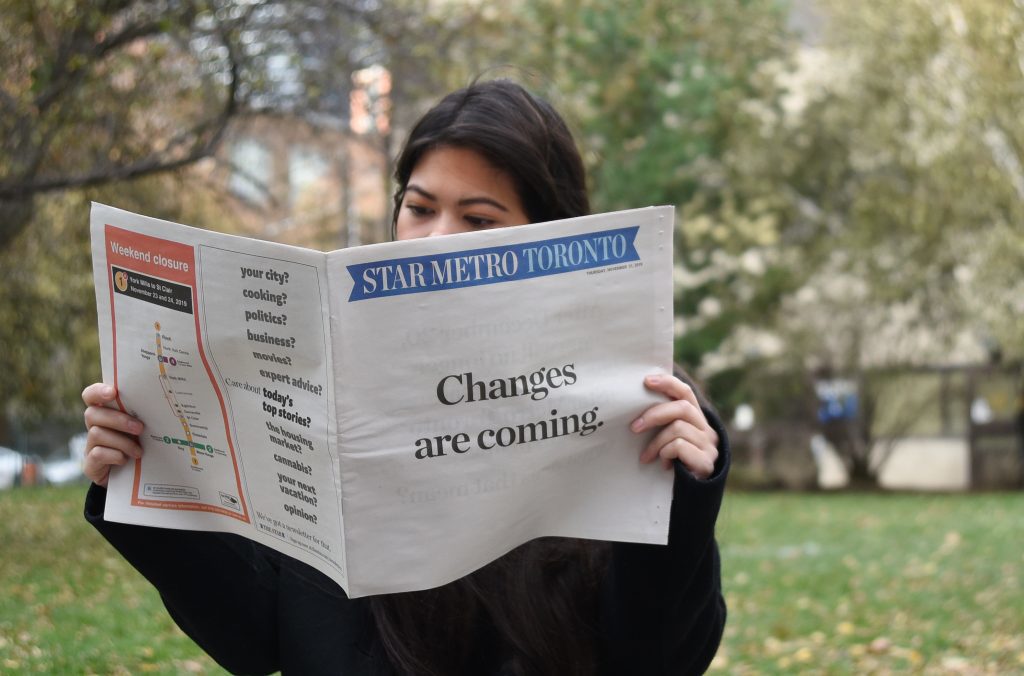 The death of StarMetro, the last free English commuter paper in the country, will hit some groups particularly hard, says Vicky Mochama, a former Metro Toronto reporter.
When she worked at Metro in Toronto, before it was rebranded, readers often told her how much they benefited from the publication. "They used the paper to learn English," she says. "They were old people who were isolated, they were poor people who that's just the only newspaper they encountered, and a lot of commuters. Just regular Canadians going to and from work and school." Mochama was let go, along with 20 other Metro staff in Toronto last year.
These free commuter papers were an opportunity for people who couldn't afford subscriptions to have easy access to the news, says April Lindgren, principal investigator of the Local News Research Project.
Local news matters because it is the source of vital information that communities need in order to function well, Lindgren says. She points to StarMetro reporters' recent involvement in national coverage that revealed lead contamination in the drinking water in many Canadian communities.
In Canada, 282 news outlets in 202 communities have closed since 2008, according to Lindgren's local news map, last updated in October. This recent announcement will add five more fatalities to the list.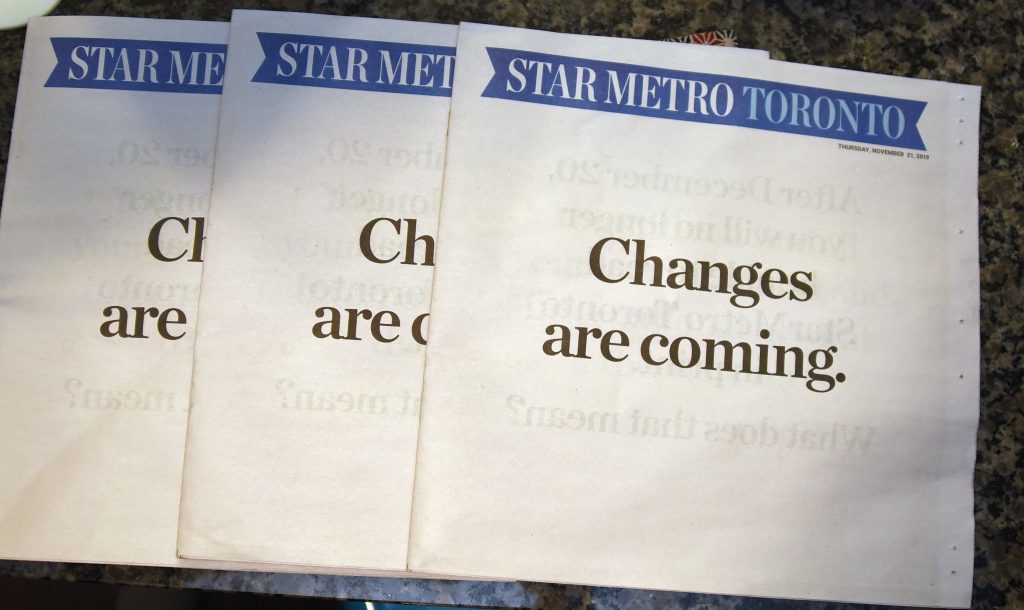 The StarMetro expansion last year "offered a lot of hope," Karyn Pugliese, president of the Canadian Association of Journalists, wrote in a statement on Tuesday. "Young reporters became voices for their cities. And they were only just getting started."
Emma McIntosh was one of those young reporters. She moved to Calgary to join the new bureau in March 2018. The following month, she was assigned to cover the Humboldt Broncos bus crash in Armley, Saskatchewan.
At 22, McIntosh was significantly younger than veteran reporters covering the collision. "That was our first sink or swim moment as a chain," she says. "I think that we swam… the whole thing had a ton of swim moments throughout the life of it."
On a Saturday morning in March 2019, almost a year after the StarMetro re-launch, McIntosh and a colleague received leaked documents delving into allegations that Alberta Premier Jason Kenney's United Conservative Party interfered in the 2017 provincial election. She sat in her kitchen, with a flurry of tabs open, determining how to tackle the massive leak.
McIntosh was proud of reporting on the heels of the other major publications. The CBC posted a report on the documents first, but McIntosh was right behind them, publishing before Post Media, Global, and CTV.
"This was a beacon of hope during pretty bad journalistic times," she says. McIntosh left StarMetro in May to take on a position at the National Observer, but still "mourns the indescribable feeling of being in a newsroom of people who were young, insanely good at their jobs and just doing the damn thing."
She points to a glimmer of optimism in the Torstar memo : "Coming soon we will be revealing news of a further expansion of our digital presence across Canada." 
Torstar has expanded and shuttered newsrooms twice in the last few years. After the recent contraction, the only certainty is that the future of the paper is unpredictable.
Correction: A previous version of this article stated that the Toronto Star owns StarMetro. The Star and StarMetro are both owned by Torstar Corp. The RRJ regrets this error. 
(Visited 463 times, 1 visits today)
Hannah Alberga is a senior digital editor at the Ryerson Review of Journalism. She has worked with CBC's daily news podcast Front Burner and was a news reporter at blogTO. Her work has appeared in The New York Times, Toronto Star, and This Magazine. She hopes to pursue health reporting and craft longform features.