Ricochet launched on October 2, 2014, with a lofty goal: to build a model of journalism that serves public instead of corporate interests. Just over a year later Ricochet is still around, and while it's nowhere near accomplishing all of its goals, it's a valuable addition to the Canadian media landscape.
The publication is comprised of a French and an English edition (both with editorial independence) that strives to "illuminate the cultural and political diversity in Canada." Ricochet largely publishes adversarial content, with editor and co-founder Ethan Cox noting in a 2014 Globe and Mail article that, "I've always felt that objectivity is a bit of an illusion, and that readers are better served by a media that wears its biases on its sleeve."
One of Ricochet's much-publicized defining features is the crowdfunded finance model, which is essential to the publication's overall survival and ability to avoid pandering to corporate interests. This is a worthy goal to have, especially as sponsored content continues to encroach on Canadian media that is owned by an ever-shrinking group of people.
Cox says, "If people want public-interest journalism in this country, then they need to be willing to pay for it," and so far over 1,300 people have. These Ricochet "members" contribute between $5 and $10 a month, supplementing an initial crowdfunding effort started before the publication's 2014 launch that raised $83,000.

This mixed finance model has kept Ricochet alive, and allowed the publication to pay all journalists writing news and feature articles. [Full disclosure: I had an article published in Ricochet in January and was paid 20 cents a word].
Ricochet does not have enough funds to pay any of its editors, who all work on a volunteer basis. This is ultimately unsustainable, according to Cox, and has resulted in Ricochet putting out less investigative work than he'd like because these "stories require significant editorial infrastructure and capacity."
This is unfortunate, because hard-hitting investigative stories are one of the main ways Ricochet founders intended to separate the publication from the mainstream media it rightfully criticizes as complacent.
"Mainstream media are often guilty of limiting the spectrum of acceptable opinion," according to Cox, "and I think that when the media become defenders of the status quo, rather than agitators for change, that's bad for our democracy."
Cox says he hopes Ricochet's presence has pushed these mainstream publications to be more open to ideas outside the status quo, citing a need for ideological diversity.
This is a worthy goal to have, and some significant measures have been taken at Ricochet in an attempt to ensure it is met. The most important effort is the Indigenous Reporting Fund. This fund is dedicated to producing "investigations, news articles, columns and opinion pieces" from "Indigenous voices who often struggle to be heard in the mainstream." Cox also notes the fund is "fully autonomous and managed by experienced Indigenous women editors." Ricochet crowdfunded over $16,000 in August to support the Indigenous Reporting Fund.
In the journalism landscape where short annual lectures teaching employees how to speak about Indigenous people is considered sufficient, providing Indigenous people with a platform to speak for themselves is invaluable.
The publication's adversarial approach to journalism is also a significant departure from the more traditional notions of objectivity espoused by mainstream publications. One of Ricochet's few glaring errors in its first year of existence, however, cast a shadow for some on the claim that the publication wears its biases on its sleeve, a necessary component of adversarial journalism.
The error came in an August 2015 profile of significant battleground ridings that was written by a former New Democratic Party volunteer,* without any acknowledgement of the fact that the writer had previously worked directly for one of the candidates he wrote on. A disclaimer was promptly added to the post when Ricochet editors discovered the staffer's involvement.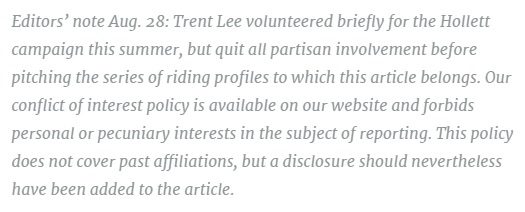 As such, it seems like discounting the publication's claims to being open about its biases off this error alone is a definite overreaction.
Still, despite some worthwhile features, Ricochet has not yet forced mainstream publications to challenge the status quo as Cox hopes for. This is mainly because the publication does not yet have the funds, the following (just over 1.3 million page views in a year, under 9,000 followers on Twitter and 14,000 "Likes" on Facebook) or the influence to make it a reality.
The publication is still young, however, and there's little reason to count it out just yet.
*This post originally stated that the writer was a staffer, not a volunteer. The RRJ regrets this error. 
(Visited 377 times, 1 visits today)
Davide is the blog editor of the spring 2016 issue of the Ryerson Review of Journalism. He also works as an associate editor for the Islamic Monthly. Davide's articles have appeared in numerous publications including Al Jazeera America, The Globe and Mail and the National Post.