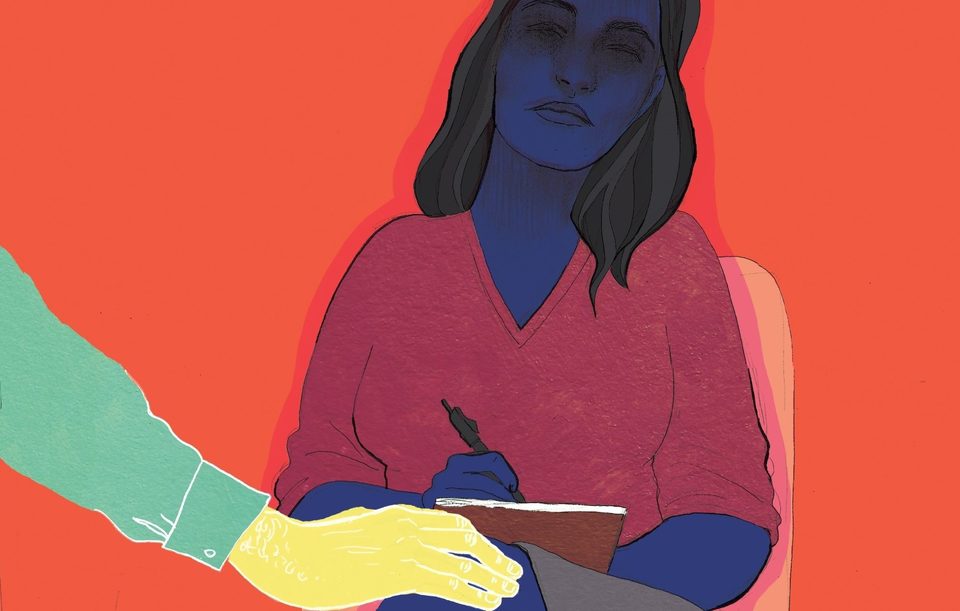 Based on decades of quiet acceptance of behaviour inside and outside the newsroom, movements such as #MeToo and #TimesUp have led to a reckoning.
The Ryerson Review of Journalism spoke to several women who have experienced sexual harassment in the workplace and beyond. The RRJ's interviews reveal systematic and systemic exposure to an abusive male-dominated news and media culture. These stories are singular; episodes that reflect how women have been—and continue to be—sexualized by colleagues and by their sources.
Shaheen Pasha: Fielding the Serial Inviters
When she was 19 years old, journalist Shaheen Pasha was already hard at work brushing off requests for interactions outside of work: invitations to dinner at editors' homes, or to go out for drinks. Later in her career came invitations to text, call, and communicate late into the night. The conversations arrived with offers, Pasha remembers, like one from a senior journalist at her workplace at the time. She recalls him saying, "We'll do this in a more private setting."
As a Pakistani journalist and one of a handful of marginalized reporters in the newsroom, Pasha struggled with this kind of treatment. She was constantly told by friends and colleagues to keep her head down and keep working.
"I talked to other people that I knew, other journalists, other people of colour, and asked, 'Should I say something?'" she says. She was told that there were not a lot of people who looked like her in the industry and being perceived as a troublemaker could kill her career.
Pasha's phone would go off while she lay in bed with her husband. "Another one?" he used to say, seeing her frown as she read a text from a man asking her what she was wearing—someone she interviewed for a story hours earlier, who seemed perfectly kind.
So Pasha withstood the harassment and kept going. Twenty-one years later, the workplace challenges and unwanted messages have subsided since she stopped working in a full-time newsroom in 2013. No matter how many stories she writes and is proud of, or interviews she nails, Pasha cannot shake the fact that journalism is simply different for a woman—it always comes down to her gender or appearance.
In her classroom at the University of Massachusetts Amherst, where she currently teaches, Pasha uses stories from her experiences when teaching newsroom ethics to her students—addressing the shoulder brushes and the late-night text messages that never sat right with her. Professors did not address subject matter like this in her time as a student.
Pasha feels as though it's her responsibility to show her students how to navigate these situations. "I'm a pretty 'woke' feminist, but for so long I didn't see anything wrong with how I was being treated, I just kept my head down—it was just part of the industry," she says, adding that it was seen as a part of toughening up. "Now as a teacher, it hurts me to think about my students doing the same. I don't want them to be silenced, I don't want them to tolerate this like I did."
Marie-Danielle Smith: The Legacy of Gestures
When Marie-Danielle Smith discusses work culture with her mother, she realizes that despite a generational divide, their experiences as women working in the political sphere are not very different.
Smith's mother was a Senate staffer in the 1980s, which likely influenced her interest in covering politics. Receptions here and there and scrums on Parliament Hill were part of the job. Smith enjoyed political reporting—starting off at Embassy, which is now defunct. She chased the politics beat until she was hired at the National Post. For a young journalist, parties and off-the-record meetings with politicians were common elements of reporting on the Hill. But it took time to adjust to this political reporting culture and she wondered if the closeness of relationships between journalists and politicians was appropriate.
One recent afternoon, Smith and her mother sat on Smith's couch discussing the #MeToo movement and the impact of the latest allegations on North American politics. Smith's mother began to tell her stories of her time as a staffer, when she experienced inappropriate interactions with male colleagues.
She recalled one incident involving an unnamed senator. Smith's mother stood across from him discussing work. He patted his lap with the palm of his hand, gesturing her to come sit.
She laughed it off and went on with her day. Smith wondered out loud to her mother why she had never said something to anyone about it.
But listening to her mother's story made Smith recall her past. The same thing happened to her on the Hill several years later.
"I was interviewing a senator and we were alone in his office," she says, recalling the eerily similar details to those of her mother's story. His office was inviting, comfortable, and regal—lined with wooden panels and photos of former Hill legends.
"I had chosen to sit on a chair opposite to him." Smith says. "In the middle of the interview he stopped me and asked that I come sit right next to him."
"I don't bite," he said.
Smith declined, laughing the invitation off, but remembers feeling uncomfortable.
The interview continued, she filed her story, and another instance on the Hill—just like her mother's—went undocumented.
"It was just the culture," Smith says. "It's one of those things you brush off because you don't want to make a fuss—you want to do your job and ignore what just happened to you."
In January 2018, about two years after the incident, the National Post published Smith's story: "Young and female on Parliament Hill: A Post reporter reveals what it's really like for women who work there." Smith revealed the story of the senator—without naming him—and discussed how it impacted her.
"Who cares if somebody put their hand on my knee at a party?" she writes. "Does it really matter if that one guy keeps greeting me with kisses on the cheeks, when he shakes hands with everybody else? Is it a big deal to be on the awkward end of a dirty joke? Should I be laughing along?
"These are questions we ask ourselves, even when we have a gut feeling that says, 'This is weird.'"
Leah McLaren: The Dotted Social Line
The room was crowded as The Globe and Mail staffers celebrated the Christmas season. Leah McLaren and her colleagues were blowing off some steam after a back-breaking year of work.
McLaren was chatting with a bunch of senior journalists when she felt a hand slide up the back of her skirt and grab her bottom. She moved away, but the hand followed. She thought it was her boyfriend until she turned around and came face-to-face with one of her male colleagues.
Despite feeling disgusted, it hadn't crossed McLaren's mind to report him—she was a contract employee and desperate for a full-time job, so she thought it might impede her chances.
She saw what happened to women who reported harassment and she wasn't prepared to put herself in that situation. So she attempted to move past the incident and filed it away in her memory.
But McLaren soon realized there were other perceived instances of sexism in the newsroom. Almost 18 years later, she recalls all of the moments she let pass—a couple of men being marched out of the office for sexual harassment, an editor asking her to wear a low-cut top to a source's house—simply attributing it to the macho newsroom culture.
"At the time when things like that happened in the workplace, we just didn't really question it," McLaren says. "We knew it was wrong, but it was the air that we breathed and the ground that we walked on."
After allegations about Jian Ghomeshi's sexual misconduct and office behaviour hit the newsstands, McLaren wrote about her experience at the Christmas party for the Globe. She reached out to her colleague to let him know and asked if he had anything to say in response. He apologized.
In her column, "Women shouldn't have to wait years for sexual offenders to apologize," McLaren decried a lack of accountability on the part of abusers despite the social shift. "Over the course of this grand cultural conversation we've been having about sexual abuse and harassment, I've heard countless victims stand up and tell the story of what happened to them," she writes. "But how many abusers have admitted to their part—no matter how minor—in this culture of abuse? How many have stood up and apologized?"
Marci McDonald: The Last Edits
It was late at night and the next day's Toronto Star had just gone to bed. Marci McDonald was a summer intern at the publication, and by the end of the evening, she had the front page story in the bag.
It was the biggest night in her journalism career thus far. Her colleagues congratulated her on her first A1 piece—complete with the banner headline.
"Let me take you out for a drink," her editor offered. She was so excited to be accepted into the boys' club that it didn't even occur to her to say no.
Most of her colleagues at the time were male. She always thought she fit in well, though there was an unspoken rule that women had to be tough.
The night went well. Over drinks, she and her editor shared pleasantries about her piece. Nothing about the night implied that he had an ulterior motive of any kind.
In what seemed to be a simple attempt at chivalry, he walked McDonald home.
It was after midnight at this point—McDonald's shoes brushed the pavement alongside her boss's as they neared her home in Yorkville.
As she approached her door and the two said their goodbyes, he lunged and grabbed her breasts with both hands.
"Are those real?" he said.
McDonald was horrified. She pretended it wasn't happening. Extricating herself, she told him that her roommates were waiting, and walked up to her apartment. What she considered to be the most important night of her career at that point was undercut by that incident.
In November 2017, McDonald sat before a crowd at a journalism panel in Toronto titled, "Is This On The Record?" She discussed, more openly now, her experience being sexually assaulted by her employer.
"It wasn't the only thing I'd kept a secret as well—subjects would come onto you," she said to the audience. "You somehow always did feel it was your fault in those days."
Anne McNeilly: Who's the Boss?
With each passing week at the Kitchener-Waterloo Record, now known as the Waterloo Region Record, Anne McNeilly successfully fended off a senior editor who repeatedly asked her out for drinks. She was in her late twenties at the time, and recalls never feeling just right enough about entertaining his plans. One spring day, however, she changed her mind. She had little desire to go out, but her editor asked her again. Despite declining—saying that she had too much work to do—he insisted, reminding her he was her editor and assuring her that it was okay. She then felt like she couldn't say no, and finally said yes.
The two drove through downtown Kitchener, enjoying the sun in his sports car. Finally, the car came to a halt. McNeilly looked up and realized they had stopped outside a popular strip joint in the area. Her stomach churned, but she followed him inside.
"What are we doing here?" She wondered.
They grabbed a table, ordered a few drinks, and discussed their work—chatting generally for the next couple of hours.
"I just pretended that going to a strip club for lunch or for a drink was the most normal thing in the world," McNeilly says over 30 years later. "Whereas now with more experience I would say, 'What are you thinking?'"
At the end of the afternoon, McNeilly couldn't wait to go home. But when they got back to her editor's car, he asked her to join him for a picnic—his reasoning being that it was nice out and his family was away. Her heart sank.
"I really do have to go, I have people coming over for dinner," she said, even though she didn't. He accepted and drove her to her car.
McNeilly sits in her office, gazing out the window as she tells her story, her hands gripping one another tightly.
"I think there's something about the power imbalance between someone young and an older person who has more authority," she says. "It just never occurred to me to mention that to anyone—if you talk about it, you lose, if you don't talk about it, you lose."
Katie Summers: The Source Files
Big news circulated in the AMP radio station office in Calgary. Katie Summers was a few months into her new job as an evening radio host at the pop music station when she heard that a famous Canadian musician was coming in for an interview—she was ecstatic. The band had been a favourite of hers for as long as she could remember.
While she wasn't asked to do the interview herself, she would get to see the lead singer, and she was nervous­­—this was a big opportunity. The rockstar walked into the room with his management team and record-label officials.
Summers recalls complimenting him, explaining how as a longtime fan she was excited to meet him in person.
The singer looked at her, smiled, and responded with a chuckle.
"Well if you're lucky, I'll let you take me outside and you can blow me," she recalls him saying.
Summers remembers being so shocked she had to take a second to catch her breath. Her long-time musical inspiration had humiliated her in a room full of men, downgrading her to "a piece of meat."
Swallowing the lump in her throat, she carried on with the photo-op her colleague who conducted the interview had requested for social media.
After the photo was taken and they parted ways, the musician grabbed her bottom.
The incident has caused Summers to lose the respect she had for him. She wasn't emotionally affected, but in the three times she's interviewed him since, her demeanour has been different—she focused on being professional.
Several years later, Summers thinks about how badly she didn't want to lose her job, fearing that her experiences would be devalued if she said anything about what happened, especially as a new hire.
"He was untouchable," she says. "He had power and I didn't, I was so scared that if I had gone to my boss in that moment—I had just started at this radio station, I was brand new to this company—I didn't think I would be supported."
Summers compared her workplace environment to a boys' club. "I worked really hard for my job, and to be where I was," she says. "I just made the choice to let it go, I had to." 
(Visited 270 times, 1 visits today)