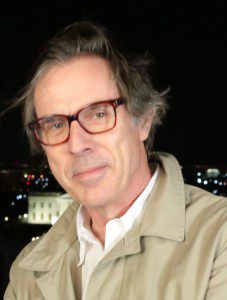 Leaving The National after 28 years won't be easy—but Mark Harrison is ready for a new challenge.
Harrison, now the former executive producer of The National, is taking over the health unit and the growing science and technology unit at CBC. He says the decision to leave CBC's flagship nightly program was a personal one, but it also aligned with the broadcaster's increasing focus on digital. Harrison says Jennifer McGuire, editor-in-chief of CBC News, is also interested in "raising the profile and building technology and science coverage up," so his interest in switching jobs came at the right time.
His first day at The National was also Peter Mansbridge's first day. "I've been here a long time. I've done a lot of jobs," he says. "I started as a writer, a senior writer, and I've been executive producer for seven years and for some time now, probably a few years. I've been wondering when I would stop doing it."
"I mean, I love the job, but it's not something that I wanted to keep doing forever. It does take a toll. It's a seven-day-a-week job…so it's a bit unrelenting in that sense." Harrison says he felt comfortable leaving the show because it was in "a good spot. Peter's on top of his game, the people I'm working with here all seemed to be doing really well."
The National's new executive producer is Don Spandier, who's moving back to the program—he used to be the senior current affairs producer—from his spot as the senior producer at World at Six. Harrison says he and Spandier will "be exchanging lots of smiles" when they see each other around the CBC building. "The program is constantly changing. The way we do what we do is changing, evolving, and it'll be interesting to see Don's perspective on how it's changed since he was last here and his ideas on how to take it in to the future."
Harrison says he's excited to work more on health stories—which he's been interested in since he was at school—and has wanted to develop more digital skills. The content units at CBC provide stories for TV, radio and online, "so it's going to stretch me in different ways," Harrison says.
"I'm really excited about the move, but it's very much with mixed emotions and mixed feelings," he says. "I love The National. I mean, people who work at The National, it really gets under our skin…we end up feeling very strongly about the people we do The National with too." Although he likes the program and the team, Harrison says he also believes that it's important not to get too comfortable.
"I do believe it's good to try different things and stretch things differently into all aspects of the work we do."
(Visited 849 times, 1 visits today)
Erin Sylvester is the head of research for the Spring 2016 issue of the Ryerson Review of Journalism. Her work has appeared in several publications, including the Calgary Herald and the Torontoist.