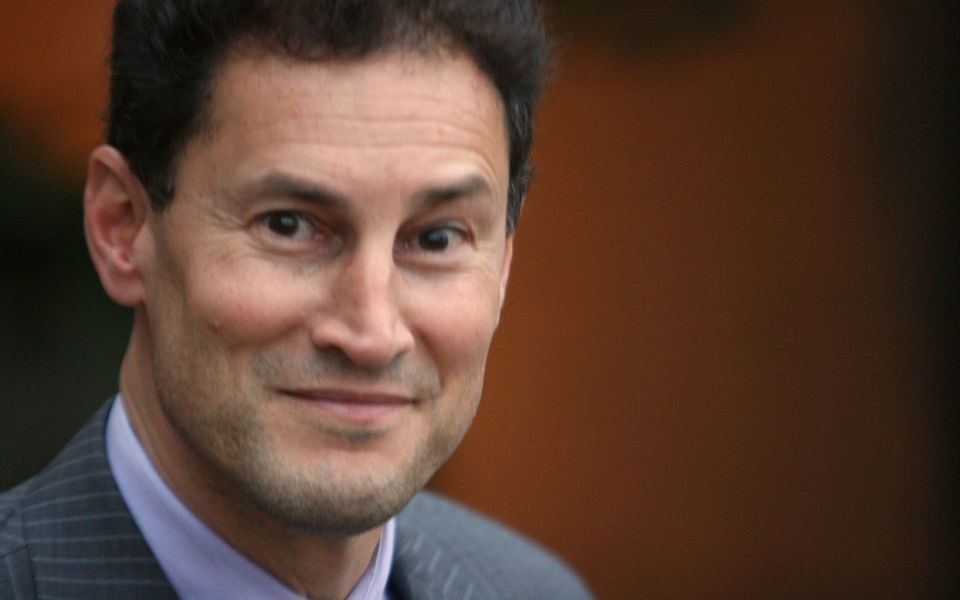 Steve Paikin, the host of TVO's The Agenda, is now among the list of people, including CTV's Paul Bliss, who have recently been accused of sexual harassment. In a time of public scrutiny against predominantly male public figures, a pattern has begun to emerge—a group of victims, the idea that rumours had long been circulating and a quick step-down by the man accused. But the Paikin situation doesn't match that pattern.
On Feb. 5, TVO released a statement referencing former Toronto mayoral candidate Sarah Thomson's claims that Paikin sexually harassed her in 2010. In a post published on her website, Thomson said a political talk show host asked her if she would sleep with him during a lunch with him and her assistant. "Not five minutes into the lunch, the host asked me if I would sleep with him," Thomson wrote. "My assistant almost spit his drink all over the table."
Ryan Kelly told the Toronto Star that he worked as an assistant for Thomson during her 2010 campaign, and that he wasn't aware of the allegations, or that a meeting between Thomson and Paikin took place. One of Thomson's co-campaign managers, George Tory, confirmed in an email to the Star that Kelly was Thomson's executive assistant, and that he doesn't know of any other executive assistants Thomson had. Despite this, Thomson told the Star that Kelly "wasn't part of the campaign." No accusers other than Thomson have stepped forward.
Paikin denied Thomson's allegations in a Facebook post on Feb. 6. TVO has said it's brought in an "independent third party to investigate," but sees no reason to remove Paikin from his role. The broadcaster's decision has resulted in a mass discussion among journalists, with many believing the #MeToo movement has gone too far, and that Paikin may not be guilty. While it's too soon to know for sure whether Thomson's allegations are true, the Canadian media world's reaction will be interesting as the #MeToo movement continues to unfold here.
Toronto Star columnist Rosie DiManno wrote that TVO did the right thing. In an editorial titled, "Bravo to TVO for not caving under pressure," DiManno writes: "Let the investigator investigate… kudos to TVO for not caving under pressure. If Thomson is brave for coming forward, then #SoToo is the public broadcaster for not cowering."
Other journalists say they believe that in the wake of movements like #MeToo and Time's Up–which are both movements against sexual assault and harassment–instances like what happened to Paikin are bound to occur. Twitter timelines have been riddled with tweets reading "I believe Steve."
Jesse Brown of Canadaland—a publication that often scrutinizes Canadian media for doing bad things—also weighed in on his confusion surrounding the Paikin allegations in a recent podcast episode.
"A dude knowing a dude saying, 'He wouldn't do that,' is worthless…but on a level of logic, to say that Paikin would proposition Sarah Thomson like that—'If you have sex with me, you could come on to The Agenda'—in front of a witness. He's not a complete idiot," Brown said.
"It was inevitable that a movement that challenges power structures in Hollywood and politics would enter the world of journalism," said Nick Taylor-Vaisey of the Canadian Association of Journalists. "It's certainly the case that strong investigative journalism has jump-started the moment, or at least done a lot of work to unravel and reveal careers of a lot of unfortunate and condemnable situations.
"We've learned a lot about misconduct and harassment, but the world of journalism is obviously subject to those same power struggles as any other industry," he continued.
With any allegations, some will be true and others will be false, Taylor-Vaisey said, but he believes situations like this will only become more apparent in the newsroom.
Jonathan Kay, the former editor of the Walrus, also weighed in on the allegations in a National Post editorial, writing that he believes Paikin isn't guilty. "Paikin (whom I count as a friend) is so conservative in his personal habits and manner of conversation as to be almost self-parodic," Kay wrote. "He monitors every syllable closely, knowing that any false note could get him in trouble with his risk-averse employer, or serve to disqualify him from his role as perennial election-debate host," Kay added.
(Visited 293 times, 1 visits today)