Femifesto, a feminist organization based in Toronto that aims to fight rape culture and replace it with consent culture, has released a guide for journalists on how to report on sexual violence.
The organization has put together the guide, "Use the Right Words," because, "Mainstream media has the power to shape conversations about violence in our communities. News stories about sexual violence affect the way we think about it. They can impose a hierarchy that frames certain kinds of sexual violence–or certain kinds of survivors–as less legitimate than others."
The guide notes that, "This tool was created in recognition of the power media has in shaping understandings of sexual violence, and to support those who work in the media as they navigate covering sexual violence. Use the Right Words provides the language and frameworks required to report on sexual violence in ways that do not shame or blame survivors."
The document is an absolute must-read for journalists as it offers helpful and practical tips on how to report on sexual violence. It includes "dos and don'ts" with regard to language choices in stories on sexual violence, a checklist on how to avoid framing stories on sexual violence in a harmful manner, tips for interviewing survivors of sexual assault and even self-care ideas for the journalists doing the reporting.
These lists are complemented by a series of informative responses to common misconceptions and questions about sexual violence, which offers an explanation of the survivor-focused framework these tips are built upon. "This guide is informed by an intersectional approach to sexual violence, which recognizes that survivors are impacted differently based on varied and interlocking experiences of oppression and their social location … Use the Right Words is a survivor-informed guide, created by and with a diverse group of survivors."
Here are a few tips taken directly from the guide, although I highly recommend that all journalists read through it themselves, and keep a few copies handy in the newsroom.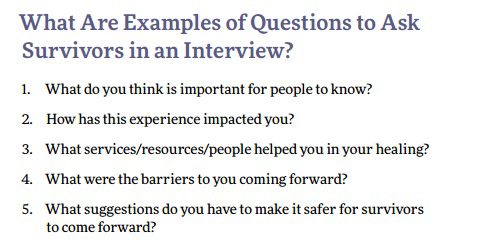 (Visited 116 times, 1 visits today)
Davide is the blog editor of the spring 2016 issue of the Ryerson Review of Journalism. He also works as an associate editor for the Islamic Monthly. Davide's articles have appeared in numerous publications including Al Jazeera America, The Globe and Mail and the National Post.