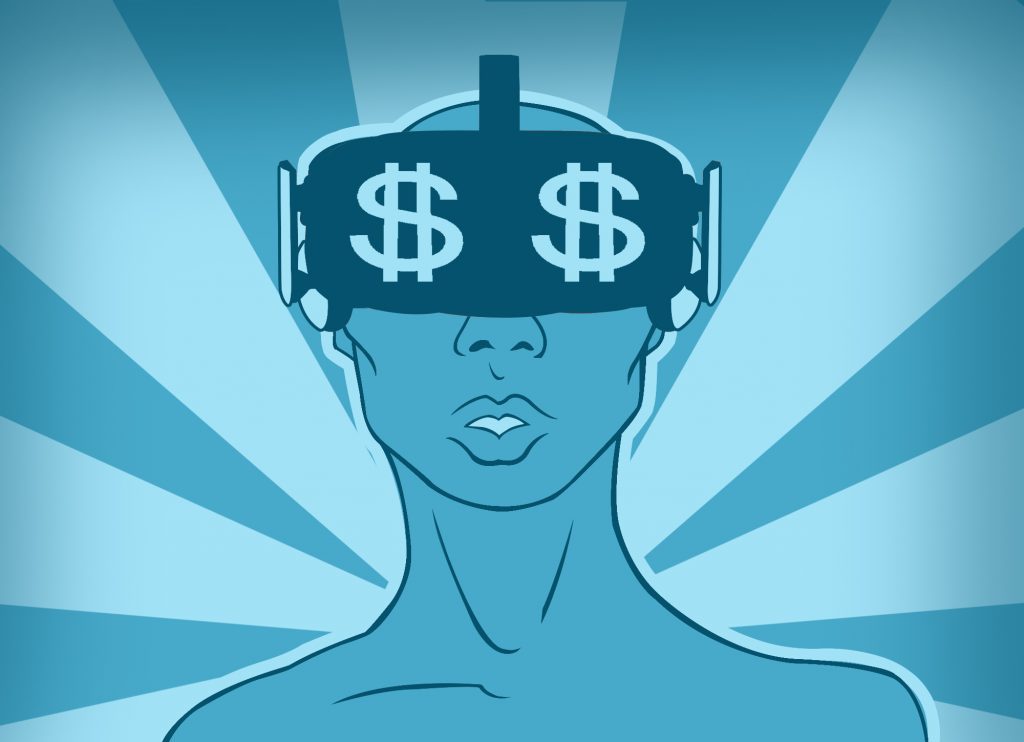 Virtual reality (VR) technology quickly became a popular novelty in 2015 to the point where you couldn't walk through a tech convention without seeing booths giving the public a chance to try out a headset. It took root in a few industries like rehabilitating soldiers with PTSD, immersive video gaming, and even the porn industry found a way to use it.
To engage in another environment, users first need a HMD (head-mounted display) which delivers a feed through two LCD displays to cover both eyes. To accommodate distortion, there are also lenses between the eyes which adjust depending on the distance between the user's eyes. The headset can then deliver a simulated environment while tracking the motion of the user's head (moving the user's head will allow them to explore more of the environment) and body (infrared sensors from the device track hand movement and placement in the room). You only need a smartphone or VR headset like the Oculus Rift, HTC Vive, Playstation VR, or the Google Cardboard, pop it on your head, and suddenly you're in a Syrian village or on a family-run farm.
Andy Fidel, a videographer and content creator for the virtual digital solutions company Commetta, explained the often-misunderstood difference between 360-degree video and VR: "VR immerses the user, allowing them to explore and interact with their environments. These experiences are often computer generated and are video game-based. 360-degree video is basically a spherical video, which can be viewed on PC, mobile and devices like the cardboard." Essentially, 360-degree video is a passive viewing experience where the user does not move from their place whereas VR allows the user to walk around in a digital environment.
Fidel remarked that this technology is a tool and not a "unicorn of the newsroom" that will function without the issues of traditional journalism. She described that it was going through a similar development that led social media to become a digital news desk for a lot of reporters: "Journalism changed with the rise of user-generated content (UGC) on social media. I am expecting the same with VR/360 UGC." The question of what should be covered by VR is often raised, whether it could be tackled through a hard news angle or if it's strictly a feature-reporting tool. Euronews' 360-degree/VR co-ordinator and freelance journalist Thomas Seymat believes that with an effective and reactive newsroom, something like 360-degree war zone coverage could be up-and-coming. Fidel, on the other hand, believes that it's more of a feature-reporting tool on account of how much research and storyboarding goes into the process.
"Good journalism mustn't be distracted by tech."
These tools are being used in features like Nonny de la Peña's "Project Syria" and "Hunger in Los Angeles." "Harvest of Change" came out as early as 2014, telling the story of America's changing rural scene with various interactive farm scenes. As a five-part series by a team of journalists and engineers from the Des Moines Register and Gannett, it marked itself as a "first-of-its-kind journalism project." It was a colossal project, taking more than 320 hours for photographers to capture every inch of the farms they visited, producing more than 240 edited photos, 16,400 words of description, and 17 hours of transcribed audio, and the entire production cost under $50 thousand (U.S.)
A friend and I were no longer at the pub, but with a few marine researchers swimming with dolphins and seeing how they communicate with one another.
The technology alone costs a fortune, and then you have the staff to pay (writers, photographers, engineers), and then there are miscellaneous costs like travel and hotel bookings. There's also a lack of funding for these kinds of projects as de la Peña mentioned in her TED Talk. The Knight Foundation is trying to change this by offering a grant to groups like the Des Moines Register to help promote these projects.
"VR journalism is expensive, as it very often required travelling onsite," says Seymat. "It's clear that not all stories need to be told with VR or 360-degree videos, and cost should definitely be a criteria to factor in when the editorial decision to cover the story is made." Updated VR software (Unreal and Unity 3D) and headset models (like the Oculus Rift creating more realistic environments with accurate room-scaling sensors so that the user can more effectively move around in a clearer space), versatile experience amongst journalists, and available software are all steadily bringing down the costs of virtual reportage. There are other ways newsrooms can sustain this method, for instance, Seymat suggests that organizations could use it as a revenue opportunity for sponsored content. Consumer-level VR is becoming widely affordable with Google Cardboard headsets costing as little as $20. There are also a  few free software programs to choose from. As the technology becomes widely affordable for both consumer and professional users, it's clear that VR is more than a fad. All things considered, what form of journalism will it take?
"Project Syria" amazed people when it was showcased at the Victoria and Albert Museum in London. This was a piece that reconstructed a scene in a Syrian town where a young girl was singing amongst a bustling crowd before a bomb detonated, showing the volatile state of day-to-day life in the country. It's one thing to read about this event in the paper, but de la Peña actually wanted viewers to feel in the moment. With limited advertising, it managed to attract a wide audience and gather a lot of positive feedback through guestbook signatures. Technology conventions, electronic stores, and corporate events are a few other places where you could slip into another reality – places that aren't always convenient for people who want to try them out, especially to see the news.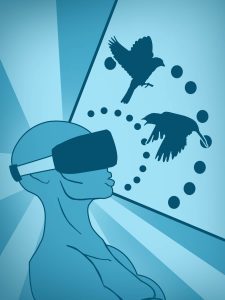 In 2016, the industry is steadily adapting to make virtual reality more accessible through affordable headsets, smartphone apps, and on regular websites. It's as easy as opening up a new tab and checking out a piece like The New York Times' "Walking New York" which gives you a more intimate view of life in the Big Apple in a Google Maps kind of interactive story. It's really difficult not to have soaring enthusiasm for this technology's potential when, on the drop of a dime, I can pull out my phone at the bar and watch a 360-degree documentary called "The Click Effect" available by With.in's impressive mobile app. A friend and I were no longer at the pub, but with a few marine researchers swimming with dolphins and seeing how they communicate with one another.
With accessibility, another issue we have to consider is how readers consume the news. In a quick-bite social media news world, it might not be particularly feasible to have readers invest in the hardware for the sake of hard news. While an interesting idea for feature news, we probably won't be seeing a person wearing a headset on the TTC to catch up on the conflict in Syria.
VR and 360-degree journalism isn't a perfect technology yet. When I asked Seymat what the potential limitations were, he gave a quick "How much time do I have?" before describing how the frame rate resolution of most devices don't make the experience feel "real" enough and the issue with sound engineering had to be tailored specifically for the created environment (for example, making an explosion sound like it's happening behind you). Fidel brought up a few issues with ethics: where do we draw the line between factual reportage and doing the story through VR for the sake of entertainment? "Like any journalistic report, I expect to see truth, accuracy, humanity and impartiality in Immersive Journalism. Good journalism mustn't be distracted by tech. This isn't Hollywood." Also, what kind of brand deals do our newsrooms get into to fund the use of the technology? Will it influence the independence of the publication? These aren't new questions, but now that cost and accessibility are problems that are gradually being solved, we're going to confront them sooner rather than later.
This technology is a tool and not a "unicorn of the newsroom" that will function without the issues of traditional journalism.
This technology is finding its way into newsrooms, like The Guardian's new VR project team (which recently released "6×9", a piece that opens the viewers' eyes to the cruelty of solitary confinement and how sensory deprivation will have adverse effects on an inmate's mental health) who called 2016 the "the year that virtual reality (VR) is expected to move into the mainstream" and expressed interest in developing more VR pieces. Another notable piece is the CBC's new virtual reality documentary "Highway of Tears", telling the story of Ramona Wilson, an Indigenous girl who was reported missing in 1994 and her remains were found the following year. These projects show that VR can be used to have the public understand an issue in a different way.
(Visited 193 times, 1 visits today)