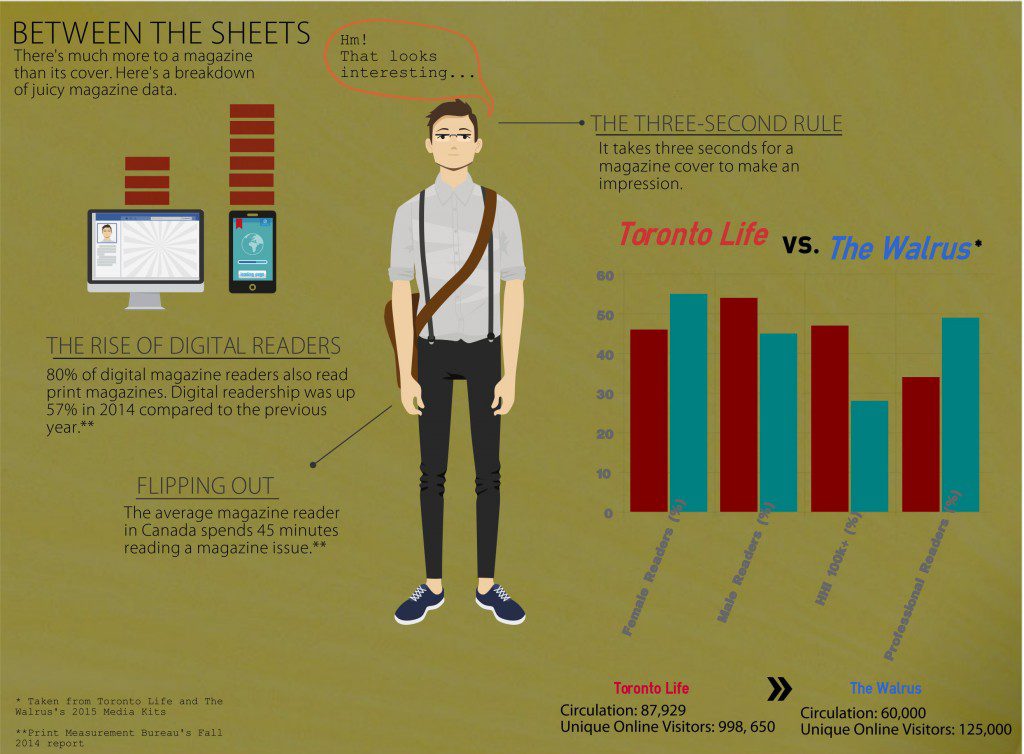 For seven years, Toronto Life editor Sarah Fulford has seen the glossy covers of her magazine go through a demanding selection process before hitting newsstands. Since the editorial and art direction teams, as well as the publisher, are involved, the final version is often the result of many revisions and even late changes. The May 2015 cover story was to be Tinder dating on Bay Street, but Desmond Cole's "The Skin I'm In," a memoir about being repeatedly subjected to police carding, was too compelling not to showcase, and the photos were understated yet powerful. So that became the choice. Fulford believes a successful cover demands attention with punchy headlines, colours and photos that make a shopper stop, pick the magazine up and flip through its pages. "The best Toronto Life covers," she says, "are the ones that feel irresistible."
Given that a magazine has three seconds or less to make an impression on a newsstand reader, irresistibility is crucial. But with more and more readers going online for their stories, grabbing them in stores is no longer the only goal. Toronto Life and The Walrus are two magazines that still place traditional emphasis on the cover, but their editors, Fulford and Jonathan Kay, acknowledge that its power as the public face of the magazine is shifting.
At Toronto Life, the conversation often begins with Fulford and art director Christine Dewairy about a possible cover based on a story already in progress or any sketches and headlines they have in mind. Once they've agreed on some potential ideas, they take them to the editorial team. Dewairy begins drafting mock-ups and discusses them with the editorial team. By the time the issue goes to print, she has often created over 40 of them.
"Covers are the personality of the magazine—the persona," says Patrick Kennedy, a Western University professor who teaches a course with a focus on producing consumer magazines. "It has to have impact and it has to connect with the audience that the magazine tends to serve." As newsstand advisor for Toronto Life and The Walrus, Annie Gabrielian studies the performance of past covers. Real estate covers do well at Toronto Life, while the Summer Reading issues are popular with readers of The Walrus. Gabrielian views the cover as an invaluable marketing tool and looks for background colours to draw readers in. She also uses tiny badges and starburst images to tell readers the issue is a special or seasonal one, and to celebrate exclusive material. However, even with the work of the consumer marketing team, at many magazines, the publisher has the final say.
Unlike Toronto Life's in-your-face fonts and photographs, The Walrus covers boast warm pastels and artistic illustrations that contrast its cover stories on science, politics, health and literature. Brian Morgan, the magazine's art director, says fine art and illustrations have always been a part of its covers, which he thinks add an element of surprise for readers. Circulation and marketing manager Bryan Maloney agrees. "We're not trying to shock you as you walk by the newsstand—we're trying to intrigue you," he says. "You want someone to stop and think." This appeals to The Walrus readers who, on average, are 41, enjoy reading more serious writing and have a household income of almost $100,000.
As digital readership grows, magazines put the focus on producing quality features for the magazine instead of paying as much attention to the cover. Kay thinks covers are irrelevant in the digital age because most people find stories through social media: "When you click on a link, you don't think of what's on the cover," he says, adding that it must still work to intrigue print subscribers and impulse buyers. "It is strictly a print phenomenon."
But Fulford argues that the digital age has given covers a new purpose: they appear on Facebook walls, across other social media and in photo galleries. Citing Caitlyn Jenner on Vanity Fair and Bill Cosby's accusers on New York, Fulford says print covers can spark viral online discussions on important issues.
A recent controversial example was Toronto Life's July 2015 cover promoting Leah McLaren's "The Cult of Jian." Many readers were horrified to see a smiling Jian Ghomeshi on the magazine. "The topic itself is incredibly upsetting. The allegations, if true, around what he did are truly horrific," says Fulford. "In my experience, when you tackle tough subjects, you stir up feelings, and we certainly did that."
Dewairy struggled to craft a cover for the issue that was attention grabbing yet sensitive. Colour looked too celebratory and was more disturbing for people, so after discussing it with the editors, she decided on a black-and-white treatment. "I wanted the type to be bright and bold and his face to be a memory of him, of that Jian persona—smiling in an almost menacing way," she says. Regardless of the controversy, or perhaps because of it, Hunt says the issue was a success: "It was the best-selling Toronto Life issue on the newsstand in the last two years."
(Visited 283 times, 1 visits today)
Eternity Martis is the Spring 2016 multimedia editor at the RRJ. She currently writes for the Huffington Post and Vice Canada. Her work has also been featured on Canadaland, xoJane, and Salon.