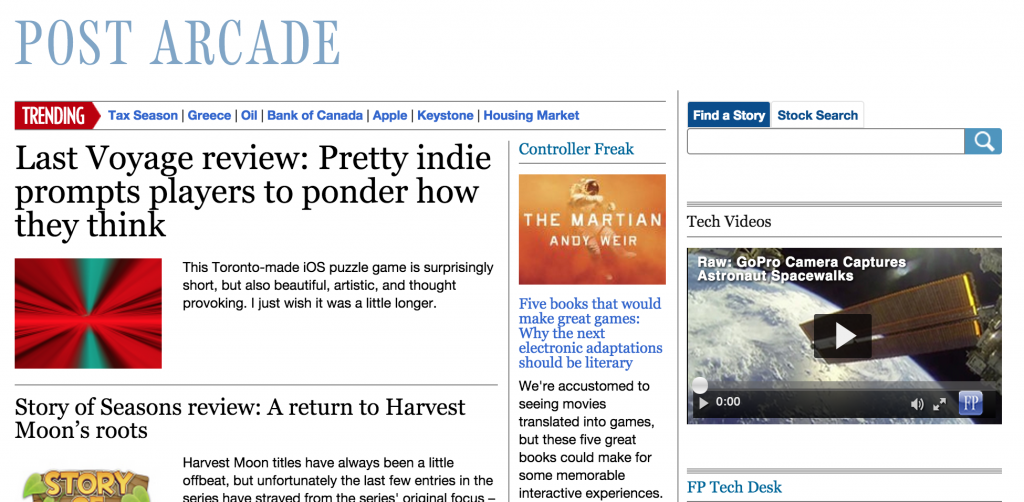 Matt Demers knows one thing is true of freelance video game journalism in Canada: "It's not glamorous." The path the former freelancer chose wasn't glam at all—from the low pay to the competitive nature of the industry. A few months ago, he was trying to get back on his feet after having one of his features killed. These days, he's a supervising editor at TheScore eSports, and his outlook is positive. Still, he admits: "It's not the job you think."
Being a video game journalist sounds appealing—it's a job somewhere in the fantasy realm between real-life dragon fighter, video game tester and wine critic. But it's a difficult industry to break into. Even after the initial entrance, there's no guarantee of success. Money is scarce, and editors—like audiences—are few and far between. Without any major blogs in the Canadian gaming industry that cover more than just reviews and the occasional interview, the small industry is its own cesspool—and freelancers are better off staying away.
In 2012, Canadian video game writer and IGN editor Mitch Dyer wrote a blog post about his experience in the industry. "Most of us—the vast majority of us, actually—got our starts working for websites without a paycheque," he wrote. "This is the norm in my business and I find it revolting." Working for free, especially for young journalists, is often expected and viewed as a stepping stone, something to overcome.
It's easier not to get involved than it is to work your way into gaming journalism—at least according to Daniel Kaszor, editor of the National Post Arcade, the paper's video game vertical. When Kaszor started working at the Post, there was little video game coverage. In 2010, Matt Hartley, the former tech editor, and Kaszor began writing some regular posts about gaming. At the time, anything that was written about video games was filed under arts until 2011, when video game stories finally moved in under Hartley's wing at the Financial Post tech desk. It was just Kaszor, Hartley and freelancer Chad Sapieha.
The Post Arcade was officially created in 2012. According to Kaszor, their budget was, and still is, "basically nothing." Today, while its existence suggests there's some demand for gaming journalism, the Arcade still not strong enough to become its own entity; the site simply doesn't have enough of an audience to hold its own. Unlike in the U.S., where blogs like Polygon draw online traffic, Canada's industry is too small.
For freelancers, that means making little money. Matthew Braga, editor of Motherboard Canada and former Post Arcade contributor, echoes that sentiment. "I don't think many writers get paid well for it," he says. "There hasn't been as much money going around."
Demers calls gaming journalism "enthusiast press": success is only there for the lucky ones—the Kazsors and Bragas of the newsroom who already have a platform to write about their favourite things. For everyone else, it's near impossible. "You're competing with a lot of other people," says Demers, "who like whatever you like just as much as you like it."
But not all those competing for a spot in the industry are as cynical. Austin Walker, a PhD candidate at the University of Western Ontario who studies and writes about gaming and labour, says Canadian video game journalism is something special. "I think it's an interesting industry up here. There are many names in games development, and I think that the fact that Canadian journalists can have access to that is great," he says.
All that access, however, goes to waste when there's such a small market for the work that comes out of it. The result, Braga says, is "young white dudes writing about big, blockbuster video games" at mainstream publications like the Arcade. Readers don't get a diverse look at games, and the lack of variety leaves much to be desired about the inclusivity of the industry.
Newspapers, such as the Toronto Star and the Post, are now affiliated with Metacritic, a product rating aggregation site that assigns games a numerical rating after averaging reviews. Some reviews are given more weight than others based on the reviewer's fame or following, a model like the popular Rotten Tomatoes movie rating site. For major publications that are on it, giving a bad review of a game that was sent for free is not a problem. For smaller publications, with fewer bridges to burn, being on the receiving end of a free game can affect professional obligations and lead to biased reviews.
"It's a very complicated industry," Demers says. Braga agrees: "It's tough." In an industry so small, how to grow and better service audiences is a constant challenge. And many, like Braga, simply don't have the solution.

(Visited 212 times, 1 visits today)