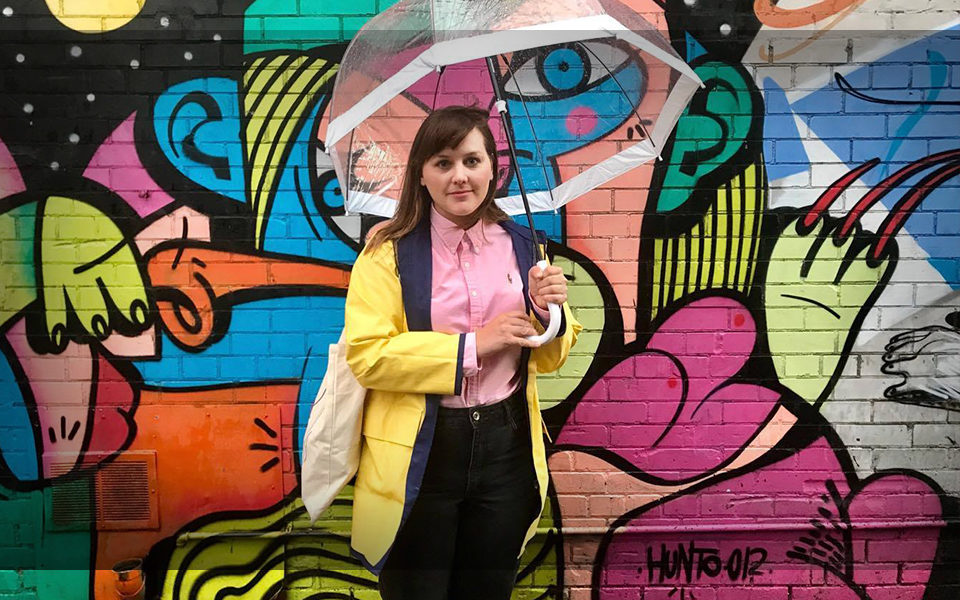 At a Parkdale cafe, Katie Jensen takes a break from editing her projects to discuss the beauty and shortcomings of Canadian podcasting. Wearing a baby pink button-up collared shirt, she talks about the events that brought her to where she is—excited to be producing podcasts. Last spring, Jensen had an epiphany and posted a question to Twitter. "I had this idea that I wanted to do this inclusive podcast workshop series," she says. "Summertime was coming up, and I thought it would be really fun, so I posted a callout to see if anybody would be interested." People loved the idea, and it resulted in seven DIY podcast workshops run by Jensen over the summer.
Jensen wanted to make podcasting available to people who couldn't afford formal schooling, or didn't have access to the proper equipment. It was also important to her to support women and people of colour, who she says are under-represented in podcasting. "There's a lot of different issues with podcasting in Canada," she says. "We do see a lot of racialized people doing great work, but there just needs to be more."
While studying biology and music at McMaster University, Jensen produced a music show for CMFU called Indie-licious. Today she's working as a freelance producer for podcasts like Safe Space and The Secret Life of Canada. She also writes for Vice and her blog Music Between Friends, and plays in a dark-wave band called Baby Cages. It's a lot, but every project scratches an itch. "I love being a freelancer," she says. "I love calling the shots, working on all these projects, working for all these different editors, and I get to choose what kind of work I do, which I'm really grateful for."
At the core of the podcasting workshops, she adds, is the need to build community and networks between freelance podcast producers. "I've always loved community building," she says. "We need to have more of that, where we have these networks where all these people need is the right connection, the right push to get these stories out there."
In the five sessions, which took place between April and August, participants paid what they could—some contributed a dollar, while others chipped in over $20. Jensen encouraged participants to bring their own ideas, while she supplied basic equipment, skills training, and the confidence to put the plans into action. She introduced participants to the programs and equipment they needed to start their own projects. This is how she met Leah-Simone Bowen and Falen Johnson, who arrived with an idea that would become The Secret Life of Canada, a podcast that explores Canada's untold history.
"Falen and I were talking about doing this podcast, and then we quickly realized we don't know—other than the writing and the idea—how to make one," says Bowen, who says they found the workshop by happenstance through Facebook. "It was a really inclusive space," she says. "It was all women and people with various skill sets, and there was kind of this general feeling of 'we're all new at this and we need help.'"
"They had the name, they had the idea, they had the personality," Jensen says. "Immediately after the workshop, I emailed them and I asked, 'What's going to happen next?'"
With the help of Jensen's connections to Passport 150, the trio produced the episode "The Secret Life of Banff," which aired late August and hit number two on iTunes Canada for most of September. The second episode, which aired on October 5, examined the history of Ontario's cottage country. Jensen describes the project as "more successful than any podcast I've been involved in."
When asked about any upcoming workshops, she takes a deep breath. "At this moment in time I'm a little too busy to do a workshop, but maybe in the new year." Jensen is currently writing, producing over three podcasts, and working with students at George Brown College. She says the events involve a lot of "woman hours," so she will wait until she can put all of her energy and resources into teaching the next group. "I have lots of ideas for the future."
(Visited 392 times, 2 visits today)