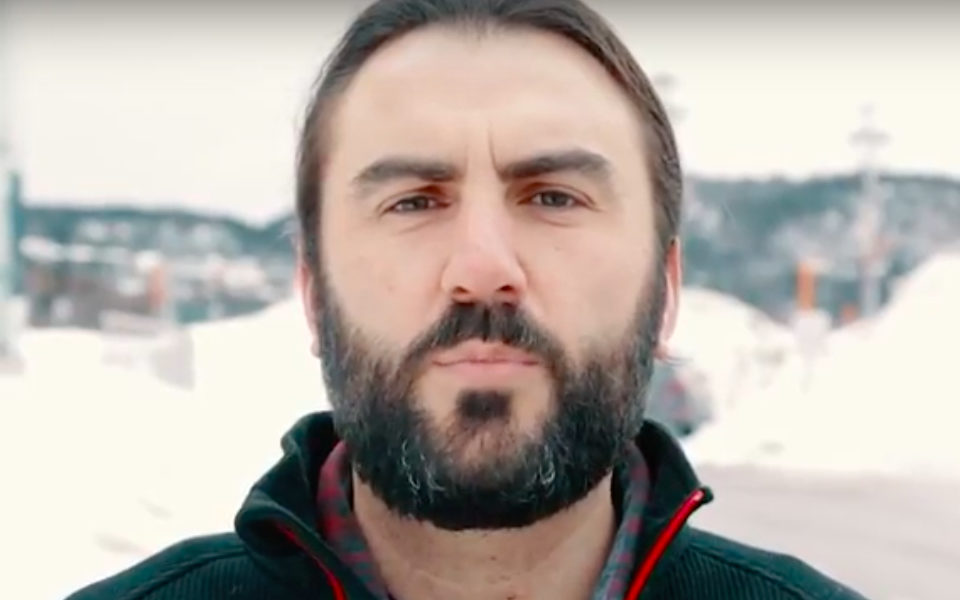 Justin Brake appears in a video on the YouTube channel for the Independent. Brake is facing charges relating to his coverage of an occupation of the Muskrat Falls construction site in Oct. 2016. (Courtesy the Independent)
Canadian journalist Justin Brake has his next court date at the end of November. Over a year after his coverage in Labrador led to him being charged three times. Brake is facing two criminal charges — one for mischief and the other for being in contempt of a court order — in addition to a civil charge of being in contempt. Brake says he still has concerns about how it happened, saying it's an example of government and corporate interests trying to control press freedom in Canada.
Working for the Independent in the fall of 2016, Brake was in Labrador to cover a growing chorus of concerns from locals about their health, land and future as construction on the Muskrat Falls hydroelectric dam project continues. Over the course of several days, hundreds of people opposed to the project gathered at the gate of the construction site as the RCMP arrested protesters. Brake used Facebook Live to broadcast what was unfolding.
"That seemed to really upset a lot of Labradorians, seeing people they know, family members, elders get arrested," he said.
A few days later on Oct. 22, someone cut the lock on the gate to the construction site and Brake said "dozens" of people entered. He had a choice to make: should he enter the site with the group, or not?
"There wasn't really much time to make a decision, to deliberate, people were moving on foot and in vehicles through the gate so you either follow the story or you lose it," he said.
He entered. Brake stayed with the group opposed to the project until Oct. 25. While he was on the site, Nalcor—Newfoundland and Labrador's crown energy corporation—named him on a court injunction. The court injunction was sought after in court by Nalcor who claimed the people who were protesting the development were now hindering the flow of the workers and the progress of the project. As a result of that injunction, Brake, along with other people, are facing charges.
"I am still being dragged through the courts for this, still fighting for my rights and everyone who watched the live streams or read the stories from the occupied camp, they're fighting for their rights," Brake said in a follow-up interview with the Ryerson Review of Journalism one year later.
"If we allow precedence to be set where we can allow journalists to be criminalized for doing journalism it would be hard to make the argument in my mind that we do have anything close to press freedom in Canada," he said. "Anybody who argues that I shouldn't have the right to be there [is implying] everyone else doesn't have the right to know and deserve news reports on that huge story."
According to Brake's lawyer, Geoff Budden, the courts do not view Brake being a journalist as a "material fact," and thus the charges have stayed lodged against him.
"Justin wasn't protesting, he was providing a journalistic coverage of those who were, that is his position," Budden said, adding that the Aboriginal People's Television Network has applied for intervener status in the case. Budden says APTN feels the case could affect the network's "ability to cover Indigenous issues." Brake is now working for APTN in Halifax, a new gig he said he plans to start in mid-November.
While Budden wouldn't go into what kind of sentence Brake could be facing if found guilty, he did say he's not, contrary to other media reports, facing 10 years in jail  Prison time would be an "unusual charge" in a case like this he added.
Brake is one a group of people facing charges because of the occupation in October 2016. It's one of the reasons residents in Labrador feel their concerns are being ignored by elected officials. Many people say they're also worried about the effects flooding the land could have because of the dam, including the fear of methylmercury poisoning and the erosion of the North Spur land-formation that some people fear will flood areas downstream, said Brake.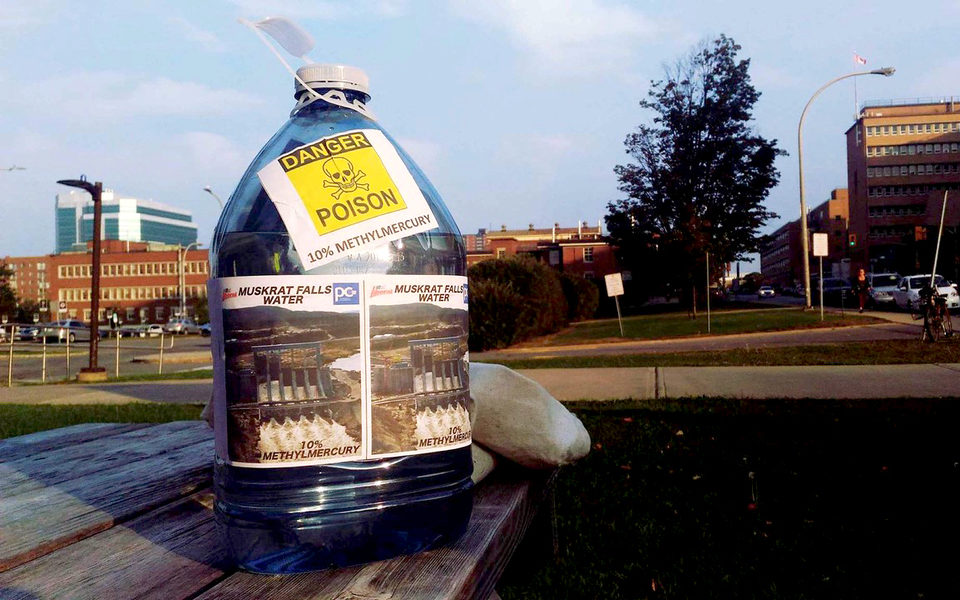 To gain national attention and to highlight these issues, several solidarity marches have taken place in cities across Canada, including the latest in Ottawa and Toronto. During these events, a few dozen people presented Natural Resources Minister Jim Carr and Crown-Indigenous Relations and Northern Affairs Minister Carolyn Bennett with bottles of water organizers called "Muskrat Falls methylmercury poisoned water." Organizers say part of the point of bringing rallies to other cities is for added media exposure about their concerns.
"The coverage that we are seeing is very limited," said Matthew Behrens, organizer of a demonstration in Toronto on Oct. 2, 2017.
Outside Bennett's Toronto constituency office, Kelly Morrissey, an Inuk woman from the Nunatsiavut territory in Labrador and originally from Goose Bay, said construction of the dam at Muskrat Falls needs to be paused until more is known about mitigating possible negative consequences.
"There is a sacrificial population across Labrador, as well as across the north, experiencing high risks of poisoning, high risks of a dam breaking, and ultimately what we need to do as Canadians, is recognize that this is an Indigenous human rights issue," said Morrissey.
Sabrina Williams, press secretary for Bennett, said in a statement that the department was "aware of the situation at Muskrat Falls" and would be willing to help "facilitate discussions between the parties, if asked."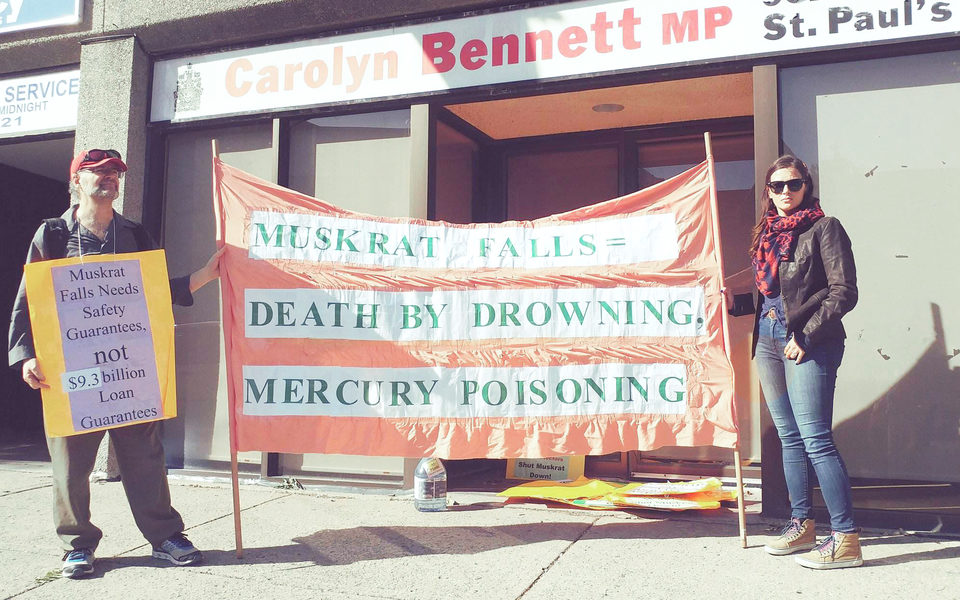 When asked to comment on the case, the lawyer representing Nalcor, Thomas Kendell of the firm McInnes Cooper, said he was unable to discuss Brake's charges while the matter was before the court. "It has to do with the principles of solicitor-client privilege and confidentiality and the duty of a solicitor regarding his/her client," he said. Kendell said he would be able to discuss the case once the proceedings are finished.
(Visited 254 times, 1 visits today)