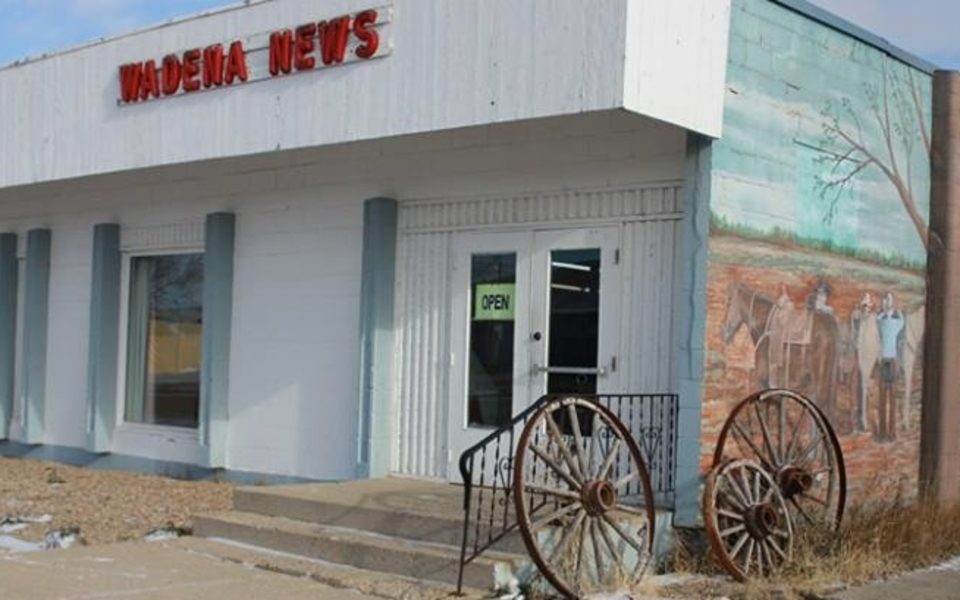 Alison Squires watched her local paper develop in the dark room. Wadena News was like a sibling—her father was the publisher and editor, so she grew up alongside it.  
In Squires' teens, she spent Tuesday evenings cobbling copy-pasted pages together and rushing them to the Greyhound depot to print in Saskatoon. The town of just over 1,000 and its 110-year-old local permeated every aspect of her life, but she dreamed of the day she could follow the paper on board the bus.
After she grew up and fulfilled that aspiration, the newspaper called her back nearly three decades later. The paper's three shareholders—her father included—passed away in the early 2000s. Left without ownership, the business went up for sale in 2001 until Squires left Winnipeg to take over. She has been the owner and publisher for the past 16 years, but is now tasked with ensuring Wadena News' growth isn't stunted. As newspapers struggle to meet the demands of the digital era, Squires and her dwindling team face a slew of challenges.
The labour isn't without its rewards. Among them is a Senate 150 Medal, dedicated to unsung Canadian heroes—a result of former Wadena resident Senator Pamela Wallin's nomination. The 1,500 medals minted last year to celebrate Canada's 150th were given to senators to distribute to those they believed made significant community contributions. While some senators gave the medals to themselves, others were presented to volunteers and organizations.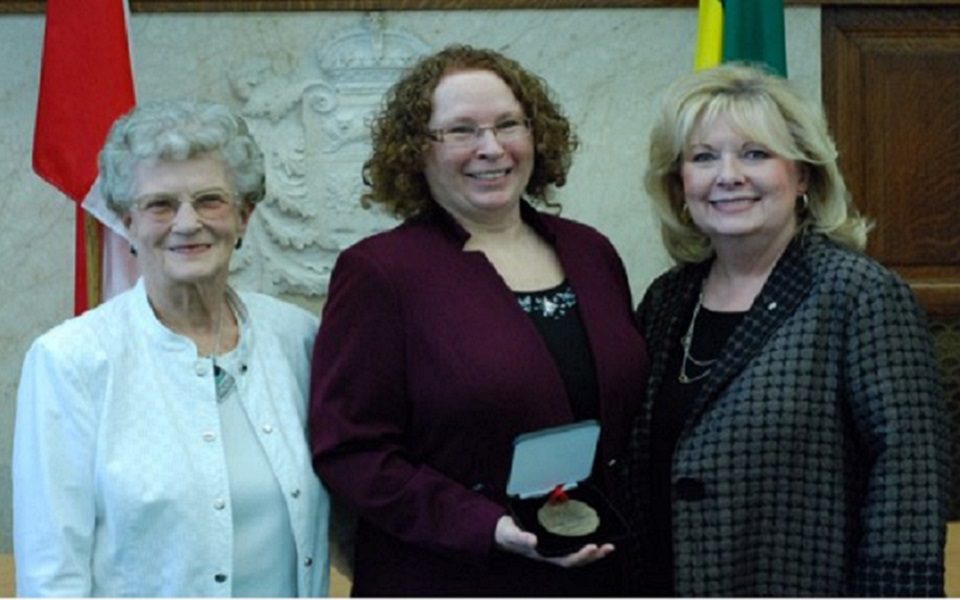 Squires and co-recipient Marge Headington—widow of former editor, reporter, and photographer Jim Headington—received the medal at a ceremony in Regina Jan. 22. A heavily-pixelated photo published to the newspaper's Facebook page announced that the paper would be closed that day as a result. It's clear that Wadena News needs Squires, but how does the publication prove that the community needs Wadena News?
"They are the glue. They make it possible for us to speak to each other," Wallin said in an email. "While technology is changing the way we connect, my hometown and surrounding towns and villages are aging populations, so we still need the traditional forms as well."
"We need our paper and we need the spirit of those whose passion and dedication make it happen every week to maintain that sense of community and common purpose."
Wadena News' team consists of Squires and two reporters, one full-time and one part-time. Serving 21 surrounding communities, the paper relies on informal local correspondents—citizen journalists who occasionally file stories if something noteworthy happens in their communities.
"We all learn on the ground here. None of us are formally trained," Squires said. "We've just picked up what we've picked up. We're all self-taught. We can't necessarily, number one, afford to hire a journalist, and number two, how do you get a journalist out into the middle of Saskatchewan?"
In an area with an aging population and spotty Wi-Fi, Wadena News has focused on moving both the print and digital formats forward. The paper launched a new website in late January, and has an active presence on social media despite only having 100 digital subscribers of its 1,800.
In a town that recently lost provincial bus service and one of two banks, the paper hangs on. But Squires wonders how much longer that will continue.
"It's difficult to carry on now under the economic challenges that we're facing. We are trying to re-establish our value in light of things moving digitally, and of course, our fight is not everyone is digital," Squires said. "If you're not going to include your newspaper in your plans, then you're ignoring that portion of the population completely. We still remain a public entity."
Andy Labdon, who spent 10 years as a columnist and two as a reporter for Wadena News, said re-establishing the paper's significance is a matter of good advertising.  
"You're marketing, you're producing something… [News is] a commodity and I think we have to advertise ourselves just as much as anybody else advertises their business," Labdon said. "I know I have to be out more in the community, be more visible, put in more hours, and make people aware of what we're doing."
But maintaining a community presence and keeping a finger on its pulse is difficult when social media has made it so insular. In a hyper-connected world, Labdon said one of the biggest challenges he faces as a journalist is an online communication breakdown. The town has stopped running advertising, notices, and calendars in the paper in favour of its website and social media accounts.
"The majority of people that live in Wadena are not connected to the internet, can't be bothered with the internet, are seniors who really don't want to learn anymore," Labdon said.
"A lot of people who come to events live out in rural Saskatchewan, like out on farms or acreages. Those people who want to come to events or do anything in Wadena have no idea what's going on because they don't have internet and they rely on the local paper. If the council doesn't put adverts in our paper, then nobody knows what's going on."
The paper ran an editorial in mid-December saying it would no longer cover town council meetings due to a perceived lack of transparency from the city's staff. Despite the positive conversation happening online between residents in private community groups, staff were unaware it was well-received.
"It's all been in their closed social media groups and friends, and we've not been a party to it. Some people have come up with their smartphones and said, 'Look what I posted, look who's posted, and that's the only way we've found out," Labdon said.  
"It opened my eyes that in a town with only 1,000 people, there were so many different groups that not everybody knew who was saying what. It just proves the point that the paper gets to everybody where social media doesn't."    
Labdon said it's promising to see the paper continue to be supported by the community. Recently, others who have grown up with the awkward adolescence of the digital shift have stepped forward to help the paper.
"We've got a couple of high school students interested in writing for the paper, and they do a really good job," Labdon said with a chuckle. "Some of them are very good, very interested, very eager."
(Visited 559 times, 1 visits today)