CBC is downsizing, once again, and there's no plan to stop. The broadcaster's latest strategy includes reducing the workforce about 25 percent by 2020. CBC estimates that 1,000 to 1,500 jobs will be lost over the next five years. This is in addition to eliminating 657 jobs because of a $130-million cut announced earlier this year. Before cuts, CBC has 6,994 permanent employees, 859 on contract and 329 temporary ones. On Sunday, thousands of people took to Montreal's streets, protesting what is seen as an assault on the network. In Sherbrooke, Quebec, one newsroom refused an internal award from president Hubert Lacroix as a stance against the cuts.
According to an memo obtained by The Huffington Post Canada, the latest redundancy notices will be handed out very soon, if they haven't started already. With them, 153 jobs will be gone by March 2015. We've broken down these latest cuts below: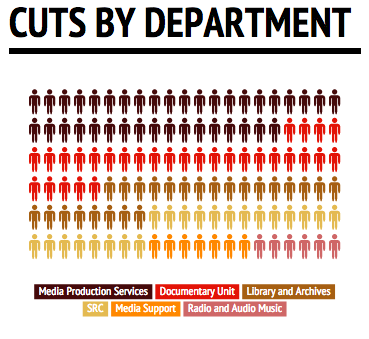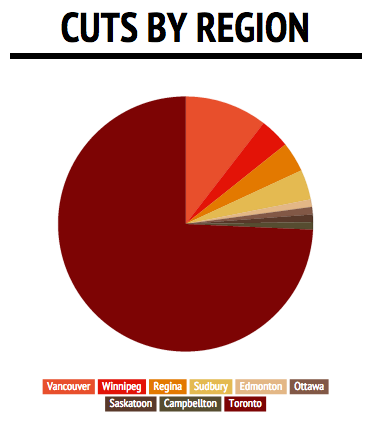 Got something you want to see covered on here? Email the blog editor. And while you're at it, you can follow our the Review and our masthead on Twitter.
Thanks to kris krug for the featured image. 
(Visited 110 times, 1 visits today)
Cormac was the blog editor for the 2014-15 issue of the Review. As a fourth year undergraduate at the School of Journalism, he had a keen interest in sports and business writing. He also hosted the Krates Collective hip hop podcast.