By Amy Grief
When the sports editor at the Queen's Journal requested media passes from the school's athletics department in August, he received one instead of the usual eight. Back in March, the previous sports editor, Nick Faris, reported on how Queen's University Athletics selected its varsity team of the year after nullifying an original vote. In response to that article, the department threatened to re-evaluate its relationship with the paper.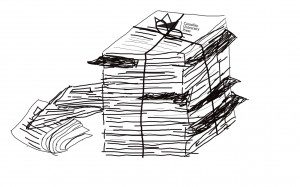 Faris, now co-editor-in-chief at the Journal, tweeted an editorial he wrote about the incident. This caught the eye of Mick Sweetman, chair of the board of directors for Canadian University Press (CUP), who notified national executive Jane Lytvynenko. The two wrote letters to the Queen's administration and within a day, the Journal received its eight passes. Even though the paper is no longer a CUP member, Lytvynenko knows that advocating for student press is an important part of the mandate of her organization, a co-operative and non-profit for Canadian student newspapers since 1938.
CUP is the world's oldest student news service, but it hasn't aged gracefully. In the early 2000s, it had more than 90 member papers. Now, there are just over 50. In January, it had to pay close to $9,000 to Canada Revenue Agency for non-compliance with tax laws. A few weeks later, former president Erin Hudson revealed that CUP was in deep financial trouble.
While even former members recognize the need for a united student press to share national stories and train young journalists, the organization no longer appeals to many of the country's largest campus newspapers. Now, as CUP begins to reinvents itself, it must find a way to engage papers of all sizes.
As newspapers struggle financially, membership in CUP is one of the first things they cut if they can't see value for their dollars. "We weren't getting the things that we wanted with our membership," says Alison Roach, the editor-in-chief of Simon Fraser University's The Peak, which left the organizaton this year. "CUP is such a difficult beast because it needs to cater to so many different needs." Large papers with big budgets can pay up to $3,000 in membership fees, while papers with much smaller budgets pay significantly less while enjoying more benefits. Many of CUP's services—access to legal counsel, for example—benefit smaller newspapers. In addition, the annual John H. McDonald Awards for Excellence allows journalists at small- and medium-sized papers to compete against bigger ones.
After laying off its 12 part-time staff in February, the organization turned to social media with the #keepCUPstrong campaign. It aimed to raise $50,000 online through crowdsourcing website Indiegogo and other fundraising events in Toronto and Ottawa. CUP earned $9,206 from 105 funders on Indiegogo; events brought the total up to just over $12,000. According to Lytvynenko, who is now the only full-time staff member, that is enough to keep the organization going until members pay their yearly dues.
Despite leaving CUP, some former members sought to reform the organization by stripping it down to its essential service: providing a community for student newspapers in Canada. Geoff Lister, who was the coordinating editor of the University of British Columbia's The Ubyssey last year, and Josh Oliver, the former editor-in-chief of the University of Toronto's The Varsity, jointly introduced a restructuring proposal at the annual general meeting in January. Though it was a close vote, their proposal didn't pass.
Instead, the two editors independently launched the National University Wire to bring together non-CUP papers including The McGill Daily, The Dalhousie Gazette and now, The Peak. NUW is an RSS feed that allows its nine member papers to easily share content online. Lister asks for a $100 donation to support its back-end developer, which maintains the web service. Since he and Oliver aren't trying to make money with NUW, they will waive the fee for members who can't afford it. He wants to distribute news and unite former CUP members, though all papers are also welcome to join.
When Lister and Oliver introduced their proposal, Bryn Ossington was chairing the meeting. Ossington is the executive director of Wilfrid Laurier University Student Press and spent two years on CUP's board of directors. He says the organization was often in "panic mode" dealing with problems such as its advertising sales company Campus Plus, which eventually declared bankruptcy in 2013. This distracted the board from creating a strategic plan for the future. Ossington thinks CUP would be in a different place if it had firmly established its purpose as a newspaper collective. "It's a group of individual organizations that are coming together to put something together," he says. "If they can't define what that one thing is, then it makes no sense."
Before wooing back old members, Lytvynenko is concentrating on serving those that are still part of CUP, while advocating for all student papers, non-members like The Queen's Journal included. She recently introduced an RSS feed, in addition to the stories that she writes, gathers and edits for the CUP's newswire. In addition, as of this year, members can use editorial from iPolitics, a comprehensive political news site.
CUP announced the iPolitics partnership along with a 10 percent discount on fees for returning members. Meanwhile, to save the organization money, the University of Ottawa's paper The Fulcrum is financing and hosting the annual NASH conference in January. It's CUP's marquee event filled with networking, high profile speakers, panel discussions and some partying for good measure.
Though Roach admits last year's conference seemed smaller than usual, she still hopes to attend. Even former members see value in what CUP has to offer, but right now, they're just not willing to pay for it.
(Visited 248 times, 1 visits today)