Five years ago, Cody Royle and Justin Robertson stood facing each other on opposite sides of an Australian football field. The teams they coached were playing each other. "That was one of the first times we met," Royle says, smiling.
Today, the Australian transplants are planning the launch of their Canadian online sports publication, Bradman Magazine, in January. "We don't want to compete with TSN, Sportsnet or the Score," Royle says. Bradman's mission is to tell long-form sports stories that focus on the stories of the players, not all of whom are professional. Instead of game recaps and scores, Royle says they want to engage the sports fan who's interested in both the culture of the sports they love and well-executed journalism.
Robertson currently works as a freelance writer—mostly covering cricket—and Royle holds a job in business and marketing. With their combined skill sets, they hope to appeal to a feature sports market they feel has been left untapped in Toronto.
The name Bradman is inspired by an Australian cricket player, Don Bradman (who bears the surname), though Royle and Robertson have no affiliation with him. Instead, Royle says they were inspired of his practice technique—hitting a ball against a cast iron statue—which Bradman, the player, claimed increased his focus and aim. Royle and Robertson, along with their writers (they're open for pitches), seek to practice a similar method with their journalism: tight, yet provoking writing that can grab and hold a reader's attention.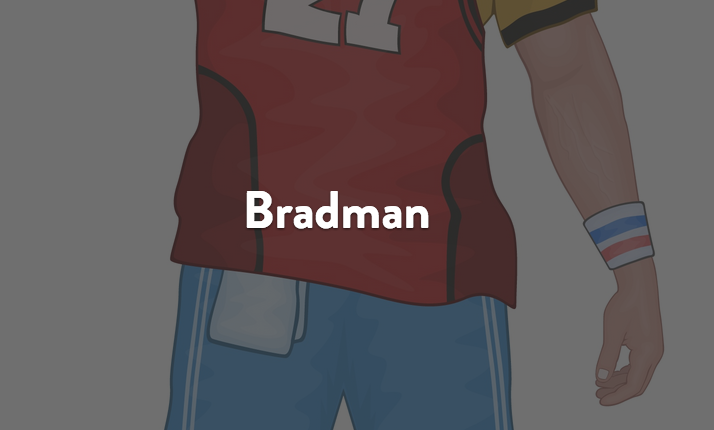 As it stands, both Royle and Robertson will continue to work paying jobs as they develop their magazine, and their writers will remain temporarily unpaid. As they gain attention, sponsorship and funding, Royle says, they hope to expand to a national market and, eventually, an international one.
The duo hope to develop a magazine that tells human-interest sports stories, bringing fans into the intimate worlds of their favourite athletes and the local teams around the Greater Toronto Area—to find out what these athletes do beyond the field or stadium. They do, however, maintain that quality journalism is high on their list of things that cannot be sacrificed, alongside a close-knit atmosphere among colleagues. Their first assignment is a low-key beer meeting to build a sense of companionship among their group of sports writers. They hope that these will be the people who will help two young, Australian New York Giants fans develop an online magazine that connects sports fans with athletes, weaving a compelling enough tale to create a lasting relationship.
Bradman plans to have a soft launch, with some preliminary online content posted on the website, later this month.
(Visited 91 times, 1 visits today)