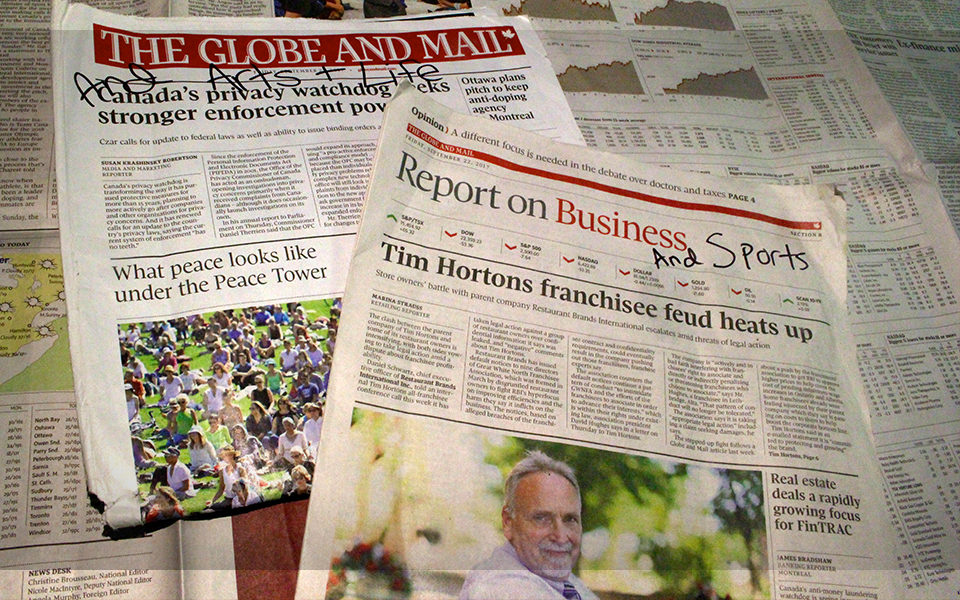 Beginning in December, the Globe and Mail will merge its weekday arts and life section into news, and its sports section into business.
These changes are necessary because of the decline that the newspaper industry has been facing over the years, said Rob Young, senior vice-president of PhD Media, a global communications and media buying company.
Advertising used to be the main source of revenue for news publishers—76 per cent in 2006, according to Statistics Canada. But last year, global newspaper circulation revenue—the sale of physical newspapers—exceeded advertising revenue. By 2021, newspaper circulation revenue will account for 54 per cent of total newspaper revenue, a PwC outlook report shows.
Although newspapers used to be the predominant advertising channel in Canada, the rise of the internet created a shift. Online companies like Google and Facebook squeeze newspapers out of advertising revenue, forcing publishers to turn to subscribers.
"The idea of a mass legacy product primarily funded by advertising dollars, that model isn't going to be around," Young said. "The papers that will still be around will be papers that are valued by subscribers."
In order to stay afloat, newspapers and magazines need to release a product that is so engaging that people are going to spend money on it, Young added, which in turn will generate increased subscription dollars.
This is where the Globe may be headed with its upcoming December overhaul.
Its annual digital and print subscription revenue currently exceeds advertising revenue of all kinds, Globe publisher and chief-executive officer Phillip Crawley said.
The Globe's data shows its original produced content is what readers are most interested in, Crawley added. The redesign will take out free promotional pages, unpaid advertisements, as well as reprinted material from other agencies, putting greater focus on Globe-produced content.
The paper's data shows a pattern, Crawley said, adding that Globe content is read more than agency, syndicated and freelance material.
"I think they are searching for a subscriber-funded legacy product that is less reliant on advertising as a revenue stream," Young said. "I think probably the Globe, more than any other paper in the country, can succeed at that."
The Globe's news and report on business sections are the most read in the paper, and as a result, are where advertisers prefer to showcase ads, Crawley said.
"By putting content into those two sections Monday to Thursday, they will actually get more people reading them than a section which is at the back of the book."
But Young says he thinks the Globe's redesign has more to do with cost-cutting.
"I think the reality is probably more along the lines that it's a more efficient product," Young added. "I don't know that it's a better read, nor do I think it's a more attractive advertising vehicle."
While reducing the number of standalone weekday sections, the Globe will expand its real estate section nationwide and maintain its drive section on Fridays. The Saturday newspaper will remain a large package with six standalone sections—news, report on business, sports, arts and life, opinion and another new section that may include topics like lifestyle, travel and home décor.
"When a publisher like Crawley says that we are going to collapse four sections into two sections, my reaction is, 'You got to do what you got to do,'" Young said.
(Visited 447 times, 1 visits today)