How The
StarMetro
Cuts Exemplify The Precarious Nature Of Journalism:
Pull Quotes
Season Three, Episode Five
This week, Pull Quotes hosts Ashley Fraser and Tanja Saric sit down with Ryerson Review of Journalism web editor Hannah Alberga to discuss the recent StarMetro cuts, in which 121 employees were laid off in Vancouver, Edmonton, Calgary, Halifax and Toronto. Alberga was quick to report this story for the Review. She spoke with former StarMetro reporters Vicky Mochama and Emma McIntosh, as well as current employee Taryn Grant. We also hear from Sabrina Wilkinson who called in from France to discuss how digital-first news organizations are providing new jobs in the journalism landscape. Wilkinson is a PhD candidate at Goldsmiths, University of London, researching internet regulation policies in Canada.
For more, be sure to check out Alberga's piece here. 
Episode five of Pull Quotes was edited and produced by Tanja Saric and Ashley Fraser. Technical production help from Angela Glover and Lindsay Hanna. Pull Quotes' executive producer is Sonya Fatah. 
Podcast: Play in new window | Download | Embed
Subscribe: Apple Podcasts | Google Podcasts | Spotify | Stitcher | Email | RSS
(Visited 282 times, 1 visits today)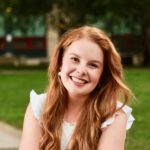 Ashley Fraser is the chief podcast editor at the Ryerson Review of Journalism. Before moving to Toronto in pursuit of her master of journalism, she lived in Vancouver, studying communications and sociology. She then worked as an associate producer at CBC Radio in Vancouver. She's interned at the BBC World Service, CBC Radio in Toronto and CBC's London Bureau in the UK.
Tanja Saric is the podcast producer at the Ryerson Review of Journalism. Her bylines have appeared in ET Canada, Ryersonian, Imprint, The Waterloo Chronicle and Riffyou. She has written music criticism, concert and album reviews, celebrity news and local issues around the Waterloo region. She is currently a freelance digital producer at ET Canada.
Hannah Alberga is a senior digital editor at the Ryerson Review of Journalism. She has worked with CBC's daily news podcast Front Burner and was a news reporter at blogTO. Her work has appeared in The New York Times, Toronto Star, and This Magazine. She hopes to pursue health reporting and craft longform features.