---
This week on PullQuotes, we're talking about global approaches to crime coverage and their implications for their application in Canada.
I recently wrote a story about how the Canadian judiciary's shift to remote trials is affecting the ability of journalists to cover the courts. While writing the piece, I never thought twice about naming defendants in trials, or printing the details of their alleged crimes. It's established practice in North American trial coverage to print all the information that we legally can; any Canadian reporter who outside of an official publication ban, omits the name of the accused or the prurient details of a case can expect a stern talking to from their editor.
Overseas, attitudes may differ.
On April 30, 2009, a man drove a car through a crowd at a parade in Apeldoorn, Netherlands, killing seven people, and himself. The targets of the attack were members of the Dutch royal family, including Queen Beatrix, the country's reigning monarch. In the West, the press would have been flooded with the assailant's name, likeness, and the intimate details of his life, but many Dutch legacy media outlets decided to omit his name from coverage entirely.
The episode is what originally sparked the interest of Duquesne University journalism professor Maggie Jones Patterson, in regional differences in crime coverage. Maggie and her Canadian colleague, Romayne Smith Fullerton, an associate professor of journalism and media studies at the University of Western Ontario, recently co-authored a book called Murder in our Midst: Comparing Crime Coverage Ethics in an Age of Globalized News.
The authors and professors joined us to talk about the underlying societal factors that may contribute to different approaches to crime reporting, and how these approaches are being challenged in the age of mass communication. They also weigh in on a recent sentencing decision in the high-profile trial of van-attacker Alek Minassian, that caused a bit of a stir among Canadian journalists.
"Just focusing on this man's name, does not equip the citizenry to make decisions, and help influence the people they elect to create policy." – Romayne Smith Fullerton.
Credits:
Joe Fish, Podcast Producer & this week's host
Emma Jones, Podcast Editor
Saniya Rashid, Chief of Research
Alex Ramsay, Fact Checker
Tyler Griffin, Copy Chief
Sonya Fatah, Executive Producer
Lindsay Hanna, Digital Content & Web Design Specialist
(Visited 210 times, 1 visits today)
Joseph Fish is a second-year master's student in the Ryerson School of Journalism and the producer of this year's season of the Review of Journalism podcast, Pull Quotes. He received a bachelors of science degree in neuroscience from Dalhousie University, but decided to enrol in journalism school after realizing that science was a "total bummer." His work has been featured on the Star Spot astronomy podcast, Daryn Jones Live, Kiah and Tara Jean, The Big Story and the first season of Frequency Podcast Network's new show, Paradigm.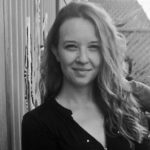 Emma Jones is a Graduate Fellow and a Master of Journalism candidate at Ryerson University, holding an Honours in Neuroscience from the University of Toronto. She was previously named a Venture Sinai Fellow for her ability to engage audiences of varying backgrounds in complex, scientific topics. As well as being the Podcast editor for the current season of the [ ]RJ podcast Pull Quotes, Emma writes and interviews for the "What it Feels Like" series for Healthing.ca, which highlights individual experiences with various diagnoses.